THE GRAND DEL MAR, SAN DIEGO
| HIDDEN GEMS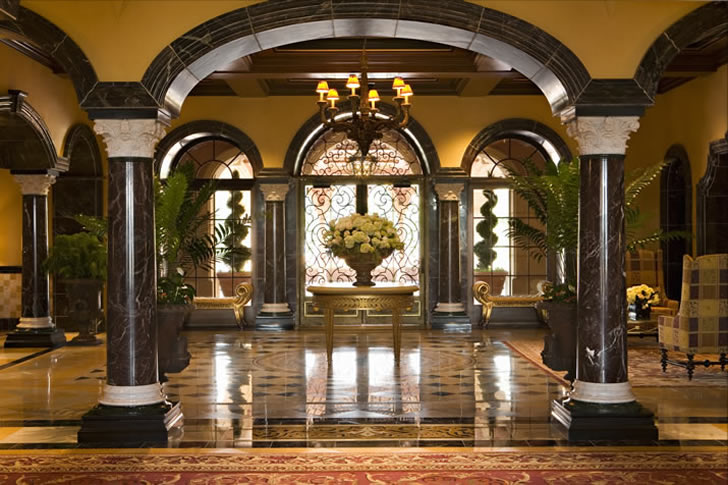 THE GRAND DEL MAR, SAN DIEGO
Take Addison Mizner's architectural style and surround it with a Tom Fazio-designed golf course bathed in year round southern California sunshine and you have the makings of perfection but a few miles from downtown San Diego
Text
Denise Hummel
Photography
Courtesy of The Grand del Mar
Published
10th November 2008
Judging by the size of this property, the term 'Hidden Gem' may seem less than appropriate. Following two years of careful planning and painstaking construction, the $270 million Grand del Mar, a much-anticipated 249-room Mediterranean-style resort, owned and operated by Manchester Grand Resorts, opened in October. This lavishly appointed resort – with meticulous details including over 30 types of marble and stone, vibrant Portuguese tile, Venetian plastered walls, more than 25,000 sq ft (2,350 sq m) of handcrafted wood flooring and intricate hand-stenciled ceilings – is purportedly the highest priced new-build in California. However, 'hidden' it is; it's definitely off the beaten track, slightly removed from the hustle and bustle of beach traffic, and away from the business center of San Diego – yet comfortably close by for those moments when a little action is what you're after.
'So what!' I hear you saying about this property's status as the 'highest-price build.' Well, for a change, this was money worth spending. The details are apparent everywhere. There's an exotic amalgam of Spanish, Portuguese, Moroccan, French Provençal and Venetian design elements. Addison Mizner, architectural visionary, has captured the elegance and comfort of an old-world Mediterranean estate amid a tranquil Southern California setting. Mizner's sophisticated yet fanciful style is evident throughout the resort – with rich, colorful hues, graceful arched doorways, classic rotundas, rustic wood-beamed ceilings, ornate stone columns, generous patios and wrought iron accents.
Situated on a pristine coastal canyon, lush landscaping completes the beautiful setting, with over 10,000 mature trees – including towering Italian cypresses. Another hallmark of the outdoor plan: more than a dozen dramatic water features, including a breathtaking 22-nozzle fountain lined with gold, royal blue and white marble tiles – extending from the lobby towards the golf course. And that's just the beginning.
The Grand Golf Club
To the rest of us 'non-golfers', this fact may not be significant, but The Grand del Mar is home to San Diego's only Tom Fazio-designed course. The Grand Golf Club is one of the region's most challenging 18-hole courses, with a par-72 that accommodates all levels of play, melding extreme playability with the area's breathtaking natural beauty.
'Golfers tell me it hits their concept of nirvana to a tee'
The newly renovated Clubhouse, which opened in September 2006, encompasses the Pro Shop and locker area, as well as the resort's signature restaurant, Addison, and The Clubhouse Grill. Golfers tell me it hits their concept of nirvana to a tee, and I have to believe them, however, my ignorance of golf leaves me responding with a feeble, 'The Clubhouse Grill is really cute.' You be the judge.
Suites
I loved my suite. It reminded me of the elegance of the Cavalieri Hilton in Rome, where the flatscreen TV looks more like a Renaissance painting than a modern electrical gadget. There are 218 posh rooms and 31 elaborate suites and the resort's rich Mediterranean style is lavishly evident throughout the beautifully appointed guest rooms. Offering peaceful golf course, canyon preserve or pool front views, all feature a deep blue, pale yellow and gold color palette enhanced by fine, distressed wood furnishings with lush brocade upholstery, detailed crown moldings and millwork, and original fine art and accessories.
Guestrooms are incredibly spacious and have wonderfully comfortable pillow-top beds made up with pure goose-down pillows and Pratesi Italian cotton linens. The latest technology keeps you in touch: 40-inch, flatscreen LCD televisions with HDTV, dark mahogany desks with CAT VI network hook-ups and high-speed internet access (wired or wireless), three dual-line phones with voicemail and speaker phones, plus a mini-bar with wet bar area, in-room safes (large), and love seats. The ample marble-clad bathrooms feature European-style soaking tubs and separate showers, dual vanities and 13-inch flatscreens, plush bathrobes, lavish bath amenities, candles and embroidered pure cotton towels. I don't think you'll be lacking for any home comforts, but if you are, the staff is extremely responsive. A quick phone call and they'll be at your door with whatever you might need.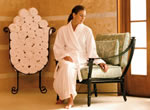 Spa
The spa has a Renaissance-style theme and even the Jacuzzi looks like a renovated Roman fountain, sculpted and rich. Treatments incorporate ingredients from the area (from the nearby Los Peñasquitos Canyon), including water, mud, clay, stones, herbs and essential oils. This 21,000 sq ft (1,950 sq m) spa houses 11 ample treatment rooms; a state-of-the-art fitness center; salon and boutique. An adjacent movement studio is available for complimentary fitness classes.
Services offered encompass a full slate of natural therapies, including cleansing facials and hydrotherapy body treatments, plus fitness consultation, classes ranging from yoga to weight training, and nature walks and hikes in the adjacent Los Peñasquitos Canyon Preserve.
It has a soothing color palette of earthy creams, soft blues, beiges and taupes – accented by sparkling crystal glass tiles, multiple arches, warm wood accents and imported white Carrera marble. Vibrant framed Hermès scarves and gilded mirrors adorn the women's hallway and relaxation retreat. A more masculine motif prevails in the men's lounge area, with handsome red leather reclining chairs, vintage photos of Venice, and beautiful sailboat prints.
I enjoyed the Art for Art's Sake facial. In addition to the normal elements of a cleansing facial, I received a warm oil massage on the neck, shoulders, and then a mild exfoliation, followed by warm aromatic cloths and a wonderful clay mask, which left me feeling not only super clean, but revitalized, and dare I say, 'younger'.
Last, but certainly not least, The Grand del Mar Skin and Body Care Collection is designed for The Spa by Phoenix-based SA Laboratories, this handmade organic product line – including cleansers, refreshing tonics and toners, moisturizers, nourishing serum concentrates, invigorating exfoliates, body balms, mineral-rich masks and eye creams – is comprised of the purest essential oils, certified herbal and marine extracts and replenishing mineral clays.
You can't beat a spa that goes out of its way to find fine organic products – my absolute favorite. I get to indulge and feel 'green' at the same time.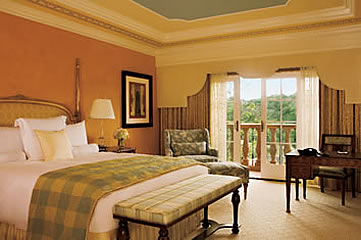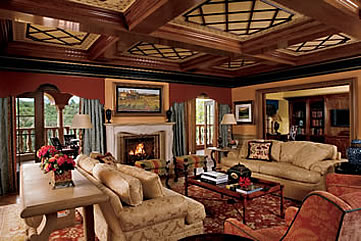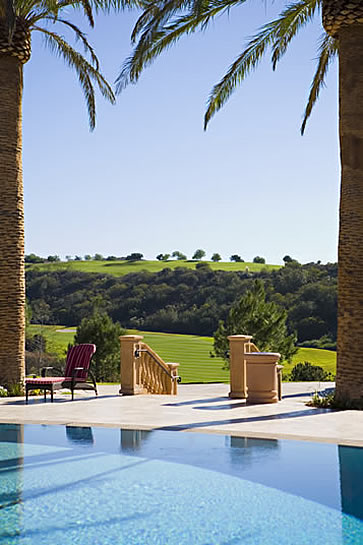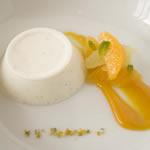 Addison Restaurant
Dining at Addison, The Grand del Mar's fine dining experience, was elegance at its best. I could have chosen The Clubhouse Grill which is their relaxed, outdoor/indoor venue (and very 'cute' as I mentioned previously), Amaya, which is the all-day restaurant within the hotel, or stopped by the gourmet shop which offers coffees, pastries and sandwiches to go. But why pass up the best of what The Grand del Mar has to offer?
Addison landed itself a spot recently as one of seven wine lists lauded in the magazine's annual 'Best New Wine Lists' report. Being quite passionate about wine myself, this captured my immediate attention. They showcase a range of intriguing wines, from top California vintage cult wines to classics from Bordeaux, Champagne, Burgundy and the Rhone Valley. The collection is housed in a custom-designed wine room by Napa Valley-based Paul Wyatt Designs.
Addison has garnered critical acclaim for Executive Chef William Bradley's classic, artisanal approach to cooking – with fresh California ingredients and a decidedly modern French influence to complement the restaurant's distinctive architecture and design, and having eaten there, I now know why. Baby sea scallops with watercress, golden caviar, and avocado, followed by foie gras de canard with rhubarb, vanilla, wild arugula, then spring lamp
persillè
, aubergine au gratin with berries and savory spinach and ultimately, yogurt panna cotta, with orange rind and elder blossom syrup. Mouthwatering and delicate from beginning to end.
Signing off for now
The pool and Jacuzzi await me after exhaustive note-taking. What a girl's gotta do, a girl's gotta do ...
I love my job.
THE GRAND DEL MAR,
SAN DIEGO
Style
Mediterranean-style resort.
Setting
Secluded property in the coastal canyons, not far from Del Mar and two miles (just over 3kms) from the ocean.
Why you'll love it
European elegance with a Pacific flair.
Good to know
The spa treatments incorporate natural ingredients from the nearby Los Peñasquitos Canyon.
Wow factor
The OTT interiors and exquisite detailing throughout. The attention to detail in every architectural and design nuance.
Best rooms or suites to book
It doesn't matter; they're all luxurious.
Room for improvement
A no-nonsense way of getting from one pool to the other; they're too far away from each other.
Address
5300 Grand del Mar Court, San Diego, CA 92130
Toll free
+1 888 314 2030
Tel
+1 858 314 2030
Fax
+1 858 314 2001
How to get there
From the San Diego airport, take Interstate 5 North and exit on the 56 East to the Carmel Country Road exit and then turn right. Proceed one-quarter mile (just under 0.5km) on Carmel Country Road and turn left at Grand Del Mar Way. Turn right into Grand Del Mar Court and continue down the hill to the resort entrance.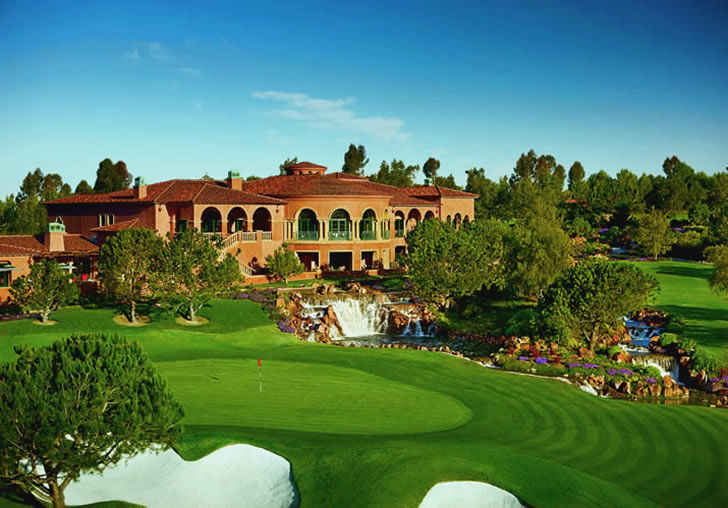 ©Copyright 2006 - 2019 JUST THE PLANET LUXURY TRAVEL CC - All rights reserved