TURTLE BEACH VILLAS, ST KITTS, CARIBBEAN
| HIDDEN GEMS
St Kitts is one of those tiny islands in the Caribbean which you've probably heard mentioned somewhere before but can't quite put your finger on. You'll know its more famous neighbours of course: St Barts, St Lucia and Antigua, best known for their holidaying glitterati and affluent 'yachtie' culture… but I'd keep an eye on this particular little gem as it is slowly being unveiled as the débutante to watch.
Turtle Beach Bungalows and the picturesque Beach House restaurant (awarded a Fodor's Choice Gold Award 2010) have just been opened to the public and are absolutely in keeping with the sort of chic, low-key luxury favoured by those who prefer peace and beauty over casinos and crowds. The developer responsible for building these discreet, one-bedroomed villas on the beach is Christophe Harbour, a company looking to turn the south-easternmost peninsula of St Kitts into a tastefully managed, master-planned, luxury resort with homes, a championship golf course and mega yacht harbour with marina village. The entire development will compliment the natural beauty of the surrounding landscapes with an emphasis on sensitivity to the environment. One only has to look at the bungalows to know that the island is in the right hands.
My favourite place to sit, if not on the beach, is on the shady deck at the Beach House watching the pelicans dive for their dinner. They're unbelievably comical in their cannonball impressions… and yet amazingly accurate, except for the odd one who drags himself to the surface with a beakful of sea water and a confused expression. But I'm taking the easy way out and my delicious conch fritters and calamari, battered and lightly fried, are arriving courtesy of a smiling waitress!
After lunch a quiet stroll back to the bungalows along the beach is about all you'll feel like doing as the heat of the afternoon takes over and thoughts of a siesta pervade. Nip through your front gate on the beach, dip your toes into the coolth of the infinity plunge pool and collapse onto a comfortable deckchair inside your private outdoor gazebo. Alternatively, there's always an afternoon wallow in the shallows… it's not as if you have to move very far! Step into an all-copper outdoor shower or the luxury of a huge indoor rain shower for a quick cool-off before some more essential lying down… this time for an ocean-side massage which can be organised through the Christophe Harbour concierge.
Evenings are beautiful in St Kitts as the air is balmy and the sky silvery-pink. Mix a sundowner from your personal minibar and take it out to the deck or onto the sand… and if you're feeling social, head to the Beach House cocktail bar before dinner. The twinkling lights of Nevis in the distance, the floaty white drapes and mood-enhancing lanterns all add whispers of romance to the sultry evening setting. And then there's the food… definitely order the lobster at least once: there's nothing like a generous chef who sends out three tails… Lionel Garnier, I salute you! And if shellfish isn't quite your thing, there's always the chunky mahi-mahi fillet or poached swordfish to savour instead. It's so fresh a pelican may as well have dropped it off on route to his favourite jetty post.
The first thing I spied upon entering my bungalow was the king-size bed (with cashmere throw thankyouverymuch) and there it was beckoning seductively to me as I came in after my sumptuous dinner. It did not disappoint and as I flung myself under the duck-down duvet, I was delighted to see that I had a sensational view of the starry sky over the top! Each bungalow is cleverly fitted with mahogany shutters, doors and louvered sliding walls that all open wide to let in air scented with frangipani and salty sea breezes. There's nothing quite like falling asleep to the sounds of the sea at the bottom of the garden and then opening your eyes in the morning to see it glittering a mere stone's throw away.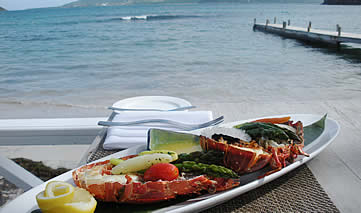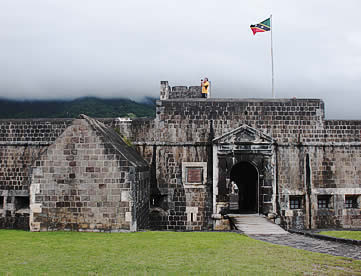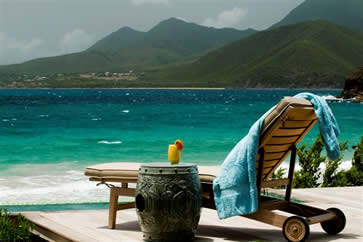 TURTLE BEACH VILLAS, ST KITTS, CARIBBEAN
Style
Breezy plantation-style beach bungalow
Setting
South-eastern peninsula of St Kitts in beautiful Turtle Bay (Atlantic side) with views of Nevis across the way.
Why you'll love it
There are only four tiny villas that are set far enough apart from one another that you'll feel a delicious seclusion from the outside world.
Good to know
If it's windy on the Atlantic side, you only need to pop over the hill to Cockleshell Bay for a calm, sand-free day on the beach. The bungalows are serviced by their own restaurant, The Beach House, but another of the best restaurants on St Kitts, The Spice Mill, sits overlooking Cockleshell beach with a vibey feet-in-the-sand-style bar and live music on Sundays.
Wow factor
The sea lies only a few metres from your front doorstep so you really couldn't get any closer if you tried. The view from The Beach House restaurant, a few minutes walk down the beach, is the ultimate Caribbean picture postcard with its jetty, palm trees and turquoise waters.
Room for improvement
The bungalows could be roomier and there are no baths although the gorgeous Gilchrist and Soames luxuries may make you feel better! The road to Turtle Beach is slippery and hellish after a rain storm but due to be tarred at some point (Caribbean time pending!).
What else is there to do
The concierge at
Christophe Harbour
can organise anything at all from world-class golfing, to diving, to snorkelling or sailing trips around the island on a catamaran. Spa treatments can be organised at your villa. A private guide can take you jungle walking or horse-riding on the beach as well as provide day-trips around the island taking in an old sugar plantation and fort, the airy gallery of a local artist or you could learn to cook like a real Caribbean chef.
Rates
Includes a continental breakfast served at your bungalow: $550 per night Nov - March and $450 per night April - October.
Address
Turtle Beach Villas, Turtle Beach, St Kitts, Caribbean
Tel
+869 466 4557
How to Get There
Turtle Beach is about 30 mins from Robert L. Bradshaw International Airport by car. Christophe Harbour concierge will organise transfers. Flights from the London, New York, Atlanta, Charlotte, Miami and San Juan are direct although may stop for an hour in Antigua en route to pick up or drop off passengers. Private aircraft and yacht arrivals may take advantage of expedited customs and immigration services.
Travel Services
The concierge at Christophe Harbour is on hand at The Beach House to help with anything you require during your stay.
CHRISTOPHE HARBOUR, ST KITTS, CARIBBEAN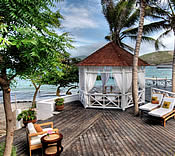 The Christophe Harbour Development Company (a venture of Kiawah Development Partners) owns 2,500 acres of the southeast peninsula of the island, including six pristine beaches, and intends to turn it into one of the most exclusive luxury resort communities in the Caribbean.
The main draw for potential investors is the choice of property types. Dream villas can be built on a mountainside with panoramic views of the Caribbean Sea, Atlantic Ocean or both… or within a short walk of the achingly beautiful marine sanctuary of Sandy Bank Bay, which will have close access to a beach club with a restaurant, swimming pools and nature trails. Harbour-side residences offer over-the-water views where yachts up to 300 feet in length can be safely moored in private docks and with access to an exclusive marina development and yacht club. These villas also have the added benefit of being close to the Tom Fazio designed championship golf course which will sit atop the spine of the Caribbean peninsula.
The Mandarin Oriental Hotel Group looks set to be the first five-star hotel resort and spa to lay claim to one of the more enviable locations on the Caribbean side of the resort. Christophe Harbour is committed to a delicate fusion of the development with the beauty and surrounds of St Kitts.
Christophe Harbour Team
Tel: +800 881 7180
info@christopheharbour.com
www.christopheharbour.com
©Copyright 2006 - 2019 JUST THE PLANET LUXURY TRAVEL CC - All rights reserved