SUMMER ESCAPES:
ISTANBUL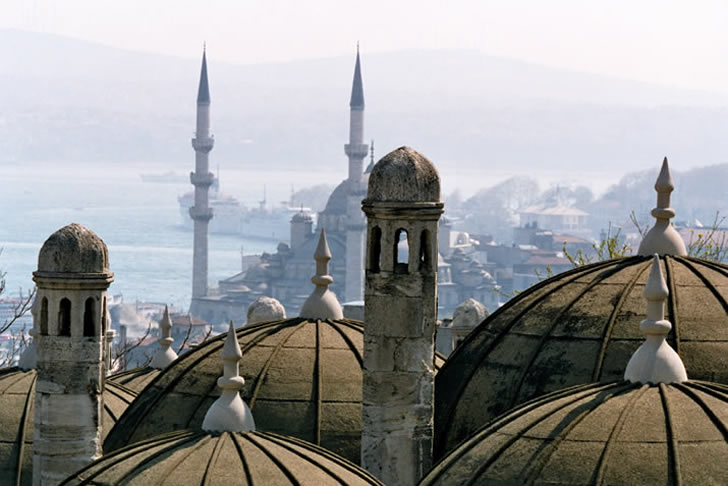 Istanbul, Turkey
At the meeting point of two continents, Europe's oldest seaport steps into the limelight as a modern capital, with a new crop of hotels, cocktail bars, and fabulous places to shop
Text
Nikki Benatar
Photography
Courtesy of Adam Lange
and iStock
The world is not enough
It was only when we were driving along the southern bank of the mighty Bosphorus – from Ataturk Airport to the hip urban oasis that is the W Hotel – that it struck me how huge Istanbul is. I'd consulted my map of the city a gazillion times before our arrival, in order to try and get my bearings so that we could maximize what little time we had in the capital, but it didn't prepare me for Istanbul's massive scale and sprawling topography.
Driving along the river, Istanbul's exotic past envelops you. Grand palaces dating back to ancient Byzantium and majestic Ottoman-era mosques and minarets dominate the tree-lined riverbanks and evoke bygone eras of grandeur. I'm transported to a turn-of-the-century moonlight party where, wrapped in a silk pashmina, I'm being rowed along the glittering, lantern-lit river by a long procession of kaftan-clad oarsmen. Irem, our urbane tour guide, wakes me from my daydream and reminds us that Istanbul was the backdrop of Ian Fleming's 1999 James Bond movie,
The World Is Not Enough
. Indeed, Istanbul has many faces and, as one author puts it, 'an immensely rich and confusing history'. Yet, despite the city's ever-changing historical, cultural and political landscape, Istanbul's glamour and sophistication, which are almost palpable, transcend time.
Graphic jam
Istanbul is not an easy city to navigate. On a map, it seems straightforward enough: the Bosphorus River dissects the city into two halves – Asian Istanbul on the east bank and European Istanbul on the west – but in reality, it's too enormous to get a grip on. The European side is, in turn, separated by a body of water, the Golden Horn, into Sultanahmet (the Old Town) in the south and Beyoglu in the north. The third-largest city in the world, Istanbul's 32 districts don't have distinct boundaries, so it's difficult to tell where one ends and another begins. The Bosphorus and Freedom bridges (constructed in 1973 and 1988 respectively) are the city's economic lifelines and are used by the 16-million-strong population to cross from one side to the other. The imminent construction of a third bridge, which was all over the news during our visit, has evoked mixed reactions: the (very efficient) metropolitan municipality believes it will go a long way to solving Istanbul's dire traffic problem, residents near the proposed site (north of the existing bridges) fear removal from their homes, and environmentalists are opposed to the ecological damage such a project may cause.
We arrived in Istanbul during Ramazan (Turkish for Ramadan), typically a quiet month, or so we thought. Alas, our arrival coincided with the Orient Express's annual stopover in Istanbul as well as the start of the new school term. The municipality announced three days of free public transport (on trains, trams and buses) during rush hour as a way of alleviating the back-to-school gridlock.
East meets West
Though the East-meets-West cliché has been tediously overused (and often misused), when it comes to Istanbul, the label is uniquely apt. The Bosphorus strait (between the Black and Marmara Seas) separates Europe and Asia, making Istanbul the bridge between – and, in fact, the only city in the world that's at home on – two continents!
Istanbul's mix of age-old and ultra-modern is compelling. Wandering around Sultanahmet's labyrinthine streets, its centuries-old history is tangible and beguiling, while minutes away, the energy and pace of Bebek or Besiktas in Beyoglu – with their trendy restaurants, bracingly stylish cocktail bars and hip décor and design stores – are exhilarating. Then there's the municipality ... We were mightily impressed with the efficient public-transport system, tidy streets and well-kept public spaces, as well as the government's social-accountability initiatives. I read in the Turkish Daily News that each evening, for the duration of Ramazan, the government provides up to 1 000 fast-breakers with a three-course meal in a communal tent. Amazing!
TAKING ISTANBUL BY THE HORNS
If, like us, you have a limited amount of time (between 24 and 72 hours) in this exciting city, here are some suggestions of how you might want to spend it ...


SEE

Sultanahmet's mosque-and-palace circuit, which includes Topkapi Palace, Aya Sofya (the world's only church-turned-mosque-turned-museum), the Blue Mosque and the Hippodrome, all situated conveniently close to one another. A UNESCO-designated world heritage site, Sultanahmet (or Old Istanbul) is the historic heart of the city and an absolute must-visit.

Built by the Genoese in 1348, the Galata Tower offers unrivalled views of the city. A former prison, the tower was restored in 1967 and now also houses a restaurant (with a pricey set menu).


DO

A deluxe boat ride along the Bosphorus from the Old Town to the spectacular quayside terrace at the Four Seasons Hotel. Or take a (less luxurious) public ferry (+90 212 444 44 36; www.ido.com.tr/en) from Eminönü (Old Town) to Anadolu Kavagi (Asian shore) or Rumeli Kavagi (European shore). A round trip costs 1.40YTL no matter where you get off, and takes three and a half hours, so you might want to get out at the aforementioned stops and take a bus back, stopping at various sights along the way. If you have time, a leisurely stroll comes highly recommended.

Float between Europe and Asia while you swim at Suada (+90 212 236 7300; www.suada.com.tr), a swimming pool surrounded by restaurants and bars on an island right in the middle of the Bosphorus. Get there by boat from Kuruçesme Park.


BROWSE

For bustling bazaars and crowded chaos, head for The Grand Bazaar (Eminönü, Sultanahmet). Concierge Cem suggested a tram rather than a taxi to avoid the late-afternoon gridlock. It costs 1,4TYL from Kabatas (a brisk 15-minute walk from W Istanbul) to Beyazit, which is 10 stops away and stops right outside the Bazaar. Clean, convenient, safe and on time, Istanbul's tram puts other cities' public transport to shame!

An intoxicating beehive of colour, texture and abundance, the Grand Bazaar is a 4 500-stall souk divided into specialist jewellery, spice, silverware and carpet markets. Though we didn't buy one, we were impressed with the carpets at Bellihan (+90 212 527 6494; www.bellihan.com) in Halicilar Caddesi (the renowned carpet district) and its sister store Anatolian (in the thick of the Bazaar). The bright-smiled proprietor, Huseyin Belli invited us into his showroom for an obligatory apple tea and wasn't (that) offended when we left his store – after some hilarious haggling – empty-handed.

You'll also find exquisite glassware – from tiny teacups and glass-mosaic lanterns to unashamedly decorative hand-blown tubular urns and vases – ubiquitous evil eyes, leather handbags and good-quality cotton cloth by the lorry load!

When you leave the Bazaar, head north towards the Galata Bridge along Uzunçarsi Caddesi, the aptly named Longmarket Street, a lengthy strip of miscellaneous-junk and secondhand-clothes shops. Before long, you'll be seduced by the scents emanating from The Spice Market. This spectacular cornucopia is a foodie's dream destination, where you'll find fresh cinnamon and vanilla pods, every variety of dried fruit and nuts, exquisite displays of lokum and baklava, and bucketfuls of every imaginable spice. Buy loads – on our walk back to the tram station, we polished off a box of lokum, a bag of tiny, naturally dried figs and a packet of cashews!

W Hotel, Istanbul:
'Whatever, Whenever'
Round the clock pampering and sensual glamour reflect W Hotel's commitment to bespoke luxury.
Nikki delights in W Hotel's sexy and sophisticated addition to Istanbul ...
read more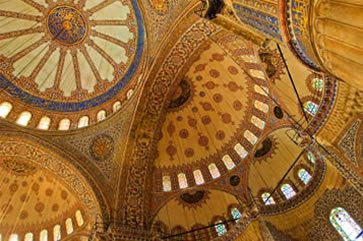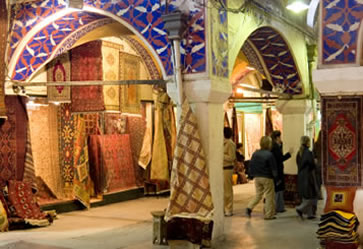 SHOP
A shopping Mecca for centuries, Istanbul offers much more than tea sets and Turkish delight. You'll be spoilt for choice in the myriad high-end boutiques and designer stores that are popping up everywhere. If it's haute couture you're after, the cobbled streets surrounding W Istanbul (in the district of Besiktas) is home to Jimmy Choo (8 Sair Nedim Caddesi; 90-212-381-4959;
www.jimmychoo.com
) and Marc Jacobs (14 Sair Nedim Caddesi; 90-212-381-4979;
www.marcjacobs.com
), among others.
Or, take a taxi to Abdi Ipekçi Square, in the upmarket Nisantas district, where you'll find big-name boutiques in a high-street environment – Louis Vuitton, Chanel and Alexander McQueen, to name a few. Should you tire of shopping, find a seat at one of the gorgeous outdoor cafes or restaurants.
Mall shoppers, try Kanyon in Levent (
www.kanyon.com.tr
; +90 212 353 5300) where, in addition to Banana Republic, Max Mara and Lacoste stores, you'll find a fabulous Harvey Nichols (
www.harveynichols.com.tr
; +90 212 319 1155).
For accessories, the neighbourhood of Ortakoy is best, especially at night when the streets are lined with flea-market-type stalls, fortune tellers et al. And then, of course, there's the Grand Bazaar (See The Grand Bazaar above).
CHILL
No visit to Istanbul is complete without a relaxing soak in a hamam (Turkish bath). Back in the day, Cagaloglu Hamam (+90 212 522 24 24; Yerebatan Caddesi) was allegedly visited by the likes of King Edward VIII and Florence Nightingale. More recently, its gorgeous surroundings have been featured in numerous films and commercials. A massage-and-scrub costs 62YTL; self-service is 27 YTL. For good service (and less cash), ask your hotel for directions to the local baths (mahalle haman). Lonely Planet Turkey recommends: Historic Ali Pasi Hamam, Historic Gedikpasa Hamam and Kadirga Hamam.
EAT
For delicious, beautifully presented meals, coffees and juices in gorgeous surrounds, try one of the 11 branches of The House Café. We loved the one in Corner-Tesvikiye (+90 212 327 17 74;
www.thehousecafe.com.tr
; 146 Tesvikiye Caddesi) for the pavement theatre and the tranquil, rustic-style garden at the back. The décor, by design duo Autoban, is urban chic – think painted-white face-brick walls, large, wooden communal tables, bubble-like chandeliers and graphic, ultra-mod grey-and-white-patterned floors. My chicken salad (two huge kebabs on a plate of tossed raw veg), was big enough for two and worth every cent of the 25YTL.
RAZZLE DAZZLE
For 24-hour action, head to the pulsating, pedestrianised Istiklal Caddesi – a three-kilometre avenue that stretches from Taksim Square to Tünel Square in the historic district of Beyoglu.
Among the restaurants, pubs, cafes, banks and shops, you'll find the much-hyped 360Istanbul. Though the award-winning food (by South African chef Mike Norman), ultra-chic décor, dazzlingly glam crowd and funky beats are draw cards, the main event of this sensational eatery-cum-nightspot is, undoubtedly, its panoramic views of the city, which are on constant display through floor-to-ceiling glass sheets. Get there for the 8pm sitting and watch the sunset as the twinkling city lights emerge. (32-39 Istiklal Caddesi, +90 212 251 1042;
www.360istanbul.com
).
©Copyright 2006 - 2019 JUST THE PLANET LUXURY TRAVEL CC - All rights reserved