COTSWOLDS MANOR, SHIPSTON ON STOUR, COTSWOLDS
| HIDDEN GEMS

COTSWOLDS MANOR
Cotswolds villages are utterly unmistakeable in character. Full of quirky, asymmetrical cottages made of golden limestone, they're touched with medieval details and topped with mossy, sloping roofs. No doubt, in the village, you'll find a stone church and shady graveyard surrounded by a maze of narrow lanes and high hedgerows, curling around fields that roll gently to the horizon. If it's peace and quiet you're after, you're in the right neck of the woods.
Text
Robyn Hodson
Photography
Courtesy of Robyn Hodson
and Unique Homestays
Cotswolds Manor is in just such a picturesque village but I should say it is much more than a quirky cottage. On a sliding scale from hobbit den to stately home, it's a rather grand half way… though some of the tiny, interleading doorways may lead you to believe that actual hobbits once inhabited the place… but I digress. This listed Medieval home is about as traditional as you can get with its creaky staircase, wooden finishings, flagstone floors, low beams and generous fireplaces. All in all it's the perfect getaway for a group of friends or extended family. We visited in autumn, a good time of year to beat the summer rush and to take advantage of slightly cheaper rates.
The Manor has two bountiful acres of property with a leafy apple orchard and romantic secret garden to explore. I loved walking under the trees with my camera, kicking at the fallen fruit, while the stark sunlight highlighted the fiery reds and yellows of the leaves against a backdrop of threatening purple cloud. The cooler weather also gives you an excuse to light fires in the evenings, pour generous glasses of red wine and curl up on one of the many cosy couches for a chinwag.
Kids will love it too as they can run wild outdoors. There are cricket nets and a tennis court as well as a separate games room above the garage with pool table, board games and television should the weather turn nasty. Children can be totally independent while you enjoy reading in the library, bathing in one of the clawed Victorian tubs, cooking in the large kitchen or crashing around the garden 'stalking' plump pheasants (as I did)! I'll mention that there's a small gym in the same annex as the games room but no one in our party ever actually crossed the threshold!
At bedtime, the country quiet is bliss… there's nothing like snuggling deeply into gloriously soft linens while listening to the creak of the house settling around you. The top floor houses a room with a four-poster 'princess' bed – perfect for a teenage girl! There's also a family room on the same floor with a double and single bed as well as a shared family bathroom. The floor below has a kingsize master bedroom with a huge en suite bathroom. A second room, on the same floor, houses a kingsize double and an adjoining room, with a queensize bed, both share a bathroom. All in all the place sleeps ten quite comfortably.
In the morning, wake to the smell of someone else creating breakfast, if you're lucky! A great big kitchen with an old fashioned forge lends itself to wild experimentation – but you shouldn't go too far wrong with eggs, bacon, toast and a pot of coffee. For those venturing out, we tried The Red Lion in Long Compton - www.redlion-longcompton.co.uk which was very good and I'd highly recommend The Fox Inn in Oddington www.foxinn.net for lunch as it was fantastic. You'll need to book before enjoying its vibey interior, well-priced menu and delicious gastropub fare.
If you are feeling in any way energetic (doubtful) and aren't taking immediately to your comfy bed after lunch back at the Manor, there are easy walking trails all over the Cotswolds to stretch your legs! The bigger towns have information centres where you can grab up-to-date map books and local area. Stratford-Upon-Avon is one such town and is only a short drive away. There are also a whole host of stately homes, castles and gardens to satisfy the history buff in the group!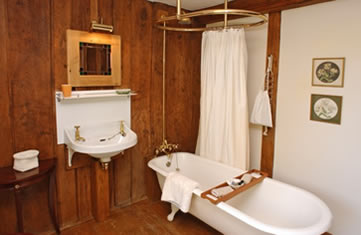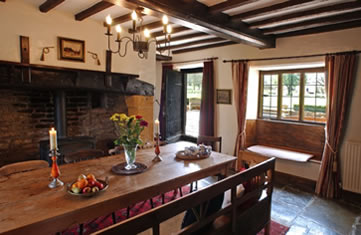 COTSWOLDS MANOR: JAPANESE COOKERY LESSONS
"Japanese cookery lessons?" I hear you cry; perhaps a little incongruous for the Cotswolds but what an interesting way to spend an afternoon. Adrienne Baba offers a wonderfully sophisticated afternoon of foodie fun, teaching the fine art of Japanese cookery in the kitchen at Cotswolds Manor. After spending many years living in Japan, Adrienne moved back to the UK with her Japanese husband and has brought with her a wonderful talent for this delicate food art.
Not only will she bring all of the ingredients and implements you need, but she'll take you step by step through the preparation and then assembly of various types of sushi as well as one or two of the more tricky dishes. Adrienne also prepares a few hot, tasty extras so that at the end of your class, you can sit down to a full meal of your own creations as well as sampling a delicious array of hers.
To enjoy a Japanese cookery day at Cotswolds Manor, simply let us know when making your booking enquiry and we'll do the rest. To see what tantalising tastes await, visit Adrienne's website www.adriennebaba.com
COTSWOLDS MANOR
Style A listed Medieval (17th Century) English Manor House with all the trimmings.
Setting Set in a tiny village in Shakespearean Cotswolds countryside inside acres of lush grounds complete with an apple orchard and secret garden.
Why you'll love it It's exactly as you'd picture a Cotswolds Manor House to be. Low beams, creaky staircases, flagstone floors… but also with large, comfortable rooms, expansive fireplaces, Victorian tubs and lots of space to spread out.
Good to know There is little mobile phone reception so you may have to wander around the garden waving your phone around like a lunatic. There is a landline. Those who are very tall or who aren't particularly agile may have trouble getting in and out of one or two of the bedrooms due to low beams and tiny door frames. The village doesn't have a shop so you'll need to travel to a larger village for essentials or stop in a town on route for a supermarket. The local pub is little more than a cricket club and so quite a disappointment… but there are lots more to choose from in the area but not really within walking distance so you'll need a car.
Wow factor The magnificent grounds and size of the property. The inglenook fireplaces in the library and lounge are huge and when lit contribute to the cosy atmosphere when the weather is cold.
Room for improvement The caretakers of the house live next door and although they're never seen except to give you the keys and show you around, you may be aware that they're always there. The kitchen has limited worktop space for preparation and getting the oven to work is a little hit and miss as it's not particularly conventional!
Rates Low season:
£2500 for a week stay
£1550 for a 2 night weekend stay
£1750 3 night weekend stay
£1550 for a 3 night mid-week stay

Mid Season:
£2950 for a week stay (week stays only in mid and high season)

High Season:
£3750 for a week stay (week stays only in mid and high season)
Address Cotswolds Manor, Shipston on Stour, Cotswolds
How to Get There On the map: Situated in Shipston on Stour, with convenient access to Stratford-upon-Avon, Oxford, Warwick and Coventry By Car: Less than two hours from London and an hour from Birmingham By Train: Moreton under Marsh 12-15 mins away; Banbury 20-25 mins; Stratford 20-25 mins.
Travel Services Taxis can be pre-arranged to pick up from the station and car hire can be arranged.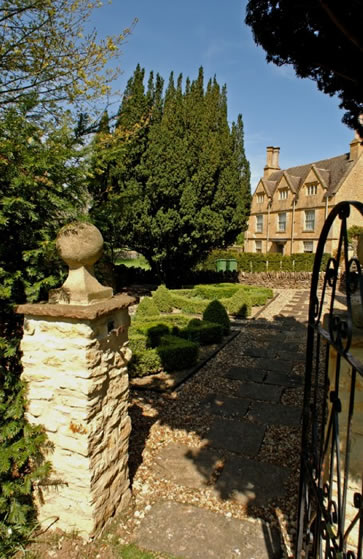 ©Copyright 2006 - 2019 JUST THE PLANET LUXURY TRAVEL CC - All rights reserved