THE LODGE AT KAURI CLIFFS
| HIDDEN GEMS
The Lodge at Kauri Cliffs
A one-hour helicopter trip from Auckland to the Bay of Islands, New Zealand, takes you to one of the most spectacular golf courses in the world – but the real surprise is its elegant lodge perched above the emerald sea
Text
Denise Hummel
Photographs
Denise Hummel &
Kauri Cliffs
A long driveway is often an auspicious portent of things to come. When that driveway is the entrance to a 6,000-acre property of mandarine orange, kiwi, lemon and persimmon and acres of rolling hills, disturbed only by cattle and grazing sheep, the anticipation is heightened. One is hardly prepared, however, for the sight of the Lodge at Kauri Cliffs: the vista of an emerald sea, waves crashing on the white sand in the background, one hundred shades of green rolling hills of the
world-acclaimed golf course
making up the mid-ground and the gracious Manor House, with Georgian style wrap-around porch, the foreground. All this, just a one-hour flight from Auckland to nearby Keri Keri in the Bay of Islands.
The Lodge is now run by Jay Robertson, the son of legendary New York financier Julian Robertson. Significant shoes to fill: Jay, at age 28, is doing a fine job of looking after people, making each individual feel as if he were the only one that mattered. Without exception, the guests had nothing but glowing things to say of their experience.
Julian's idea had been to make the property a golf course (and it is one of the most spectacular in the world with water views from 15 of the holes on this par-72 course), but it was at his wife, Josie's, insistence that he built a full-fledged resort. She is the 'creator' behind the project and her design sense is stunning. It has been called a South Carolina plantation house and an East Hampton summer cottage, but it really defies traditional description because it is uniquely 'Josie'. She and New Zealand
interior designer Virginia Fisher
have either designed, discovered, or commissioned every piece of furniture, every mirror, every fireplace mantel, table, chair or desk. The floors are wide-plank pickled totara wood, alternated with narrow deckle-edged strips. The 'parlor' is enormous and flanked by fireplaces rough-hewn from native kauri-wood. A central atrium opens up into other public spaces, each with its own hearth and each opening by walls of French doors onto the wrap-around verandah overlooking the golf course, with hills plummeting into the sea. There is a beautiful collection, throughout the public areas of the Lodge, of eclectic treasures: an Indian chest with iron carvings, Georgian style pediment mirrors, a Chinese zither table, a gilded bronze coffee table, a Balinese rain drum and a 19th century French spire clock face all meld seamlessly into the sophistication of the ambience.
The accommodations are eleven board-and-batten cottages (ranging from 840 to 1500 NZD, which includes breakfast, dinner, cocktail hour, use of the pool and gym, snacks and drinks, other than spirits, and most anything else you might desire other than the golf), surrounded by a subtropical-like glade created by Geoff Pickles. Their windows, French doors and verandahs enjoy the same view as the main house give or take a few silver ferns. Bedrooms are spacious kings with hand-quilted bedding, his and her dressing rooms, huge bathrooms with porcelain tubs, separate rain shower, and separate toilet area, all generously supplied with Evolu, a luxurious local range of herbal skincare products.
http://www.evolu.com
I suggest requesting a Deluxe Suite, which at 900 square feet is a bit more spacious than it's 840 square foot younger brother. Every suite is lovely, however. I enjoyed
The Owner's Cottage
(5,000 – 6,500 NZD), an accommodation larger than my small villa in northern Italy (at 4,200 square feet), with a private infinity pool and outdoor Jacuzzi, private subtropical garden, separate office, master and guest suite, master and guest bathroom, butler's pantry (which is more like a kitchen), garage, and finally, my own golf cart to get me from place to place should laziness take hold (not an entirely rare occurrence).
Their
spa
was six weeks old at the time I visited and so I was honored to be the first to review it. It is nestled on the edge of a
Totara forest
and overlooks a verdant fern glen and winding stream. Each treatment room is equipped with a shower and changing area and has floor to ceiling views of the Glen. The treatment rooms open up to a private outdoor space so you can have your treatments al fresco. The massage was wonderful, the therapist blessed with the intuitive hands that make deep tissue massage a wonder rather than a worry. Couples can choose the
'Couples Spa Suite'
which features dual massage tables, deep plunge soak tub, double shower, indoor/outdoor lounging areas complete with double chaise longue. The gym facilities include a thoughtfully equipped locker room, sauna, Jacuzzi spa pool and 100-foot (30 metre) heated indoor lap pool, as well as a state-of-the-art fitness center with the full spectrum of exercise equipment. There are also two artificial grass tennis courts, adult and children's mountain bikes and a basketball hoop.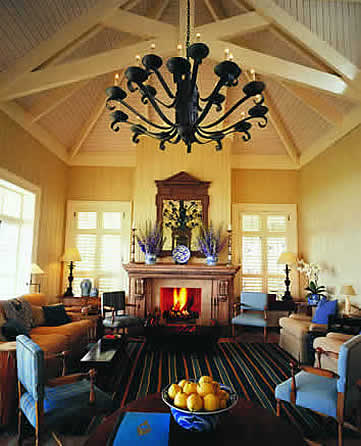 Cocktail hour, which is included in your accommodations package, is a great time to meet other guests who generally hail from New Zealand and Australia, followed by the United States and Europe. As a guest alone, I never felt lonely, having been embraced by couples, as well as groups of couples here to golf together. Dinner is served in the main dining room, at any time you like (reservations are unnecessary) or in one of the two additional private dining rooms, upon request, or on the verandah. Gentlemen are required to wear jackets for dinner. Julian, from one generation, and Jay, from the other, debated the dress code, Julian winning out, for now, to uphold the traditional formality of dinner. I, personally, felt it fitting for the elegant dining room, and an appropriate homage to the chefs, Dale Gartland and Neil Brazier who deserve great respect for their capacity to combine different ethnic traditions, such as Japanese, Moroccan and Indian, with local produce and native fruits like feijoa, tamarillo, orange and kiwi. They were both born and trained in England. Dale came from Gidleigh Park (a Relais & Chateaux Property), which was awarded a Relais Gourmand, 2 Michelin Stars and 5 AA Rosettes. Neil moved from Bindon and worked at Summer Lodge, another Relais & Chateaux property in Dorset for 2 years.

I ordered pan-seared Mahi Mahi with Baba Ghanoush, saffron pearl couscous and celery and watercress salad and savored every bite of what I previously proclaimed "too beautiful to eat." The Apple and Blueberry cobbler with butterscotch ice cream followed on the verandah. The French doors were thrown open to the land of the long-white cloud and I sat with a hand-woven mohair throw on my shoulders as I watched the sun leave the sky. In the course of 48 hours, I managed to savor a startling Esk Valley 2005 Hawkes Bay Riesling, a 2004 Herzog Pinot Gris from Marlborough, and a 2002 Dry River Lovat Syrah from Martinborough, but my sunset drink was a 2003 Villefranche from Sauternes, and it went down as smoothly as the sun over the satin horizon.

I'm not a golfer, so I won't claim to understand anything about the course other than to say it is spectacularly beautiful and that I used my golf cart for sight-seeing over the bluffs of the course, rather than to lug my golf clubs. Having said that, I will quote Michael Campbell, world-ranked golfer as saying that 'the par 5 fourth hole is unquestionably the finest hole I have ever played, so much so that I was prompted to suggest that I would be honored to have the hole bear my nickname, 'Cambo'.' 'Cambo' is a 558-yard par 5, perched on a peninsula framed by the beautiful Takou beach. Does this mean anything to you golfers? I would hope so.

If you're not interested in golfing, there are so many other activities, you'll have to force yourself to slow down. There is great hiking on the property. Jay will set you up with a radio, some water, a picnic lunch and a map and set you off to view their spectacular waterfalls or one of their three beautiful private beaches. The Pink Beach, in particular, is so named because it is covered with minute pink shells and surrounded by huge Pohutukawa trees (which flower with incredible red blossoms around Christmas time), living in the rocky crags and islets and in sight of many of the Lodge's barbecues.

There are many, many day trips from the Lodge, including boat charters to the Bay of Islands, touring the local vineyards or village life, jet-boating, fishing, parasailing, horse trekking on the beach, to name a few. My favorite excursion by far was enjoying a scenic Lodge helicopter flight where I was treated to aerial views of the beauty of Northland and the Bay of Islands far more dramatic than anything I could have dreamed of. I saw hundreds of miles of emerald ocean spilling onto untouched beaches of white sand, thousands of acres of native bush, miles of sand dunes that looked like they had never been walked upon, wild horses running through the preserve, and natural harbors, bays and inlets that defied imagination. We dropped down to take a trip to Tane Mahuta or 'lord of the forest' in the famous Waipoua forest. The giant kauri tree there has the largest girth of any tree in the world and my guide, Bim Hohepa, a Maori guide with 'Footprints', gave me extraordinary insight into the Maori culture, as well as indigenous flora and fauna.

Must run off now for a spa treatment. Hope I'm not leaving you in the lurch as I've merely scratched the surface of this exquisite property. My motivations are not without purpose; I expect for you to come see for yourself and defy you to claim I have exaggerated.
©Copyright 2006 - 2019 JUST THE PLANET LUXURY TRAVEL CC - All rights reserved