HUKA LODGE, NEW ZEALAND
| HIDDEN GEMS
Huka Lodge, New Zealand
Only a few hours from the hustle and bustle of Auckland, you may find yourself by an aquamarine river, pulling trout out of the water, or watching the fog rise up from it, while simultaneously being surrounded by the most luxurious hospitality a traveler could possibly imagine
Text
Text
Denise Hummel
Photographs
Denise Hummel &
Huka Lodge
What Kauri Cliffs is to golf, Huka is to trout fishing. One enters this converted 1920's New Zealand fishing lodge and if you are not a fisherman by fact, you will be by heart. One has only to pass the huge timbered main Lodge Room, past the massive fireplace, aglow from morning to evening, to be taken in by the Waikato River, tree branches heavy with foliage dripping from the riverbank as if trying to drink from its waters. The sun's rays burn through the morning mist, lifting the fog from the water's surface like slow motion steam from a kettle, the water swirling in odd currents as if trying to decide which way to go. Nearby Huka Falls beckons to be recognized in the distance a ten minute hike from the terrace.

Dutchman, Alex van Heeren bought the lodge in 1984 from Irishman, Alan Pye who had built four simple canvas-clad huts on a bend of the river he recognized as an angler's paradise. Americans, Commander and Mrs. Fitzhugh Green owned what is now the Owner's Cottage. Van Heeren raised the Lodge like a small child from its humble roots, to a five-star property. There's no need to discuss when the last refurbishment occurred as he, very wisely, closes the lodge every June and one could say that the property is in a constant state of upgrade. No loose ends here.

There are 20 cottage-like lodge rooms nestled on the banks with terraces abutting the lawn that slopes to the water's edge. Chaise longues dot the grass and ducks come to visit you, wondering if the glass of wine you're sipping might be accompanied with some nibbles you're willing to share. You'll need to keep your terrace doors shut, or you just might find new room companions when you return to your room. Prices of the lodge rooms run from $695 NZD low season to $1,150 NZD mid season, per person per night. To encourage total relaxation, televisions and phones are only available on request.

Rooms are spacious with translucent white drapes over the headboard - wispy and romantic when they sway in the breeze from the French doors leading to the terrace or from the ceiling fan above. Walls are local tawa wood, bleached to give a light feeling to the room. There is a spacious en suite, large dressing room and bathroom with an over-sized window overlooking the glade. All the rooms are used to display works by some of New Zealand's foremost artists: Max Gimblet, Mervyn Taylor, Don Binney, Paul Dibble and Dick Frizell, to name a few.

The Owner's Cottage, designed by New Zealander Virginia Fisher, is opulent and furbished generously with unique pieces chosen for their comfort, beauty and history, like the wonderful Twenties French oak chairs in the living room. For those who love their privacy and don't want eat at the main lodge, a fabulous dinner can be cooked at the Owner's Cottage by a Huka Lodge chef. Its well-equipped kitchen also allows guests the option to self-cater. The kitchen has a gas hob, electric oven, microwave and fridge/freezer with icemaker. The den has a work-station, featuring desk with computer and printer. Other diversions include plasma-screen television and a DVD player. A cozy fireplace and deep leather chairs complete the picture. A large outdoor deck extends in a continuous line from the living room until it meets the amazing cantilevered infinity pool. The water line blends seamlessly back into the Waikato River beyond and the effect is breathtaking. Yet another timbered deck at a lower level features a heated spa pool and guests will find plenty of outdoor furniture suitable for dining, sunbathing, reading or a quiet nap.

Should guests be traveling with staff, provision has been made for two escort rooms with en suite bathrooms, designed for single occupancy. Price for Owner's Cottage occupancy varies considerably according to number of guests occupying the cottage (up to eight guests are easily accommodated) but the rate ranges from $2,600 to $6,700 NZD per couple. All tariffs include accommodation, full country breakfast, pre-dinner drinks and dinner.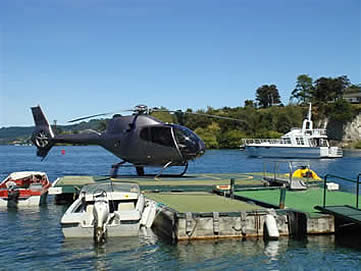 | | | |
| --- | --- | --- |
| | | |
There is no spa, but in-room spa treatments are available and activities are limitless. There are helicopter flights (and transfers), four-wheel driving, horse riding, hiking, golfing, jet boating in the Huka Jet, Kayaking and parasailing on Lake Taupo to name a few. I enjoyed Huka's boat ride on the lake, navigated by Clark & Jolly. We trolled for trout and when I caught 'the big one'- a 24 inch rainbow, the Huka helicopter met us at the dock and whisked me (and my fish) back to the Lodge where she was cooked up for my lunch with potatoes, a salad and a squeeze of lemon.

One of the delightfully unusual aspects of the Lodge is the number of unique dining areas. There is, indeed, a main formal dining room where guests can sit collectively and recount their activities of the day, but there are a number of private dining areas for groups or families who might like to eat without outside distraction, and more significantly, several tables for two in the upper loft area, which are completely private and have their own balcony overlooking the river. Outdoor dining is also available, under huge ivory umbrellas with gas heaters and multiple outdoor fireplaces. A wool throw is available for coziness as the weather is increasingly cooler as our journey heads south.

Pre-dinner cocktails are served at 7 and dinner begins at 8. The menu is a five-course set menu, absent allergies or stated preferences. During my stay, our dinner included a curried pumpkin soup, followed by a delicate tuna tataki with ratatouille, tapenade and basil pesto. There was a honeydew melon juice shot interlude, then a hearty fillet of beef with potato gratin, braised beetroot, shallot and Cabernet jus. Lastly, the Valrhona chocolate tart with Manjari chocolate ice cream was a bit heavy, but lovely.

Huka is the first of the luxury lodges in New Zealand and one which others have traditionally admired as a standard of excellence. As the New Zealand luxury market strives to meet the tastes of discerning travelers, the bench mark will continue to rise, and I have no doubt that Huka will keep pace with this demand. In the meantime, I think I'll lounge by the river, watch the sun filter through the fog as it lifts, the trout jumping up from the water's edge to amuse me (or is it to catch insects?), and if I have the energy, saunter over to have a cup of coffee by the fire.



HUKA LODGE, NEW ZEALAND
Style
Luxury Lodge
Setting
River-side / Trout River
Wow factor
Tranquil setting along a river, the color of which defies written description
Good to know
The chef will be happy to cook up any fish you may catch for your lunch
Address
Huka Falls Road, P.O. Box 95, Taupo, New Zealand
Phone
+ 64 7 378 5791
Fax
+ 64 7 378 0427
Email
reservations@hukalodge.com
Website
http://www.hukalodge.com
How to get there
Located off State Highway 1, just north of Taupo onto Huka Falls Road. It is sign-posted 'Huka Falls'. The Lodge is located 500 metres south of the Huka Falls entrance.
©Copyright 2006 - 2019 JUST THE PLANET LUXURY TRAVEL CC - All rights reserved