PILGRIMAGE VILLAGE, HUE, VIETNAM
| HIDDEN GEMS
There are more than two hundred pagodas in the small city of Hue, including some of the oldest in Vietnam, a fact that attracts many pilgrims to the city. But what is a pilgrimage without a place to rest body and mind, and restore the spirits? Hue Pilgrimage Village is just that – the ideal place to stay to bring balance back to your life.
It's a village centered around relaxation and restoration, an emphasis you'll pick up the moment you step into the traditionally wooden reception area, where you'll be warmly greeted and served hot ginger tea. Hue has two seasons – summer and winter – and we visited in the less popular of the two (winter). It is a testament to the Pilgrimage Village that even though the weather was miserable and drizzly outside, we still enjoyed every moment of our stay.
It's difficult not to, when it seems as if every facet of the resort is catered towards relaxation. The bungalows are large and spacious, with warm wooden floors, four poster beds hung with diaphanous mosquito nets, and subtle works of art placed here and there (the resort has the largest collection of Hoang Dang Nhuan, a famous Vietnamese artist's work in the whole country). The bathrooms (especially in the Honeymoon Bungalows) are something special, too – vast marble rooms with large baths placed next to picture windows looking out onto the lotus-filled canal, powerful showers jetting onto a bed of smooth white stones, and luxuriously silky kimonos to step into.. The property itself is large and filled with indigenous trees and plants, but wandering around the stone paths, you'll soon feel right at home. Perhaps this is because it's a family-run resort: Mr Le Van Truong designed the whole place as a sketch, and now he and three of his four children are intricately involved in the workings of the hotel. They've trained their staff to make you feel right at home, too. Nothing is too much trouble, and they seem genuinely pleased to see you whenever your paths may cross.
It's not just a comfortable place to hang out (although if hanging out is your goal, be sure to visit in summer when the stunning pool with in-water loungers and bar stools can be fully appreciated). No, at Hue Pilgrimage Village you can feast the senses, in a very literal sense. The half-day cooking classes are a great way to get in touch with Vietnamese cuisine, as the chef takes you into town to the market to choose all the produce you will be using in the class, and then whispers the secrets of Hue specialities such as prawn and pork spring rolls, savoury fried pancakes and
Hue rice noodle soup
in your ear. The private cooking classes lead you through the making of each of these dishes, along with an explanation of which ingredients are used and why. Head Chef Thao is accompanied by Senior Cook Chau and Cook Ho Hiep, so there are more than enough people on hand, and the class is a fantastic way to answer all the questions you might have gleaned while tasting your way around Vietnam (we had been trying to figure out what the bright red oil circling most soups we'd had was – turns out it's cashew nut oil.) The class was also a really fun way to sample traditional Hue dishes, as we could eat everything we made. Our pancakes were perhaps not quite as expertly put together as they could have been, our spring rolls a little wobbly, but the pleasure of eating something you've made personally outweighed any aesthetic misdemeanours. Above all, it was a great way to get in touch with a slice of Vietnamese culture that will last (one hopes) a lifetime – we were sent home with all the recipes of the dishes we'd conquered, so here's hoping there will be many Vietnamese dishes coming out of our kitchen in years to come.
If the class simply whets your appetite (as it did ours!) head to the superb
Junrei Restaurant
for a feast of dishes unique to Hue, or a wide range of other local dishes. The restaurant took five years to build – each of the tall wooden pillars had to be carved from a perfectly straight jackfruit tree, and each of the carvings you'll see on the ceiling and walls is imbued with meaning, and had to be carved on an auspicious day. The result is a lofty beauty, a dining room as you've never seen it before. This is one dinner you won't forget in a hurry. Unwind after dinner with a couple of cocktails in the ultra-modern, beautifully styled Slope Bar, or in the softly candlelit Candle Bar. The choice of how you want to relax is up to you… the option to stay stressed, however, is not.
If you're in the mood for something a little more hedonistic, be sure to visit the award-winning
Vedana Spa
. A traditional wooden reception area eases you into the treatment, as you're served mint tea and fresh fruit, and then led along a series of stepping stones to the stand-alone treatment rooms. The Vietnamese massage is a must-do, an intriguing blend of Swedish massage, cupping and chopping that will leave your body feeling as soft as butter. Sink into a flower-filled bath to ease any last shred of tension, and you may want to drift off to sleep… Each of the therapies is a blend of natural ingredients, designed to balance the physical and emotional body, and with no less than five massage methods to choose from (Vietnamese, Thai, Detox, Swedish and Aromatherapy), you may find yourself needing to come back for more.
Every day you also have the option to join a complimentary Tai Chi class (at 7am) or a Hatha Vinyasa Yoga Class (at 8am), in the beautiful meditation house, looking out over the lotus flowers of the canal, or listening to the birdcall and soothing music of the spa area. There's a fitness centre, too, fully equipped, and a heavenly private Jacuzzi, steambath and sauna area.
The choice is yours – whether to spend your days lounging by the pool or on your veranda looking out over the lush landscape, indulging in culinary treats in a cooking class or the restaurant, or relaxing your body and spirit at the spa. Or you can do as we did, and spend enough time at the Pilgrimage Village so that you can fit it all in, and still have time to spare. Whatever you choose to do, you can rest assured that you will be warmly welcomed in this most hospitable of Vietnamese villages.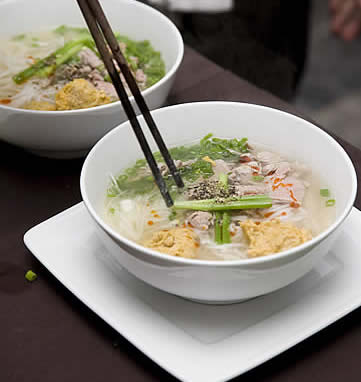 PILGRIMAGE VILLAGE, HUE, VIETNAM
Style
Vietnamese charm, incorporated perfectly into the lush surroundings.
Setting
A four-hectare plot of land overflowing with abundant indigenous foliage and lotus-filled canals. On the outskirts of Hue, a small city in Central Vietnam.
Why you'll love it
As soon as you arrive, you'll feel right at home. Service is incredibly friendly, and the whole resort is catered towards relaxation.
Good to know
There are free shuttles into the city (a ten-minute drive away) six times a day. The Candle Bar serves up drinks and free internet all day, and there is free Ethernet in the rooms if you bring your laptop. If you feel like unwinding in peace, the Jacuzzi, steam bath and sauna is the perfect place to go – the doors to the Jacuzzi area will be closed off, and you can relax in hot or cold tubs while being served mint tea and fresh fruit. The charge is $10 per person.
Wow factor
It's impossible to escape the serenity that pervades the entire resort, and you're guaranteed to leave feeling calm and peaceful.
Best rooms or suites to book
The rooms are all beautiful and spacious, but if you're looking for the crème de la crème, choose the Traditional Vietnamese House. It is built entirely in traditional style, predominantly out of beautifully aged wood, and offers a separate living room, a large bedroom, a marble bath and outdoor kitchen area where the chef can prepare private dinners by the pool. Staying in the Traditional House also includes two hours of spa treatments every day. Irresistible! If you're looking for something a little less decadent, the Honeymoon Pool Hut has a small plunge pool that can be filled with candles for a private veranda dinner. On arrival, the sunken bath is filled with flowers, and there's an outdoor shower for cooling off on hot days. The Honeymoon Bungalows are very similar to the Honeymoon Pool Huts, but without the pool, and with an indoor bathroom.Families can stay in the Villa Family Deluxe, two villa rooms with an interleading door.
Room for improvement
The slippers in the room are plastic slops, not slippers, and don't really match the comfort of the silk kimonos. The shower in the Honeymoon Hut, although beautiful (you shower standing on a bed of smooth white stones) tends to spill out into the rest of the bathroom – a better drainage system needs to be put into place.
Rates
Low Season is from May to September, High Season from Oct to April, and Peak Season is from December 21st to January 10th. Prices vary according to season. Traditional Vietnamese House, from US$611 to US$729. Honeymoon Pool Hut from US$358 to US$429. Honeymoon Bungalow from US$234 to US$286, and Villa Family Deluxe from US$296 to US$343. All include tax, service charge, and breakfast.
Address
130 Minh Mang Road, Hue, Vietnam.
Tel
+84 54 3 885 461
Fax
+84 54 3 887 057
How to Get There
Fly into Hanoi International Airport or Ho Chi Minh International Airport, and catch a domestic flight to Hue Airport. From there, arrange for an airport pick-up from Pilgrimage Village (US$20 for 1 to 3 people, US$5 per person for 4 people or more). Alternatively, fly into Danang Airport, one-and-a-half hours by airport transfer or taxi from Hue.
HUE RICE NOODLE SOUP RECIPE
Ingredients:
1.5 litres of chicken stock
500g rice noodles
100g beef fillet
1 teaspoon sugar
5 branches lemongrass
1 teaspoon salt
1 teaspoon shrimp paste
100g minced crab and minced pork
3 teaspoons chicken powder
1 teaspoon fish sauce
50g onion
Shallots to taste
To serve:
Bean sprouts, salad, lettuce and banana flower
Spring onions
Red chilli (finely sliced on the diagonal)
Sliced lemon
Method
:
- In a medium-sized pot, add salt, sugar, chicken powder and fish sauce to chicken stock.
- Stir together, then add lemongrass and shallots.
- Bring stock to boil, and stir in shrimp paste.
- Add smashed onion
- When you begin to smell the lemongrass, add minced crab and minced pork in chunks.
- Place sliced beef fillet into a strainer, and immerse in the stock to cook it briefly.
- Remove froth from the top of the soup, so that when it is served it is clear.
- Meanwhile, bring one litre of water to boil for noodles.
- Cook noodles for approximately two minutes. Once cooked, drain and blanch in cold water, then place in colander.
- Blanch bean sprouts in stock briefly.
- Assemble soup by placing noodles in bowl, and then adding large branches of lemon grass, spring onion and beef. Then add stock, garnish with red chillis and finely slice green spring onion.
- Serve with lettuce, salad, banana flower, bean sprout, lime and chilli.
Back to
TOP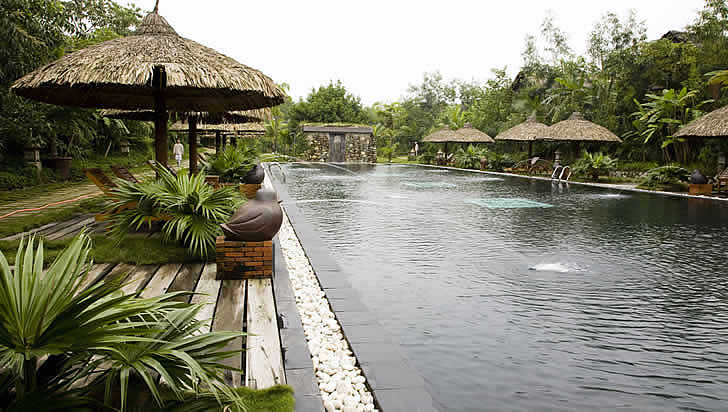 ©Copyright 2006 - 2019 JUST THE PLANET LUXURY TRAVEL CC - All rights reserved