METROPOLITAN HOTEL, BANGKOK
| HIDDEN GEMS
METROPOLITAN HOTEL, BANGKOK, THAILAND
Bangkok is a city constantly abuzz, so it's a rare treat to find a haven of peace and tranquillity in its midst. Bridget McNulty discovers just that at the Metropolitan Hotel in Bangkok's Business District.
Text
Bridget McNulty
Photography
Mark Peddle
and courtesy of Metropolitan Hotel
Bangkok is a busy city. Busy and bustling and colourful and chaotic and constantly on the go… It's enough to make your head spin. Which is why you need somewhere
calm and peaceful
to retreat to, especially when you first arrive. Somewhere like the Metropolitan Hotel.
You'll sense, as soon as you step into the hotel, that this is somewhere you'll be able to unwind. From the extremely friendly staff who are always on hand to help you with your bags, or a question, or just to check that everything is going your way, to the beautifully designed rooms, to the
luxurious spa
and relaxing outdoor pool area, everything at the Metropolitan is about making sure you're comfortable, and easing you into the madness that is Bangkok.
We arrived late and jetlagged, and were immediately shown to our room – a
Metropolitan Suite
(which they claim are the largest deluxe rooms in Bangkok, a claim that's easy to believe). The décor is simple and stunning, dominated by a king-sized bed and large windows looking out over the city skyline.
Kathryn Kng, a noted Singaporean interior designer, worked on the hotel, and her subtle touches can be seen everywhere, from the mosaic and limestone bathrooms, to the Thai silk cushions and the clean lines of Thai Makha wood. Each of the rooms has one-off pieces of art by Natee Utarit, a young Thai talent living and working in Bangkok. The effect is one of modernity meeting serenity – it's no wonder it's part of the
Design Hotels
group. A truly calming place to stay.
We had a heavenly sleep on a king-sized bed made up in Egyptian cotton linen (with a fine goose-down duvet) and woke up hungry, just in time for the buffet
breakfast served at Cy'an
, the hotel's main restaurant: all the usual continental fare prepared beautifully – pastries, cheeses, the most delicious yoghurt and quite possibly the best fresh fruit I've had in years (the mango alone was something to write home about). There were also a host of other dishes on the menu to supplement the buffet – the coconut waffles with passionfruit were particularly good.
After breakfast, the day is yours to do with as you will. Lounging by the pool on the very comfortable loungers (in sunlight or shade, whichever you prefer) comes highly recommended, as you'll no doubt be tempted to take a dip to cool off. There's also the COMO Shambhala spa, with an attached gym, Jacuzzi and steam room. Or take advantage of one of the massages or other treatments on offer… a one-way ticket to relaxation. I had the COMO Shambhala signature treatment, with oils imported from the
COMO Shambhala
in the Metropolitan, London: a heavenly 60-minute massage specially designed to calm the mind and rejuvenate the body – the perfect way to start a holiday!
If you're here for work, there are a number of boardrooms to choose from, seating 16 to 150 people, or it's possible to arrange for private meetings in your suite (if you're in one of the larger suites). For relaxation there's also the Club21 Art Gallery, full of stunning Thai pieces of art. Or you can simply while away the time in your suite, watching any of the 23 channels on cable TV or hiring one of the DVDs available from the front desk. Whatever you choose to do with your day, you'll be sure to be feeling relaxed and refreshed as the sun sets ...
Choose to dine at one of the two restaurants on the premises – Cy'an or Glow. Cy'an is run by Executive Chef
Daniel Moran
and draws inspiration from the Mediterranean, with Moorish influences, and an emphasis on fresh produce, seafood and subtle spicing. And Glow is an all-organic and natural food restaurant offering light meals, energising juices and a boost of vitamins, minerals and pure freshness -
read more about Glow Organic Restaurant
.
Before you go to either restaurant though, you'll want to pop into the
Met Bar
for a cocktail (all guests are given a free signature Martini on arrival – simply delicious!) The Met Bar has a stylish lounge atmosphere and is apparently quite the party hot spot on the weekends. During the week it's quiet and classy, much like the rest of the hotel.
In fact, the Metropolitan is such a
serene and calming
spot that the only drawback is what a shock the rest of Bangkok will be! It's easy to forget, surrounded by such superb service, such impeccable design and such absolute comfort, that you're actually in the heart of one of Asia's most chaotic capitals. But that's what makes the Metropolitan so special. It's a bubble of calm amidst the chaos.
Why not take a stroll?


There are a few Night Bazaars in the area, the biggest one being in Patpong, a 15 minute walk away (alternatively catch a taxi, although because of the traffic it will probably take the same amount of time!) The Bazaar is open 6pm till midnight every day.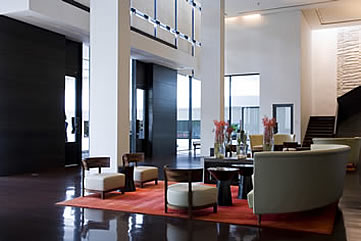 METROPOLITAN HOTEL, BANGKOK, THAILAND
Style
Minimalist chic, with a hint of Thai. Uncluttered and serene.
Setting
The Metropolitan is tucked away at the end of a long driveway off busy South Sathorn Road, in the Sathorn district of Bangkok, which is right in the middle of the Central Business District. You're pretty much surrounded by high-rise buildings, but you wouldn't know it till you lifted your eyes to the sky.
Why you'll love it
There are free yoga, pilates and core conditioning classes three times a day. We took a morning yoga class and we were the only two people there, which meant loads of personal attention from the excellent instructor. Highly recommended. The 20-metre pool is the perfect way to cool down after a busy day, and although the hotel is away from the hustle and bustle of the city, it's only minutes away from the action if you're feeling adventurous.
Good to know
There's a hair salon on the premises if you feel the need for a trim while you're in residence. The Jacuzzi and steam room (inside the spa area) are open from 6am to 10pm, and are strictly single sex. Yoga mats are provided in each room, and there's a pretty impressive fully-equipped gym, also inside the spa area.
Wow factor
The serenity. Everything at the Metropolitan is about creating a buffer of calm amidst the madness of the city.
Best rooms or suites to book
The hotel feels so personal that it's surprising how many rooms there are – 171, to be exact. The best of the best is the Como Suite (240 square metres), a 2 bedroom, double-storey suite with a large lounge, living room, fully equipped kitchen, walk in wardrobes and Jacuzzi tubs in the bathrooms. One step below this is the Penthouse Suites (there are four), also a duplex with many of the same amenities as the Como Suite, but only one bedroom. Both the Como and the Penthouse Suites have a 24-hour personal butler on hand to satisfy any whim.
The hotel isn't really catered towards families, more towards business travelers, which is why the Executive Suites are so popular – the living room area can easily be converted into a private meeting space. Then there are the terrace rooms, which include a large private patio and an outdoor shower (a lovely addition that brings the outdoors in), and the Met rooms (of which there are 122), also very spacious but without the outdoor area. The Studio and City rooms are the smallest in the hotel. Quite a range to choose from!
Room for improvement
For a hotel so catered towards business travelers, the Metropolitan needs to update its internet policy. It offers a mere 15 minutes free internet (per room per day) in the Business Centre, or at the public computer in the lobby. After questioning this, we were told that there was free wireless internet in the lobby, but this seems to be privileged information – only for those who kick up a fuss. In the rooms, wireless is exorbitant – 214 baht an hour (about US$6) and 642 baht a day (about US$19).
The hallway carpets on most of the floors are also in dire need of replacing – they seem to be stained or have been water-damaged from the outside in. And the shower drain in our bathroom was extremely noisy – gurgling for a good ten minutes after we finished showering. I'm confident these problems will be dealt with swiftly and with great style, however.
Rates
SPECIAL OFFER


JUST THE PLANET readers can benefit from the Metropolitan's Ultimate Savings Special offer:
Simply book ahead and get even better value at the Metropolitan Bangkok.

Enjoy a City Room from $99 (usually US$260)
A Studio Room from $119 (usually US$300)
A Metropolitan Room from $150 (usually US$320)

Reservations must be confirmed a minimum of seven nights prior to arrival and paid in full at the time of reservation. Cancellation less than 72 hours and no-show will incur one-night room charge.

A minimum stay of two nights applies, all rates are room only and subject to VAT, with the offer valid until 31st December 2009.

If you'd like to take up this offer, enquire below. Additional rates:

Terrace Room: US$360, Executive Suite: US$420, Penthouse Suite: US$800, COMO Suite: US$2000

Address

27 South Sathorn Road, Tungmahamek, Sathorn, Bangkok 10120, Thailand.

Tel

+66 2 625 3333

Fax

+66 2 625 3300

How to Get There

Bangkok International Airport is about a 40-minute taxi ride from the Metropolitan, and they have a limousine pick-up service. The Airport Express Bus stops a few blocks from the hotel.

Travel Services

The Guest Services were excellent – friendly and well-informed staff who are only too pleased to tell you how to get to places, what to see, what to do, and where to eat. A mine of useful information, with many maps on hand!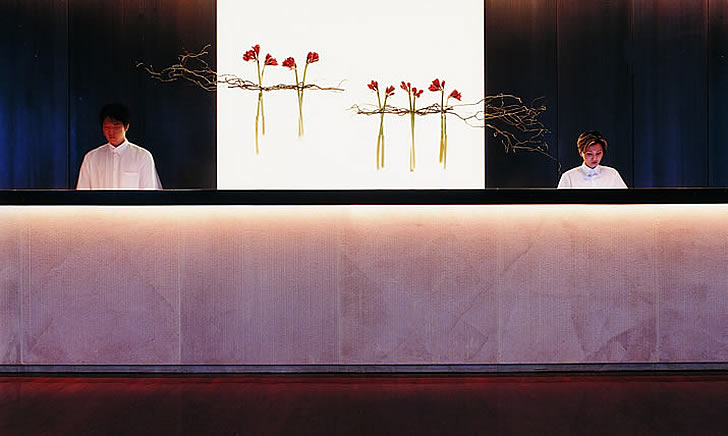 ©Copyright 2006 - 2019 JUST THE PLANET LUXURY TRAVEL CC - All rights reserved