CHAKRABONGSE VILLAS, BANGKOK
| HIDDEN GEMS
Walk along busy Maharaj Road in Bangkok, with the Wat Pho temple compound on your left, a hundred little shops selling strange curiosities on your right, and any number of streetside stalls cooking up a feast between the two, and you may start to wonder if you're lost. It's not really the kind of place you'd expect to find a boutique hotel. And it's certainly not the kind of place you'd expect to find a gem of a boutique hotel. Yet, if you persevere until you reach number 396, a bottle green gate with a handcrafted sign that reads Chakrabongse Villas, you will have arrived at what is undoubtedly one of Bangkok's most delicious boutique hotels. Best of all? Hardly anyone knows about it.
In fact, until eight years ago, it was the residence of royalty. Built in 1908 by HRH Prince Chakrabongse, the main house was originally used as a place to stay when the prince attended royal ceremonies in the Grand Palace, and went for picnics and excursions on the Chao Phraya River. After the 1932 revolution, his son, HRH Prince Chula Chakrabongse, an historian and writer, took up residence here. And later still, his daughter Narisa moved in, transforming the grounds into a truly magical boutique hotel, and retaining the main house as her private residence.
Part of the charm comes from its ideal location – less than five minutes away from two of Bangkok's top attractions (the Grand Palace and Wat Pho) yet in an entirely tranquil space, with lush gardens, spacious villas and plenty of decks and balconies to watch the sunset, or the boats on the river, or simply soak up some sun. The Riverside Villa, in particular, has stunning views over the river and the Temple of the Dawn, with large windows filling the teak rooms with light. What is unusual about this hotel is not only that it's on the river, however. It's that it's on the river (a river that is constantly busy and in motion), yet it manages to feel completely peaceful. Tucked away. Hidden.
Breakfasts and dinners are served in the Riverside Dining Pavilion, a glass-walled patio right on top of the river, with a panoramic view of not one, not two, but three temples, and one Roman Catholic church. Dinner at Chakrabongse Villas is an experience you'll never forget… guaranteed. It's like something out of an Asian fairytale. Glance out the window and it's all lit-up temples and glowing party boats, floating serenely by. Close your eyes and the air-conditioned enclosure cuts out all sounds except softly tinkling music. Open them again and you'll be greeted by an interior all aglow with candles, lamps and fresh flowers in warm shades of red and pink. It feels as if you're floating on the river in a rose-tinted bubble.
The food is pretty special, too. You have to order your meal before 1pm so that the cook can do the shopping – so you can be sure it's fresh. And it is authentic Thai food – Tom Yum Goong hot and sour prawn soup, fresh sea bass in a sweet and sour sauce, rice in the most elaborately woven palm-and-flower rice holder I have ever seen, and a delicious spread of fresh exotic fruits, mango and sticky rice for dessert. Service is discreet but friendly, and the whole experience is one of those nights you'll want to freeze in time and remember forever.
The other experience guaranteed to go into your bank of best moments is a ride on a longtail boat. Chakrabongse Villas have their own spectacular speedboat for hire (THB 2500 an hour) but they also have a traditional longtail boat (THB 800 an hour) and if there's one thing you have to do while you're in Bangkok, it's take a ride on a longtail. The driver steers from the back of the boat, and with an amazingly deft hand will take you through some of the klongs, or canals, that line so many streets in the city. From this unusual vantage point you'll be able to see a slice of the real Bangkok – men, women and children relaxing at home, fishing, washing their clothes, and going about their daily business. It's like snapshots from a completely different world – a mother rinsing out her cooking pots on the banks, two young boys making fishing rods out of bits of string, an old man sitting on a balcony hung with succulents in empty plastic bottle holders. You'll be tempted to take photos at every turn, but be sure to take some time out just to watch, and listen, and lap up some of this rare view of real Thailand.
And, in fact, that's what Chakrabongse Villas gives you: a taste of Traditional Thai (in the décor, the location and the abundant foliage) combined with all the luxury you could wish for. It's a perfect combination, like a particularly well-balanced Thai curry. My only recommendation? Don't spread the word too far. You don't want the secret getting out.
Why not take a stroll?


You can't miss Wat Pho – one of Bangkok's most extraordinary temples and home to the Reclining Buddha – which is just across the road from the hotel. Right next to Wat Pho is the famous Grand Palace, also well worth a visit, and an easy ten-minute walk down the road you'll find the deliciously-scented Flower Market, full of every kind of flower you can imagine, for next-to-nothing prices.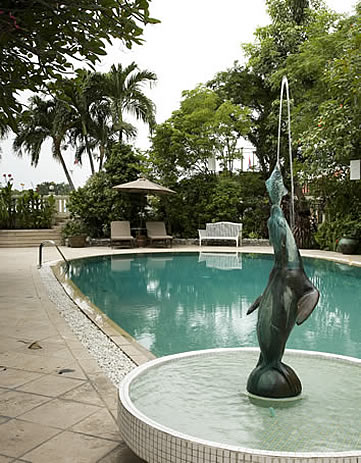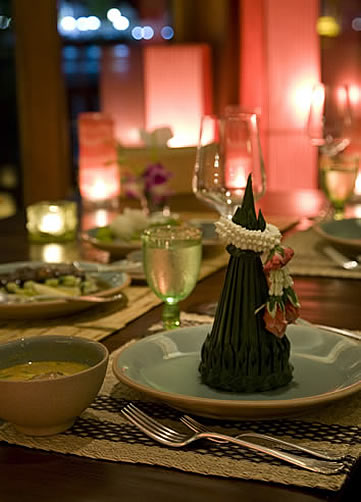 CHAKRABONGSE VILLAS, BANGKOK, THAILAND
Style
Stylish traditional. Distinctly Thai touches – lots of teak, intricately carved doors, oriental flair and an abundance of fresh orchids, combines with unexpected touches like lanterns hanging in the trees, interesting wrought iron balustrades, and a fountain with a brilliant turquoise artwork in pride of place.
Setting
The setting is what makes this place so rare. Right across the road from the Wat Pho temple, on busy (and not particularly attractive) Maharaj Road. The villas are set in a lush garden, far from the street and right on the edge of the river.
Why you'll love it
Really spacious rooms, stunning décor, and great views (over the river, the garden or the pool) make this an all-round winner. The beautiful (10 metre) pool is a stone's throw from the river, but surrounded by flowering trees and plants. Thanks to the attached publishing house, there are books everywhere. And you'll find orchids in every room.
Good to know
River Books is a small publishing house run by the same people who run Chakrabongse, and they publish gorgeous coffee table books on South-East Asia and the history of Thailand. The books are available for sale or you can simply enjoy them while you stay at the villas. Free high-speed wireless internet in all the villas. A spacious library with desks, couches and a computer to access the internet is located right next to the garden.
Wow factor
The sense that you have stumbled across a hidden garden of luxury that nobody else knows about.
Best rooms or suites to book
As with most boutique hotels, each room has its own special character. The Riverview Suite is a Thai-style teak apartment with a view over the river to the Temple of the Dawn. The Garden Suite is more modern and opens onto the main garden. The Thai House is a traditional Ayuttaya-style wooden house on stilts, and although it doesn't have a living room, it has an extensive outdoor area (in the traditional style). The Chinese Suite is the only villa with two bedrooms (both double, both en-suite) and is furnished with exquisite antique Chinese furniture.
Room for improvement
The bathroom in the Riverside Suite (where we stayed) is in need of an extraction fan – it gets steamy when you take a shower, and there is an occasional smell of drainwater or river at times ... Faint but unpleasant. An extraction fan would sort it out no problem.
Rates
Low season is from May through September, high season is from October through April.
Chinese Suite THB 23000 / THB 25000
Riverview Suite THB 13000 / THB 15000
Thai House THB 10000 / THB 13000
Garden Suite THB 8000 / THB 10000
There are also two smaller bedrooms in the main house, available for THB 4500 and THB 5000.
Address
396 Maharaj Road, Tatien, Bangkok 10200, Thailand.
Tel
+66 2222 1290 / +66 2622 1900
Fax
+66 2225 3861
How to Get There
Fly into Bangkok Suvarnabharmi International Airport and then either take a metered taxi to Maharaj Road (across the road from Wat Pho) or pre-order the Chakrabongse Villa's limousine service, at USD48.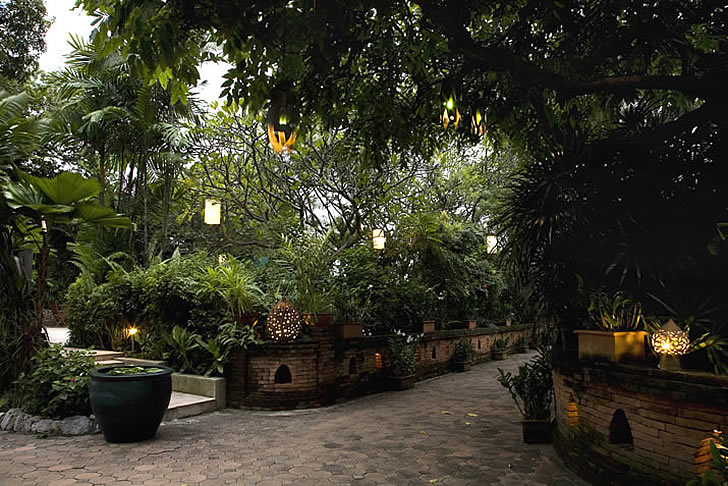 ©Copyright 2006 - 2019 JUST THE PLANET LUXURY TRAVEL CC - All rights reserved