VERANDA NATURAL RESORT, KEP, CAMBODIA
| HIDDEN GEMS
VERANDA NATURAL RESORT, KEP, CAMBODIA
In the peaceful seaside town of Kep lies a resort that has somehow managed to blend in with nature. Bridget McNulty spends some time at the Veranda Natural Resort and leaves feeling very relaxed indeed.
Text
Bridget McNulty
Photography
Mark Peddle
Arriving in a new town usually necessitates some kind of orientation – a stroll around the town centre, perhaps, or getting to know the ins and outs of a local map. Not so with Kep, a town so small there is really only one point of reference: the beach. And this beach is only one kilometre long, so it shouldn't take too long to get to know it.
That's not to say that Kep is boring, not at all. It's a charming little place, with wide tree-shaded streets that run parallel to the bright blue ocean, a string of seafood restaurants right on the water's edge, and a horizon of forested mountains that sweep down to the sea. Kep is famous for two things: the crab (which is superb, especially fried in Kampot pepper) and the fact that they used to be the seaside resort town of Cambodia, before nearby Sihanoukville stepped in. What's interesting about this last point is that it has left a residue of French colonial influence in the town, which adds an unusual and attractive aesthetic. Also, that all the backpacking hordes head for Sihanoukville, and leave Kep to those with a finer appreciation of beauty.
It is funny, though, that the main attractions in Kep involve leaving the town to go on day trips. A boat-ride to the beach paradise of Rabbit Island, a tour around the Pepper Plantations, half an hour away by tuktuk, or an exploration of the Kampong Trach Caves, home to a reclining Buddha. After a hard day's touring, there's nothing you want more than a comfortable, peaceful place to retire to, and Veranda Natural Resort is an ideal candidate for that place.
The resort has been running for six years and, according to owners Mab and Lily Luu, it's been a work in progress from the beginning. Six years ago, Veranda was little more than a few bungalows scattered amongst the trees, but Mab, a project manager with a flair for design, quickly got to work creating his dream resort. Lily has a fear of snakes, so his first work order was to build stilted wooden walkways that ensured no snakes would come near their new home. These days, the walkways form a delightful route around the resort, giving it a treehouse feel that's heightened by the lush vegetation at every turn. The large veranda making up the restaurant and reception area looks out over a stunning view of the ocean and the valley below, and this view is repeated in many of the wooden bungalows and rooms scattered around the property.
Although the views and the garden are lovely, it's the aesthetic of the rooms that really sets Veranda apart. So many local Cambodian hotels and guesthouses are sterile and block-shaped, lacking character of any description – it seems to be the Cambodian aesthetic, very clean and orderly, but without any charm. Not so with Veranda, where organic wood, bamboo and rock shapes form quirky touches everywhere you turn, and shells are inlaid in walls and floors, nearly but-not-quite hidden from view. Lily says it's because Mab knows the surroundings so well, "Often these new places will use an architect," she explains, "who imposes an idea from the outside. Mab has created this place from the inside, so it's a lot more natural." Indeed, it seems as if the whole resort is a labour of love – the walls in each bathroom have shapes laid out in white stones that appear only when you take the time to look at them carefully, flowers and crocodiles and birds leaping out of the stone. All the wood used in the resort is local, mostly rosewood, and it is deliciously soft and textured; it almost feels as if it has been worn down especially so that you can run your hand along it or to entice you to ease yourself into one of the chairs or benches dotted around the property. Walk up to the top rooms from the veranda and you'll find yourself on a moss-covered stone pathway, with trees, ferns and flowers on both sides of you… like being transplanted into a tropical garden.
But it's an extremely comfortable tropical garden. Wooden loungers covered in white cotton cushions invite lazy afternoons spent reading on the patio, with overhead fans moving the hot air in a cooling breeze. The large bed nestles in a wooden square and looks out onto a room with mostly open space, broken only by the (wooden) desk and quirky (wooden) bookcase. The bathroom's smooth edges are concrete with tiny inlaid shells, and the floor is cool and comfortable on bare feet after a hot day. Even the lights are carefully chosen – not too bright, receded into the ceiling or hidden behind frosted glass, peeking through orange bottles so that there is no unseemly glare. In the midday heat you might want to hide in the icy aircon interior, but come late afternoon the folding doors let in a delightful breeze, just enough to pull you from your comfortable stupor and lead you down to the veranda, to watch the sunset and sip on cocktails…
If you get hungry during the day, there's a delicious assortment of French-inspired pastries at the Bakery Shop, including such delicacies as tarte aux cerises, tarte a la rhubarb couverte, apple crumble and the more ordinary muffins and croissants, and some delicious all-natural ice-cream. Come dinner time, the restaurant offers a full menu of local and French-inspired dishes, to be enjoyed overlooking a vast sweep of darkened valley below you. In fact, there's not a whole lot you won't like about Veranda. The service is a little laidback, and the reception staff could do with an added dose of charm, but in an environment as slow-moving as this it doesn't seem too out of place.
Although Kep might not have that much to offer the energetic traveler, it has this: peacefulness. And if you're looking for a dose of calm amidst a stunningly natural environment, then Veranda Natural Resort is the perfect place to stay. Just be warned: you may be so relaxed that those day trips don't sound so appealing after all.
Why not take a stroll?


Just above the Veranda parking lot is the start of a stunning nature trail through the Kep Nature Reserve. Take the steeply uphill trail or the much easier dirt road through indigenous forest, filled with birds, butterflies and strange-looking bugs. The views out over the ocean and the town of Kampot are amazing, highly recommended.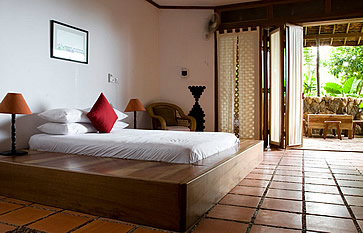 VERANDA NATURAL RESORT, KEP, CAMBODIA
Style
All natural – wood, stone and thatch complement the lush surroundings. It's a rare example of a hotel actually enhancing the beauty of a tropical garden.
Setting
On a ten-hectare plot of fruit trees and shaded garden, high on the hilltop looking out over the small town of Kep and the stunning vista of the Gulf of Thailand.
Why you'll love it
The attention to detail is extraordinary – every room and bathroom is different, with shells and inlaid stones creating charming pictures, smooth wooden furniture enhanced by coloured blown glass, and local Cambodian artwork providing a splash of colour.
Good to know
There's free wifi throughout the resort. The buffet breakfast is included (and has some of the most delicious French bread I've ever tasted). All the rooms (not the bungalows) have DVD players, and there's a large selection of DVDs to choose from at reception.
Wow factor
The surroundings. The resort is essentially right in the middle of a tropical jungle, with raised wooden walkways ensuring you don't come into close contact with any creepy crawlies the jungle might have to offer. The views are also astounding.
Best rooms or suites to book
Veranda has a wide range of rooms and bungalows to choose from, but let me make your job easier – only book a room or the villa. The bungalows are charming but tiny, whereas the rooms are spacious, beautifully designed and with large outdoor patios or verandahs. They also have mini bar fridges, TVs and DVD players, which the bungalows don't. If you're traveling with the family, book the Villa, which has two bedrooms and its own kitchen. Some of the rooms have kitchenettes (be sure to request one if you want to do any cooking), and the Family Deluxe has two joined rooms on the same verandah.
Room for improvement
The resort is desperately in need of a pool, which is being built at the moment and should be completed by the end of the year. Although the brochures and websites promise fridges and cable TV in all the rooms, only a few have fridges and there is no cable TV at all – only DVDs. Not a problem, but false advertising. The toiletries could also do with updating, they were very scarce and looked rather cheap.
Rates
Rooms are US$65 to US$75 per night, and sleep two. The Villa is US$195 per night and sleeps four.
Address
Kep Mountain Hillside Road. P.O. Box 9824, Kep, Cambodia.
Tel
+855 33 399 035 / +855 12 888 619
How to Get There
Fly into Phnom Penh International Airport. Kep is three hours in a private taxi from Phnom Penh, a trip that should cost about US$50.
Travel Services
The team at Veranda can organize day trips to Rabbit Island, the Pepper Plantations or the Caves, the three most popular day trips in and around Kep.
©Copyright 2006 - 2019 JUST THE PLANET LUXURY TRAVEL CC - All rights reserved