RAFFLES LE ROYAL, PHNOM PENH
| HIDDEN GEMS
I have only one qualm about staying in five-star hotels in third-world countries: they often cut you off from experiencing the city first hand. The hotels are so lush and so lavish that they could be anywhere in the world… and that, to me, defeats the point of travelling.
Not so at the Raffles Le Royal in Phnom Penh. As soon as you walk in, you'll feel transported to a world of comfort and luxury, but it's a world that is firmly rooted in Cambodia. From the silver elephant statues in the lobby to the understated touches of local art on the walls and the orchid in your welcoming drink, there is no doubt that this is a Cambodian hotel. What sets the Raffles Le Royal apart, I think, is that it offers everything you'd expect from a top hotel, but it manages to do so with some character. This is a hotel with personality.
And there's a story to it, as there is to any old dame with personality. In 1967, Jacqueline Kennedy, former US first lady, fulfilled a lifelong dream and visited the temples of Angkor Wat in Siem Reap. Two large photographs of her visit are on display in the lobby area (and recently featured as part of the TV show 'The Amazing Race'). While in Cambodia, a formal dinner was held at the hotel, where Jackie O met Prince Sihanouk of Cambodia, and "a champagne cocktail as red as her lips" was served, in specially made cocktail glasses, as they listened to Prince Sihanouk's own jazz compositions. Not only have the glasses been saved and put on display (nobody's telling which one Jackie O drank out of), but the Raffles Le Royal signature drink is now the Femme Fatale – Jacqueline Kennedy's champagne cocktail.
It's these little touches that differentiate the hotel, and make it a far more interesting place to stay than any of the other hotels in the area. The Raffles staff, who are wonderfully warm and polite, are also at pains to make every guest feel at home. In fact, nobody is called a guest, you're a resident from the moment you check in, and the hotel has been laid out in such a way that it has a residential feel – a large lounge area when you first walk in, with a small office and a sun room where afternoon tea is served. Keep walking and you'll come to the large 20-metre pool, perfect for laps or lounging around, and set in the midst of subtly landscaped gardens. There's also a fun pool for kids, and a pool bar should you need something to quench your thirst. Bedrooms are spacious and extremely comfortable, with simple, sophisticated décor, views out over the city, the pool, or the French colonial hotel exterior, and large bathrooms that were made for luxuriating in. Landmark rooms all have heavenly clawfoot tubs, and there are cavernous showers in all the rooms. It's the kind of room and bathroom you could get comfy and spend some time in.
And that's really the point at the Raffles Le Royal - it's the perfect spot from which to discover Phnom Penh, with all the comfort of everything you know to ease you into what can be a baffling city to explore. There's a sense, though, that the city is waiting for you, patiently, outside the door. The hotel doesn't feel removed from the vibrant heart of the riverfront area, a few minutes ride away, or from Wat Phnom around the corner; the small hill crowned by an active wat, and the legendary founding place of Phnom Penh. Take a stroll there during the day (it's not safe at night) and you'll find a steady stream of the faithful coming to pay their respects, vendors with all kinds of treats for sale, visitors and, surprisingly, troops of monkeys!
If you decide to stay in, you can divide your time between the Amrita Spa, with every kind of treatment you could wish for, as well as a sauna, steam room and Jacuzzi; or spend a few hours working up a sweat in the fully-equipped fitness room. Come afternoon time you might want to indulge in some tea and cakes in the lounge, while a string trio serenades you with classical music; or perhaps retire to the Elephant Bar, a wonderfully themed lounge (full of silver elephant candle holders, elephant tapestries, elephant carpets, paintings and statues) that's a favourite amongst ex-pats in the area, and has its own resident pianist every evening. Or you could simply relax in any of the comfortable sitting areas around the hotel, readying yourself for dinner – a superb buffet in the Monivong Café, or an intriguing blend of French and Khmer a la carte in the fine dining Le Royal Restaurant.
However it is that you choose to pass the time, you'll feel entirely at home in this haven of ease, this grand dame of coziness in the heart of Cambodia.
Why not take a stroll?


Ask the always-on-duty concierge anything about the city, and he'll be more than happy to point you in the right direction. The Russian Market is most famous for shopping, with the best selection of jewellery, curios, silks and carvings. It was known as the foreigner's market in the 1980s, when most of the foreigners in Cambodia were Russians – hence its unusual name. For a spot of unusual architecture, head over to the Central Market, which was built in the French colonial era, and is impossible to miss – it's a bright yellow art deco building! Street 178 is full of art galleries, paintings and other must-haves, and is an easy 20 minute walk from the hotel, close to the National Museum, and Street 240 is famed for its handicrafts and boutiques, and is right next to the Royal Palace. Don't take my word for it, though – ask the concierge and you'll be given a map with specific information.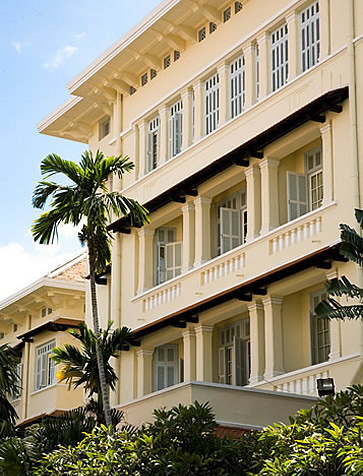 RAFFLES LE ROYAL, PHNOM PENH, CAMBODIA
Style
Old-fashioned charm. It's as if your wealthy great-aunt invited you to stay at her exceptionally well-run mansion.
Setting
In the Wat Phnom district of Phnom Penh, but the hotel is set back from the road and exists in its own garden of comfort and leisure – it has all the luxury you'd expect in a first-world country, in this chaotic third-world capital city.
Why you'll love it
The old-fashioned luxury. You'll feel like you've stepped back in time, to an age of colonial comfort – large armchairs, tapestries and afternoon tea.
Good to know
The delicious exotic fruit basket in your room is complimentary (make sure you sample the bright pink dragon fruit – delicious!) Every afternoon, a string trio plays classical music in the lobby lounge. Internet is charged for throughout the hotel – in your room and in the business centre (at an exorbitant US$3 for half an hour).
Wow factor
It's an oasis of comfort and tranquility in the middle of the city, but it doesn't feel cut off from Phnom Penh – it's a hotel with personality, and that personality is distinctly Cambodian.
Best rooms or suites to book
There are 170 rooms in the Raffles Le Royal, broadly divided into two kinds of rooms – State Rooms and Landmark Rooms. State rooms are in the newer section of the hotel, and all have balconies. Landmark Rooms are in the originally hotel building, and have hardwood floors but don't all have balconies. There are a handful of Personality Suites, in homage to individuals with a link to Cambodia (Jackie O and W. Somerset Maugham, for example), which are much larger than the other rooms.
Room for improvement
The staff were unfailingly polite, but not particularly speedy – we had to wait till after 2.30pm for our room to be cleaned, despite the fact that we were out of the room all morning. Apparently Raffles has a policy against free internet, but Cambodia in general has so much free wifi (many restaurants and cafés offer it), that it seems behind the times to charge for it in a hotel that caters for business guests.
Rates
Rooms start from US$140 during the low season and from US$180 during the high season. Low season is April to September, and high season is October to March. The rates are room only and subject to 5% service charge, 2% accommodation tax and 10% VAT.
Address
92 Rukhak Vithei Daun Penh, Sangkat Wat Phnom, Phnom Penh, Kingdom of Cambodia.
Tel
+855 23 981 888
Fax
+855 23 981 168
How to Get There
Fly into Phnom Penh International Airport, and either catch a taxi or order the Raffles Le Royal airport pick-up service at US$14 per person.
Travel Services
There's a dedicated concierge on hand all day and into the evening should you have any questions about the area, and he's extremely knowledgeable and helpful.
©Copyright 2006 - 2019 JUST THE PLANET LUXURY TRAVEL CC - All rights reserved