ONE&ONLY, CAPE TOWN
| HIDDEN GEMS
There are people who only stay in One&Only hotels – and I can see why. The latest addition to South African Sol Kerzner's One&Only family, in Cape Town's vibey waterfront, is an absolute delight, from check-in to check-out.
In fact, it's almost like checking in to a completely different world. A world where everything runs smoothly, where your every need is anticipated, where expectations are not only fulfilled, but exceeded. In this world the bedrooms are large and luxurious, with balconies looking out on a stunning view of Table Mountain. The bathrooms are decadent – a huge tub, a powerful shower, and the kind of robes you don't ever want to take off. The service in this world is discreet, but present. The beds are deliciously soft. And the artwork is all South African.
You see, that's the surprising part. It's a world-class hotel, yet it's distinctly South African. It's also the only urban resort in the One&Only group, which makes for an interesting play of city and space. The décor, designed by New York interior designer Adam D. Tihany, is contemporary and sexy, but with an African twist in the colours and artwork. Clean lines, contemporary art, and dark African wood accentuate the rooms, and there is subtle African imagery sprinkled throughout the hotel – the same motif repeated in the banisters, the carpet, the room dividers and the lift doors. It's not immediately noticeable, but it gives the whole place a distinctly South African flavour, with that ever-present New York loft tang.
It's a flavour that is carried through in every aspect of the One&Only. The Goodman Gallery, on the first floor, is a living art gallery where all the work is for sale. It showcases South African artists and acts as a cultural experience in the heart of the hotel. The spa is an island of peace and tranquility (quite literally an island – you have to cross a bridge to get there) with every kind of beauty and relaxation treatment you can imagine, as well as a few you probably haven't heard of. It also houses the Bastien Gonzalez pedicure and manicure studios (only available in eight places in the world) and a hair studio, so there's really no need to leave the world of the One&Only ...
Stay to dinner and you'll be treated to one of two delicious options – Maze by Gordon Ramsay, and the famous Japanese Nobu restaurant, by Nobuyuki Matsuhisa. Maze offers tapas-style starters with grill-style mains, while Nobu combines the freshest South African seafood with innovative Japanese cuisine. Make sure to look up as you enter Nobu and you'll see some pretty spectacular ceiling lights – like giant origami lit from within. You'll forget the lights as soon as you taste the food, though.
It's an adventure in every mouthful – the flavours that he mixes together are unlike anything else you're likely to taste, and the result is exciting and exhilarating… It's like going on a tastebud adventure. But it will leave you stuffed! At least, it will if you indulge in the seven-course tasting menu, like we did… A specially chosen range of dishes that complemented each other beautifully. The food itself isn't so filling, but it's so incredibly delicious that you won't want to leave a morsel on the plate.
Lucky, then, that we had nothing to do except luxuriate in a giant bubble bath and watch the Cape Town city lights.
We woke the next morning (which just so happened to be my birthday – best birthday ever!) to in-room freshly brewed espresso coffee and organic tea, and then made our way to Maze for the breakfast buffet. What a wonderful way to start the day!
Freshly baked pastries from the bakery on the premises (the most heavenly chocolate muffins I have ever tasted, complete with real dark chocolate chips), a beautiful array of fresh fruit, yoghurts, cheeses, meats and cereals – you name it, the buffet had it. But, refreshingly, not in giant portions. I ordered a hot dish from the menu – brioche French toast with maple syrup and crispy organic bacon – and was surprised to find I still had space for a cup of tea and another excellent pastry (the croissants are sublime, they come highly recommended).
Then there was just time for an extraordinary Bastien Gonzalez medi-pedi-cure, a pedicure phenomenon that combines the skill of podiatry with the beauty of a pedicure, before it was time to head off, back into the real world. Back into a world where everything is not centered around luxury and comfort and beauty, a world that doesn't feel, at every turn, like a hidden gem.
Why not take a stroll?


The One&Only is an easy ten-minute walk from the V&A Waterfront – a shopping paradise for all those who love labels, international and local. You can also sample some excellent local restaurants, catch a movie, or take a boat trip around the harbour or to Robben Island. The Two Oceans Aquarium is right next door to the hotel, and is a must for all those interested in marine animals of all shapes and sizes.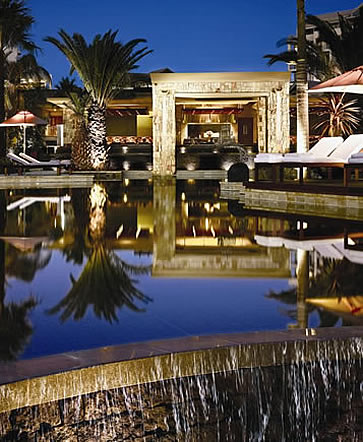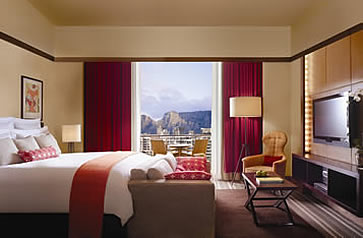 ONE&ONLY HOTEL, V&A WATERFRONT, CAPE TOWN, SOUTH AFRICA
Style
Contemporary luxury with a South African twist.
Setting
Beautiful location, in the heart of the V&A Waterfront with spectacular views of Table Mountain.
Why you'll love it
Your every need has been anticipated, and prepared for. Extremely comfortable rooms, fantastic bathrooms (with a bath to die for), a resort feel in the middle of the city, and a superb spa on-site.
Good to know
The bar and restaurants are open to Capetonians, so this is one South African hotel where you might actually meet a local. Make sure to stop by the Vista Bar and try one of the Evolution Cocktails: classic cocktails created in past, present and future incarnations. Free high-speed wireless internet throughout the hotel.
Wow factor
The patisserie on the premises makes the most heavenly freshly baked goods. And the complimentary Kids Only area is very special – a quiet area, a creative area, and a movies area, with skilled child minders on hand, and happy-looking kids!
Best rooms or suites to book
There are 131 rooms, 91 in the Marina section of the hotel, and 40 on the island (these are larger and more private). The Table Mountain Suite and the Presidential Suite are the most luxurious, with guest bedrooms and bathrooms, his and hers bathrooms, a small fitness room, an office, and a large living space. The style is New York loft, with an emphasis on comfort.
Room for improvement
The hotel has only been open since April 2009, so there's very little wrong with it. However, the sound from the TV system was a little off – it was crystal clear in the bathroom, but much less clear in the bedroom. And the mini bar snacks were ridiculously expensive – ZAR120 for a packet of biscuits!
Rates
Marina Rooms from ZAR5 500 to ZAR8 000 per room, depending on the season. Marina Suites from ZAR11 000 to ZAR15 000, with the Presidential Suite (the best in the hotel) from ZAR35 000 to ZAR55 000. Villa Island Suites start at ZAR6 500 and go up to
ZAR35 000 per night.
Address
Road, Victoria & Alfred Waterfront, Cape Town, South Africa 8001
Tel
+27 21 431 5215
Fax
+27 21 431 5223
How to Get There
Fly directly to Cape Town and transfer within 20 to 40 minutes, depending on traffic. Airport transfers ZAR295 (0ne way) ZAR550 return. Special rates apply after midnight and before 6am. Porters will park your car for you on arrival.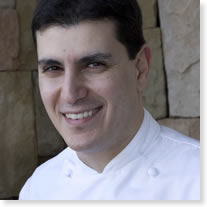 Five quick questions with Pastry Chef Dimo Simatos
As he takes a moment's break from baking up a storm at the One&Only hotel in Cape Town, we ask Dimo Simatos a few quick questions.
1. What makes the Patisserie and Bakery different?
We go to great efforts to make the perfect bread, the perfect pain au chocolat… We experiment until we get it as good as we possibly can. We don't buy anything in, it's all made here, and we're using the best possible ingredients – real butter, French flour, good quality dark chocolate, only the best ingredients. That comes through in the baking, we're not doing anything to make it cheaper.
2. How does being in the One&Only hotel affect the patisserie?
It is the One&Only's patisserie, so it's all about the hotel. As far as I know, we're one of the only hotels doing all our baking from scratch. We have a team of up to seventeen people working only in the bakery and patisserie, and we supply the hotel with all their desserts and baked goods.
3. What's your favourite thing to bake?
Chocolate soufflé. It might sound difficult, but it becomes easy! I like the simplicity of it – it's a little dish that rises beautifully, it's soft, it has a great temperature, and it's not aggressive. You don't have to break through it to experience it, and it isn't too overwhelming.
4. What's your favourite baked treat to eat?
Pain au chocolat – it's a breakfast pastry, like a croissant, but with a chocolate filling. Pain au chocolat with a good cup of coffee. Delicious!
5. What direction do you think baking is going in?
I think there's a market for all that molecular gastronomy, but pastries and desserts are going to stay traditional. As long as I'm here they're definitely going to stay traditional! Lemon tart is lemon tart. There's a discipline to stay rooted in tradition – you can put a spin on the classics, but there's an art to keeping it simple.
©Copyright 2006 - 2019 JUST THE PLANET LUXURY TRAVEL CC - All rights reserved