ILLYRIA HOUSE HOTEL, PRETORIA
| HIDDEN GEMS
ILLYRIA HOUSE HOTEL, PRETORIA, SOUTH AFRICA
Walking into Illyria House is like walking back in time: with ancient tapestries and antiques, classical music and a lavish colonial atmosphere, Illyria literally lulls guests into the past. Bridget McNulty finds out why a stay at this Pretoria landmark could easily slip by in a dream-like state.
Text
Bridget McNulty
Photography
Mark Peddle
and courtesy of Illyria House
Named after the mythical Illyria Shakespeare created in his play, Twelfth Night - the magical kingdom that sets the scene for the antics of those falling in and out of love – it's fitting that Illyria House all about romance.

In some ways, this theme is a huge success. The bedrooms are extremely comfortable, with crisp white linen, fresh flowers, and a beautiful balcony overlooking the garden. Our room had the added bonus of a separate balcony area with table and chairs, perfect for an afternoon cup of tea and some bird-watching, or to do some work if needs be. If you're planning on watching TV, though, the Salome suite is not the one for you – the television is tucked away in a cupboard that doesn't provide any comfortable viewing spots. Still, with a tagline like 'the setting for romance or what you will', they obviously don't expect too much TV-watching to be going on! The décor as a whole is very romantic, and pretty over-the-top. Every possible space is adorned with antiques, glass, crystal or copper, and there are tapestries and vintage chairs in most of the rooms, especially the lounge. It's a distinct look, but not a particularly comfortable place to ease into the evening after a busy day.

If you're looking for relaxation though, there's an outdoor Jacuzzi, in a curtained-off pagoda at the bottom of the garden – a beautiful spot. Tell your butler you'll be heading to the Jacuzzi in an hour, and he'll be sure to prepare it for you, with fresh towels and rose petals, and candles if it's dark outside. There's also a sauna tucked away in the garden, and three treatment rooms hidden in the bushes, which looked like a rather heavenly spot to unwind.

Come dinnertime, evening wear is elegant, and you can see why. The tables on the verandah are beautifully laid with silver and starched tablecloths, and you can choose from a seven-course menu, with hints of cordon bleu in the choices. Dinner selections are made in the late afternoon so that everything can be freshly prepared, an excellent idea as it also means the courses can follow each other rather swiftly. We had cream of tomato soup laced with strawberry and basil, and cream of butternut soup with mandarin and mint, followed by a delicious Avocado Ritz salad with fresh avo, prawns and an interesting (though not quite creamy enough) dressing. Lemon and vodka, and green tea and apple sorbet cleansed the palate before our main courses – an excellent pan-friend Mozambiquan prawn dish, and a tasty Duck a l'Orange (although the cut of duck was an odd choice – a leg and wing rather than a breast). Also on offer were Boeuf en Croute, rack of lamb, lobster and sole. We declined the pasta course, and didn't choose a vegetarian dish, although there were a few on offer. The cheese platter was generous, served with biscuits and preserves, and the desserts were delicious – a heart shaped chocolate cake with homemade ice-cream, and a cream-filled pastry swan on a bed of berries.

The ambience at night is very soothing – soft classical music in the background and the sweep of lawn in front of the verandah lit with flickering oil lamps. All in all, a lovely dinner. However… yes, there is a however... the service, although very friendly and polite, was not 100% attentive. We had to ask for an ice bucket for the white wine, which was then placed out of reach so that twice we had to get up and serve our own wine. The waiters were out of reach when we needed anything, not standing discreetly to the side, as one would expect with white-glove service.

Which brings me to my main problem with Illyria House. For a five-star establishment that prides itself on 'unrivalled personalized service' the service was not up to par. We had to ask for milk so that we could make tea and coffee in our room. We had to ask to see the spa. We had to phone reception to ask for the internet password, because the one they had in their information book didn't work. All small things that were quickly resolved, but together create the impression that things are not running as smoothly and intuitively as they should. The mark of a five-star hotel, in my opinion, is when your every need has been anticipated, and provided for, before you even know you need it. Perhaps it was because Marietjie van der Walt, the owner and creator of Illyria House, wasn't there during our stay. We got the impression that she has trained her staff to take orders very well, but not to be particularly good at taking initiative, with the result that when you ask for something it is given to you, but if you don't ask for it, it won't be provided. It's not a big problem, but it lends the house an air of faded glamour, as if things that once ran smoothly now run one step behind.

Still, if you're looking for a beautiful old-fashioned spot in which to be left alone to do whatever you will, this is the perfect spot. Privacy is key, and you'll quite happily feel as if you're the only one in the house.

And then there's breakfast – a beautiful start to the day. Soft classical music in the background, birdsong in the garden ahead, a white embroidered tablecloth and silver service ease you into whatever your day might bring. Sample a delicious array of fresh fruit salad, yoghurts, muesli, stewed fruit and pastries – all the classics perfectly done. And then there's a full English breakfast if you can fit it in!

Despite the small glitches along the way, we thoroughly enjoyed our stay at Illyria House. The old-world elegance makes it feel as if the real world is a long way away, a recipe for an extremely relaxing time. Make sure to make use of the Jacuzzi, take a long bubble bath, and luxuriate in the soft white décor of the bedrooms. You might just feel like you've been transported to another world.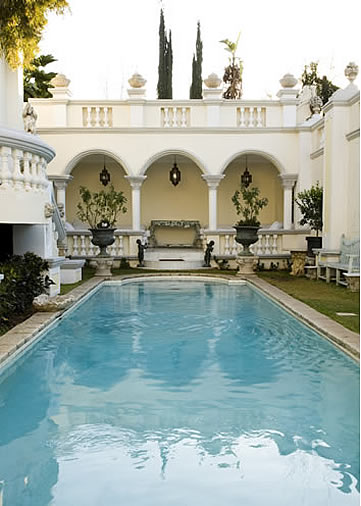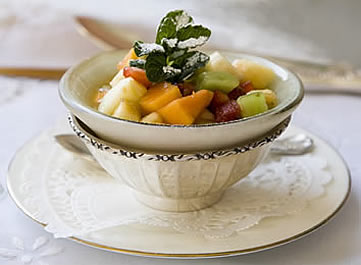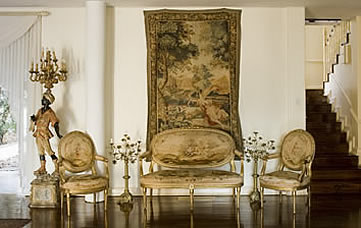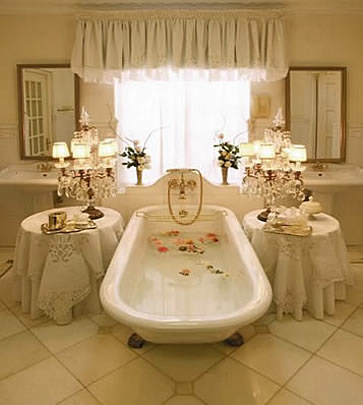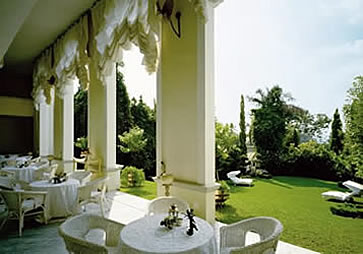 ILLYRIA HOUSE HOTEL, PRETORIA, SOUTH AFRICA
Style
Classic colonial ... to the extreme. Pillars, white drapes, crystal chandeliers and brocades abound. It's a huge old mansion with polished wooden floors and flower arrangements in every room. You'll feel like retired royalty.
Setting
A leafy colonial home in Pretoria's Muckleneuk suburb, 5 minutes from Pretoria Railway Station, 25 minutes from OR Tambo Airport.
Why you'll love it
Shaded loungers on the lawn, a wide verandah with tables and chairs looking out over the garden, and a leafy garden pagoda with a Jacuzzi make for extreme relaxation. Everything is geared towards old-fashioned comfort.
Good to know
Complimentary private transfers to and from Illyria House if you choose the Dinner, Bed and Breakfast or Fully Inclusive Package. Free high-speed wireless throughout the house. A range of DVDs are available.
Wow factor
The tranquillity. It's all white flowing curtains, green sweeping lawns and soft birdsong. You'd never guess you're in the middle of Pretoria!
Best rooms or suites to book
There are six suites to choose from – four of the six are larger and sleep four people, with either inter-leading bedrooms or partitioned sleeping areas. The remaining two (Salome and Magdalena) are for two alone, and are known as honeymoon suites. Each room is completely unique, with distinct décor and a character all its own. If you're looking for the least over-the-top room, go for the Salome suite. And make sure to ask for a suite with a balcony.
Room for improvement
The shower and toilet looked old and worn, in sharp contrast to the beautiful bath with gold-plated taps. Perhaps some selective renovation is in order? The toiletries are also not up to scratch – they looked as if they'd been there a while, and the shower gel, for example, was bright green and decanted into a heavy glass bottle that couldn't be used in the shower as there was no shelf to place it on.
Rates
Bed and Breakfast from ZAR2 450 per person sharing per day. Dinner, Bed and Breakfast (including complimentary transfers) from ZAR3 450 per person sharing per day. Or enquire about their fully inclusive luxury packages, which include spa treatments and tours.
Address
327 Bourke Street, Muckleneuk, Pretoria, 0002, South Africa
Tel
+27 12 344 5193
Fax
+27 12 344 3978
Travel Services
One of Illyria House's specialities is its private historical and cultural tours. They are also happy to arrange individualised shopping and sports outings, and have a number of adventure tours on offer (from golfing to hiking trails to wildlife excursions).
©Copyright 2006 - 2019 JUST THE PLANET LUXURY TRAVEL CC - All rights reserved