THE GRAND DADDY HOTEL, CAPE TOWN
| HIDDEN GEMS
THE GRAND DADDY, CAPE TOWN
There have been whispers circulating the streets of Cape Town lately, about a mysterious new trailer park that's taken residence on a rooftop in Long Street. The rumours are true, it turns out, and will lead you to one of the most unique hotels you're likely to find anywhere in the country.
Text
Bridget McNulty
Photography
Mark Peddle
and courtesy of Grand Daddy Hotel
Although a trailer park may not seem like the most desirable place for a hotel stopover, the Grand Daddy Airstream Penthouse Park is anything but trailer trash. The owners took a trip to the USA personally to track down the seven antique Airstream trailers, and once they'd hauled them back to their rooftop (quite literally, the trailers had to be crane-lifted into position) they handed them over to local artists and designers for an imaginative makeover.
The result? Seven entirely different style cocoons, with themes as diverse as Goldilocks and the Three Bears (complete with bear suit), Dorothy (think blue and white polka dots) and Moontides, with jellyfish adorning the walls. The Airstreams are all fully airconditioned, with remodelled showers and toilets, and landscaped gardens giving each trailer its own 'backyard'. There is also an upstairs bar area, open for all Grand Daddy guests until 8pm, and then only for Airstream guests. It's an unusual hotel experience, not only because you're staying in a glorified caravan, but also because the anonymity of the hotel room is stripped away ... . Step outside your Airstream to look at the city lights, and you're likely to see your neighbour a few feet away. Take a stroll around the rooftop, and odds are you'll start chatting to one of your fellow trailer residents. There isn't much cocooning when you're living in a trailer park.
Which isn't to say that the Airstreams aren't cosy, oh no. Once the sun sets and you've chosen which of the array of themed lights to illuminate, the close quarters of the trailer are an added bonus, and the tiny detailed touches really come to life. The Moontides bedroom area was wallpapered in jellyfish, but it was only once the lights were dimmed that they seemed to swim across the walls. Small creative touches abound – from collaged pictures in the bathroom, to themed postcards instead of a guestbook, to a tree branch strung with whimsical fairy lights and feathers.
And it's not only creativity the owners care about, either. Sergio Dreyer, the General Manager, is only too happy to fill guests in on the eco-friendly touches to the Airstream Park. The garden is entirely indigenous, watered by a drip irrigation system. All the lights use third generation LED light bulbs, and they are researching options for installing solar panels in the trailers. The trailers are also equipped with low-energy extractor units to lessen the power demands of air-conditioning and, although aluminium trailers are not biodegradable, these old gems are not going anywhere anytime soon.
If all of this sounds a little too artsy for you, there's always the rest of the hotel to discover. Choose from any of the 25 rooms for a more classic four-star hotel experience. The creative touches are still there, of course, they're just more gently interpreted. Indigenous plant life is stenciled in dusty metallics on the walls, lamps are made out of proudly South African fabrics, and there is a whimsical travel theme explored in maps and globes throughout the hotel. The beds are large and comfortable, the rooms cool and tucked away from the busy hum of Long Street. If you're looking for some peace and quiet, definitely choose a hotel room over a trailer!
Once you've had a chance to unwind, why not pop over to Daddy Cool, the hotel's golden bar. Metallic walls and playful gold touches are everywhere to be seen, but it's a light, surprisingly refreshing space that is as comfortable for sundowners as it is for late-night cocktails. Make sure to take a look at one of Cape Town's only digital galleries as you walk into the bar. When you've worked up an appetite, take a walk downstairs to the Showroom Café, Chef Bruce Robertson's latest venture, and the little sister to his award-winning restaurant, the Showroom.
The restaurant is light and airy, open to the vibey Long Street and manned by some excellent waitrons. Here, Robertson's partner Simone Rossouw is at the helm of a surprising menu. Surprising because of its simplicity – the emphasis is on fresh, wholesome food, simply but beautifully prepared. But also surprising because of the large portions, and the reasonable prices. This is what home-cooked food would be like if your mother was a very talented chef. Think sublime cream of mushroom soup with grilled ciabatta, or fresh West Coast oysters for starters; prime cut steak of the day served with a generous mound of seasonal roasted vegetables and potato wedges, proudly South African venison burger with a choice of sauces, or whole roasted baby chicken with baby potatoes. The lunch and dinner menu are very similar, with a variety of classic favourites prepared with a twist.
And if you still have space for dessert, the crème brûlée is superb, beautifully presented with gold-dusted ice-cream. Not quite so much space? Opt for the light and delightfully refreshing homemade granadilla sorbet with chunky berry compote.
Breakfast is a laid-back affair – a simple, fresh buffet or slightly more interesting alternatives on the menu, like special oats (with roasted nuts, natural syrups and fresh farm butter) or flapjacks, French toast, or 'De Babbelas' (savoury mince, baked beans and loads of cheese) for those who had too much fun the night before at Daddy Cool!
When you've eaten your fill, take a stroll around Long Street, soaking up the Cape Town atmosphere and doing some shopping in what has to be the city's favourite street, safe in the knowledge that whenever you want to, you can return to your very own Hidden Gem ... .
Why not take a stroll?
The South African Slave Church Museum, the first slave church, built in 1804, is literally five steps from the Grand Daddy's front door, and entrance is free. How can you resist taking in some history?
If you're looking for quirky artwork and gifts, you have to browse through Imagenius, a short walk from the Grand Daddy, on the opposite side of the street.
On Fridays, the walkway outside Imagenius is transformed into an Antique Market, a great place to stroll and pick up some antiquated bargains.
If you're not in town on a Friday, though, you can always pop next door to the Long Street Antique Arcade, for everything from jewellery to books, glass, furniture and collectables.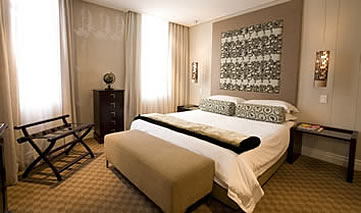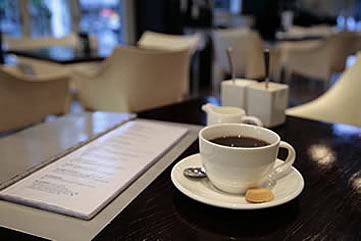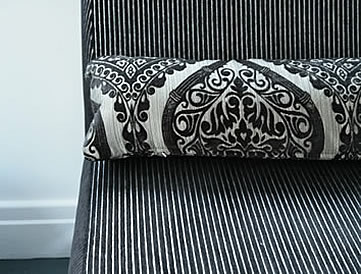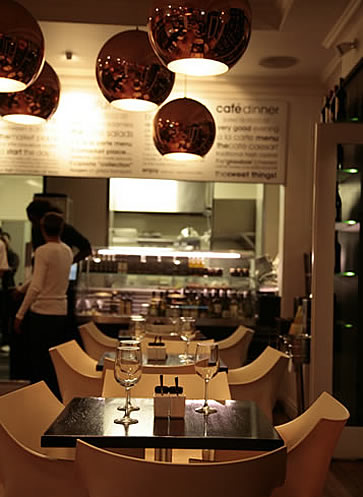 THE GRAND DADDY HOTEL, CAPE TOWN, SOUTH AFRICA
Style
Quirky boutique hotel.
Setting
Right in the heart of Long Street, in Cape Town's buzzing city centre.
Why you'll love it
Surprising imaginative details abound, and it's obvious great care has been taken to give the hotel character. They haven't skimped on luxury or comfort, but they've added in a great deal of charm. The Grand Daddy is also home to the world's only luxury trailer park – the Airstream Penthouse Park.
Good to know
Free high-speed internet in the lobby. Daddy Cool, the in-house bar, hosts lounge DJs on Wednesdays and occasionally live bands on Thursdays. The whole Airstream park may be hired out for the night for exclusive parties.
Wow factor
Unexpected creative touches, great city location, and, of course, those Airstreams ...
Best rooms or suites to book
There are 25 rooms in the hotel itself, all very comfortable and serviced by the oldest lift in Cape Town! The Sugar Daddy Suite is the biggest, with a separate lounge and balcony. Room 211 has a secluded wooden balcony as an added bonus. Families may prefer 209 and 210, as they have an interleading door that can shut off the passage.
There are seven Airstreams to choose from, each with a different theme. The Ballad of John and Yoko is the smallest (three quarters of the trailer is taken up by the bed!) but it has an external bathroom. Moontides is the largest, with an extra-long lounge space, and the other five – Pleasantville, Goldilocks and the Three Bears, For the Love of Lace, Dorothy and Afrofunkd – are all similar sizes (but very different inside!) When deciding whether to book a room or an Airstream, bear in mind that the bathrooms in the Airstreams are tiny, and very close to the sleeping space. The hotel rooms are more luxurious.
Room for improvement
The Airstreams have a slight smell of plumbing because the bathroom and bedroom are one small step away from each other. The shower overflowed, too, making that one small step seem even smaller! And in general the Airstreams are not as luxurious as the hotel rooms. Bringing in a few extra luxury touches – bathrobes and nice tea and coffee sets, with fresh milk, in particular – would add to the experience. For those who prize luxury, spend one night in an Airstream for the novelty factor, and then head down to the much more comfortable bedrooms.
Rates
From ZAR945 to ZAR1075 per room (depending on the season), ZAR1445 to ZAR1575 for the suite, excluding breakfast.
Address
38 Long Street, Cape Town, 8001, South Africa
Tel
+27 21 424 7247
Fax
+27 21 424 7248
How to Get There
Fly directly to Cape Town and transfer within 20 to 40 minutes, depending on traffic. Airport transfers ZAR 295 (0ne way) ZAR550 return. Special rates apply after midnight and before 6am. Parking is available in the Grand Daddy garage – just double park in front of the hotel your car will be valet parked.
Grand Daddy Travel Services
The concierges and reception staff are fully versed in everything to do in Cape Town and the surrounds. Or check out the All About Cape Town touch screen computer in the lobby, for a multilingual travel guide with activities, restaurants, shopping and weather information.
Five quick questions with Chef Simone Rossouw


We catch the Showroom Café's head chef, Simoné Rossouw, in between courses, and ask her five quick questions.

1. What makes the Showroom Café different?
Our focus is on fresh, wholesome food that's as healthy and organic as possible. We want to get back to basics with our menu – we still play a bit, but it's about using Cape Town's great ingredients and giving people bigger portions of really excellent food.

2. How does being located in the Grand Daddy influence the Showroom Café?
Well, there were certain really obvious things – we had to incorporate a classic hotel breakfast, for example, but we added our own special touches to it. We decided to make it café style so that if you're hungry, you can eat, any time of day. It's a homecooked, buffet style of eating, but because of the Grand Daddy's playful attitude, we get to play a lot. We have a lot of fun with functions, creating unusual dishes.

3. What's your favourite dish to cook?
Quail, definitely quail, or pigeon, when they're in season. We have this amazing supplier out in Stellenbosch where we can get fresh, organic quail. I like to marinate the bird, and then roast it whole, sugar cured.

4. What's your favourite dish to eat?
It kind of depends on the season… I went through a sushi phase, but I'm over that now. At the moment I think it's gnocchi – comfort food, you know? Or snacks. I like making small bite-sized snacks, really good cheese and preserves, little dips, where every bite is slightly different.

5. What direction do you think food is going in?
Well, it's interesting, because I've worked in fine dining and molecular gastronomy, and although I love the excitement of molecular gastronomy – food that is so unexpected and that does crazy things to your tastebuds – I think people are moving back to simple, healthy food. They want value for their money, and they're focusing more on their bodies and on nutrition. So I think food is going to start being all about the healthy, wholesome aspect of the ingredients, which is obviously what we're doing here at the Showroom Café!
©Copyright 2006 - 2019 JUST THE PLANET LUXURY TRAVEL CC - All rights reserved