THE IMPERIAL HOTEL, DELHI
| TRAVEL FEATURES
Old Delhi is a raucous cacophony of cars beeping, rickshaw bicyclists ringing their bells, ear-wax cleaners, dentists and barbers plying their trade to pedestrians on the street, children splashing and washing their hair with a hand-pump on the corner. The narrow alleyways are festooned with hundreds of electric cables intertwined in a way that makes you wonder how long they've been there and when they'll come down. Cows, goats and dogs walk the streets and browse the shops as if they were patrons. Hawkers and beggars 'request' your assistance. Food vendors roam the streets with their portable kitchens.
There's a
wedding accessories
street, a spice street, a kitchen supply street, a fabric street, a sari street and a flower street, organized in a city where 'organization' is not often apparent to the naked eye. And all of it takes place amid a car-bus-bike-rickshaw-pedestrian-scooter grid-lock in one of the most populated cities in the world.
While the experience of a walk or rickshaw drive through the streets of Old Delhi is reason enough to come, Delhi has more sights than you could possibly see in a few days and prioritize you must. There's the
Jama Masjid
, completed in 1656 AD, and one of the largest mosques in India. Its three sides are covered with open arched colonnades, each having a lofty tower-like gateway in the center. The roof is covered with three domes with alternating stripes of black and white marble, with its upper portion covered with gold. A walk through the fabled
Chandni Chowk
(literally, 'Silver Street') is also a nice way to get to know Old Delhi.
It was once the most opulent perfume market of India, but is now a bustling market, good for hunting down textiles, spices, books, musical instruments, and old and new silver and gold from jewelers whose forefathers served the emperors (
www.chandnichowk.com
). Just don't try to cross the street; it's like mid-town Manhattan rush-hour traffic plus cows and rickshaws and minus the traffic-light signal.
Then visit the
Red Fort
(closed on Mondays), dating back as far as 1639-48 AD, and built by Emperor Shah Jahan, who also built the Taj Mahal.. Also known as the Lal Quila, the Red Fort is the largest of old Delhi's monuments and its thick red sandstone walls , bulging with turrets and bastions, have withstood the vagaries of time and nature to impress us with the power and magnificence of the Mughal era. Visit Raj Ghat where
Mahatma Gandhi
was cremated following his assassination in 1948.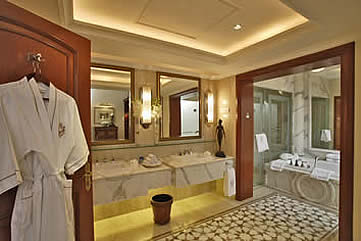 Our hotel of choice for our arrival was The Imperial, the entrance lined with twenty-four king palms. The décor is impeccable, studded with rare collections of 18th and 19th century artwork and its restaurant overlooks beautifully manicured gardens. It is truly an oasis of calm and elegance in the middle of a bustling city and has been dubbed by many, the 'museum hotel'. The suites are approximately 500 square feet in size, each with mahogany and oak carvings and splendidly ornate furniture, high-speed wireless internet and two of the largest and most sophisticated plasma televisions I have ever seen.

We were spoiled mercilessly by our private butler, standard with a luxury suite, who escorted us to breakfast and to the pool as if we had no perception of time and space (a correct analysis given jet-lag). Our physical condition at this point in the trip was a little weary, so I won't say that romance was the first thing on our mind, but it's difficult to be so indulged and not be in the mood for pleasure on every level. When the pillows are made of down, the bedspread of hand-woven silk, and the bathtub is the size of the State of Rhode Island, romance calls whether you're jet-lagged or not – so be sure to nap on the plane.



THE IMPERIAL HOTEL, DELHI
Style
Elegant High-Rise
Setting
City
Why you'll love it
Its acreage and cloistered setting, make it an oasis in the middle of a bustling city
Good to know
Butler service is available with the luxury suites
Dining
Spice Route restaurant, designed using the principles of Feng Shui, this award-winning restaurant has a temple-like interior, and hand-painted walls, ceilings, and columns.
Address
Janpath, New Delhi
How to Get There
Taxi or private driver from the airport
SHOPPING
Central Cottage Industries
Address
Jawahar Vyapar Bhawan, 01 Tolstoy Marg, New Delhi, India
Tel
+91 11 23321909
Cottage Industries Exposition
Address
16 DCM Building, Barakhamba Road, New Delhi (Ground Floor, opposite Bank of America), India
Tel
+91 11 26254264
Saga Department Stores
Address
B-5 Jangpura Main Mathura Road, New Delhi, India
Tel
+91 11 2437 6981
Website
www.sagastores.com

| | | |
| --- | --- | --- |
| | | |
©Copyright 2006 - 2019 JUST THE PLANET LUXURY TRAVEL CC - All rights reserved