PHINDA PRIVATE GAME RESERVE
| SAFARI FEATURES
PHINDA PRIVATE GAME RESERVE, KWAZULU-NATAL, SOUTH AFRICA
Set in prime wilderness area and rare sand forest near Maputaland and the Great St Lucia Wetlands in the northern reaches of KwaZulu-Natal, Phinda's Vlei Lodge has six elegant thatched suites overlooking its own wetland (vlei) that literally teems with wildlife. And if all this is too hard to leave behind, you can now book into The Homestead – their new and very private, exclusive-use villa

We applaud the work of the
andBeyond Foundation
, the umbrella group to which Phinda Game Reserve belongs. It succesfully reaches out into the local communities to create employment and to educate.
Read more about the truly inspiring work of the
andBeyond Foundation
Text
Bridget McNulty,
Mark Peddle
and courtesy of andBeyond.com
Photography
Mark Peddle
and courtesy of andBeyond.com
The French have their joie de vivre (loosely translated as 'joy of life'). Here in South Africa we have a joie de bush, the joy of the bush. It's a feeling you get when you're bumping along a dirt track on an open 4x4, through untamed wilderness on both sides, looking for game. There's nothing quite like it to bring you firmly into the present moment – all thoughts of work, real life and responsibilities seem a thousand miles away.

Of course, most game drives end back in rustic accommodation which, although well-suited to the environment, isn't particularly comfortable and luxurious. Not so at andBeyond Phinda Private Game Reserve, an ideal mix of five-star style and natural surroundings. The thatched wood and glass houses on stilts at the Vlei Lodge melted so seamlessly into the surroundings, in fact, that even the animals were fooled – nyala grazed on our doorstep and wildebeest right in front of our deck. With comfortable loungers and a private plunge pool on your wooden deck, you might be tempted to sit in your own back yard and game watch, but then you'd be missing out on the game drives.

Game drives at Phinda are something to remember. Not only are the game rangers and trackers extremely well trained and very confident, but the game itself lives up to the hype. We were at Phinda for two days, which meant three game drives and a boat ride, and on our drives we saw a herd of elephant taking sand baths, a white rhino and her baby, a black rhino marking his territory, a journey of giraffe having lunch, a grazing herd of buffalo, a shy leopard, a cheetah mother with her three adolescent cubs, too many dazzles of zebra to count, and of course the usual buck, impala and nyala. A truly impressive display of wildlife, due partly to the fact that although Phinda is only 23,000 hectares of land, it has an unusual variety of habitats – seven, in all, including the rare (and very beautiful) sand forest.

Another thing that sets Phinda apart is their sharing policy (as soon as any of the rangers spot a really good sighting they radio through to the other rangers) and the length of their drives – 3 to 4 hours. If this sounds too long, never fear – time slips by without you noticing, as your eyes scan the bush for a flicker of movement that could be some graceful wild animal pausing briefly to say hello. The drives are also broken up by the 'coffee shop' as Dumi, our ranger, called the morning break for tea or coffee (with Amarula Cream), rusks and biscuits; and the 'bar', our mid-evening break of sundowners, biltong and nuts. Nothing like pulling off into a secluded spot of the wilderness for a freshly mixed gin and tonic to make you feel colonial!

Back at camp the pampering continues ... as does the eating. Whether it's the delicious platter of fresh fruit, dried fruit and preserves, yoghurt, meat, cheese and muffins (followed by a full English breakfast) served out on the deck when you get back from your morning game drive, or the 3 course lunch (soup, salad and mains) a few hours later, or the tea and cupcakes that follows that, food is clearly a top priority for game viewers. Dinner is served in a different place each night – out in the vlei surrounded by oil lamps, inside the main lounge area where it's a little cosier, or privately on the deck of your cabin. But wherever you eat you'll be treated to exceptionally friendly service, and delicious food (think a soup starter followed by rack of lamb or fresh dorado, with apple pie and ice-cream to follow). It's simple food, well-prepared, and my only complaint was that many of the sauces were a bit too sugary for me – easy enough to rectify by asking for sauce on the side.

You get the feeling at Phinda, that nothing is too difficult to organise. The staff are so friendly and so on top of things that it almost doesn't feel as if they are staff, simply as if they've spent so much time at the lodge that they know how things work and can make it as easy as possible for you. In fact, the whole experience is a friendly, sociable one – from early morning coffee and tea before the game drive, to pre-dinner drinks, and surprise guests at your dinner table (Dumi, our ranger, joined us on the first night, and the two ladies we'd been on the game drives with joined us on the second). With a common goal of seeing as much game as possible while still having a luxury holiday, everyone works together to create a memorable experience for you.

And memorable it most certainly is. The staff at Vlei Lodge did everything they could to make our days with them special, even going so far as to set up a surprise sundowners table in the middle of the bush, surrounded by oil lamps and with a delectable spread of snacks on offer, so that when we rounded the corner it appeared in front of us – magical and glowing in the early evening dusk. When we returned to our cabin that night, they had set up another surprise: a chocolate fondue with our favourite fresh fruits (strawberries, kiwis and granadilla – how did they know?), a bottle of chilled champagne, a bubble bath and candles lit in every corner. Truly magical.

There are no phones, computers or televisions at Vlei Lodge, so there's really no option but to settle into the rhythm of the bush – going to bed early in the giant beds (ours happened to be very creaky, one of my only complaints), waking up at 6am for the early morning game drive, coming back for breakfast and then perhaps taking a nap, or lying in the sun on your deck, or spending some time surveying the stillness in the few hours free before lunch.

If you stay long enough, you might want to spend an afternoon game-watching from your deck in the dappled sunlight, but the lure of the game drive, or the other options – a boat ride or canoeing on the river, an hour's nature walk through the bush – will probably tempt you away, no matter how comfortable it looks. We took a morning boat ride, and were treated not only to the calm serenity of the river waking up for the day, but up-close views of crocodiles, monitor lizards, and all kinds of birds. Another magical experience.

If all of this sounds too sociable for your liking, you could always opt for the two private villas on offer – Zuka Lodge and Phinda Homestead. The Homestead was built as a show house for those who kept asking to 'own a piece of Africa', but at present it's being used as a lodge (the price in dollars being slightly too high for a world in recession). It's a spacious, beautifully designed, extremely comfortable home, one you might just fall in love with.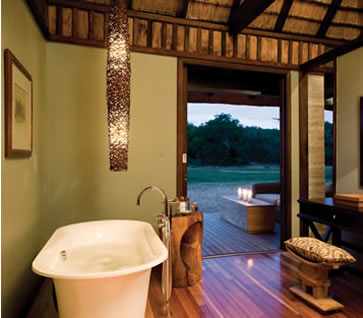 The whole idea is for guests to feel like they're at home – to be able to get up in the middle of the night for a cup of tea, or decide at the last minute to go frogging or for a late-night game drive with
their own private ranger
. Along with the house comes a full staff, including butler, ranger, tracker, and full kitchen staff, and it's an interactive kitchen so that guests can get as involved as they'd like to.
The Homestead is also uniquely furnished (by
Chris Browne, andBeyond's Creative Director
who looked after the interior design) with animal skulls, bone side tables, leather panel couches and driftwood sculptures making it unlike anything you've seen before. And then there's the bush – right outside every wall of windows.
The feeling is one of spaciousness – the vast open skies of the bushveld creeping in to the interior. And as such the textures and colours are of the bush – khakis, greys, browns, animal prints – all extremely chic, but extremely comfortable.
Sit out on the deck and you can look out over a small pan which fills up in summer and attracts all manner of animals right in front of you. So you can relax with a drink in hand and a light breeze ruffling your hair, as you gaze out over the 180 degree view…
I guarantee you'll feel so at home you'll never want to leave
.
Read more in
African Safari Travel
©Copyright
Just The Planet
PHINDA PRIVATE GAME RESERVE, SOUTH AFRICA
Style
Elegant African Safari.
Setting
The bush. Each lodge inside andBeyond Phinda Private Game Reserve has its own unique setting (within 7 diverse habitats). We stayed at Vlei Lodge, which looks out over an open vlei full of grazing impala and nyala (and apparently the odd elephant!) It's literally part of the bush, just a whole lot more comfortable.
Why you'll love it
The amazingly friendly staff and personal attention (they knew I was diabetic, asked what I needed and made me a special morning snack pack). The abundance of wildlife. The silence. All you'll hear is the wind, birdsong, distant animal calls and maybe the splashing of water in your pool.
Good to know
It's all-inclusive (excluding top-brand spirits) so feel free to take whatever you'd like from your mini bar (refreshed twice daily). No internet, cell reception or TV at Vlei Lodge, which adds to the serenity. Check-in is at 12pm, lunch is from 1.30pm and the first drive is slightly after 3pm, so checking in timeously is in your best interests. You can't walk from the main restaurant / lounge area to your room alone at night as lions have been spotted in the area – so don't run back to your room without an escort!
Wow factor
The animals and the setting (which merge into one). Five star comfort in extraordinary natural beauty. There were nyala grazing right on our doorstep!
Best rooms or suites to book
For couples, choose Rock Lodge or Vlei Lodge – they are more private (only 6 rooms each) and there are no under 12s allowed. Families should go for Mountain Lodge, the biggest lodge (with 25 rooms) which offers inter-leading rooms and family suites (sleeping 4 adults and 4 children) as well as child minders and kiddie programmes.
Zuka is one villa that sleeps eight. It's very private, but guests need to book the whole house. And then there's the Phinda Homestead, for the ultimate in luxury; also a private villa sleeping eight.
Room for improvement
The last 23km of dirt road are hard work for non-4x4 cars. It would be great if Phinda offered a 4x4 transfer from a parking lot near the main gate, for those driving in 'normal' cars.
Address
Phinda, Hluhluwe, KwaZulu-Natal
Tel
+27 11 809 4441 (Reservations)
Fax
+27 21 532 5801
How to Get There
From Durban, take the N2 Northbound until you come to the Phinda / Sodwana Bay turn-off. It takes about 3 hours to get to the entrance of Phinda, and another half-hour within the reserve to get to the lodge. Alternatively, there is a small landing strip that private planes fly into directly from OR Tambo International Airport.
THE HOMESTEAD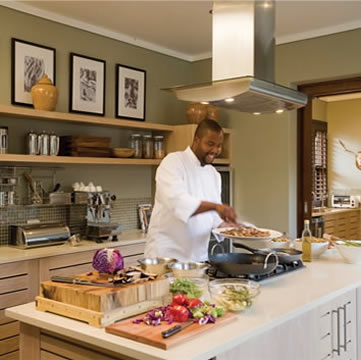 ©Copyright 2006 - 2019 JUST THE PLANET LUXURY TRAVEL CC - All rights reserved