HOTEL BELLEVUE, COGNE
| LUXURY FAMILY TRAVEL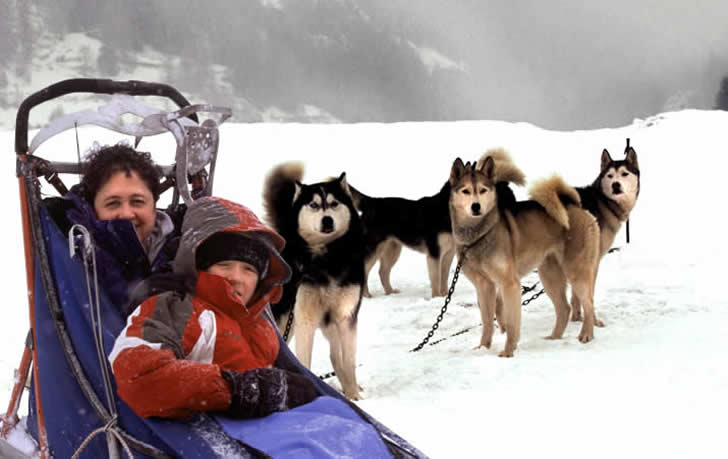 Cogne's winter wonderland, Valle d'Aosta, Italy
Denise Hummel discovers the perfect ski resort for a family holiday
Text
Denise Hummel
Photography
Steve Hummel
As the mother of young children, I have fantasized about the perfect winter get-away. My children, now 8 and 10, are fairly independent, but winter activities, be it skiing or sledding, inevitably require extra effort on the part of parents to assist. Socks pulled up, pants leg down, snow pants up, inner pant leg back up, so pull it down, left ski boot on, right ski boot on, left one hurts, left one off. Add to that the necessity of driving from hotel to ski rental shop, a shuttle to the slopes and back again, and a 'relaxing' winter family vacation becomes nothing more than a different kind of work.


Imagine instead a gracious manor house in a valley amidst the towering mountains of Valle d'Aosta, Italy which just happens to have won the 2006 Spa Trophy awarded by Relais & Chateaux. Imagine further that this hotel overlooks a parco neve (snow park) complete with cross-country trails, small downhill course and tubing with tapis roulant (an 'electric' side-walk) to carry you back up the hill, a trampoline and lounge chairs on the snow, warmed by the sun's rays (sunglasses and sunscreen a must). If you dare, imagine further that three steps from the hotel and the park is a ski rental at about nine Euros a day, and a five minute walk down the road, a chairlift for more advanced skiers at about 10 Euro a day. Tired kids? Throw their skis in the hotel's shed for a while (every room has its own locker) and warm up inside with a cup of tea or hot chocolate in front of a walnut carved fireplace.


Sound like a fantasy? Such a place really exists at the Hotel Bellevue and it's not located in a fabricated 1980s ski village that sprang up overnight. You'll find it in Cogne, an 11th century Italian mountain village at 1,534m altitude. It lies within the border of the National Park 'Gran Paradiso', designated as such in 1922 for its beauty and unique foliage and fauna. The hotel itself has so many benefits for families, it is difficult to know where to start. The spa area with its pool and Jacuzzi with recliners and hydro- massage is enjoyable for all but the smallest visitors. As for particular spa treatments, they are for the enjoyment of Mom and Dad, while smaller visitors enjoy the Children's Playroom which contains authentic desks from a 19th century school house, wooden toys, bouncing balls, a puppet theater, Lego and other surprises. Next door to this room is a family movie theater for evening viewing. The hotel also runs three restaurants – one with a Michelin star. We really enjoyed a gastronomic evening of 'family fondue' at the Bar Fromage in front of a roaring fire. At La Brasserie du Bon Bec, we had La Braserade where a 'braciere' was put on our table, with sausages, potatoes and Reblochon cheese to be melted. At the end of the meal, crêpes suzettes are made directly on the braciere. The loving hand of four generations of the Jeantet-Roullet family is evident in every nook and cranny of this family-owned hotel. Nowhere have I seen such a combination of rustic charm and sophisticated elegance.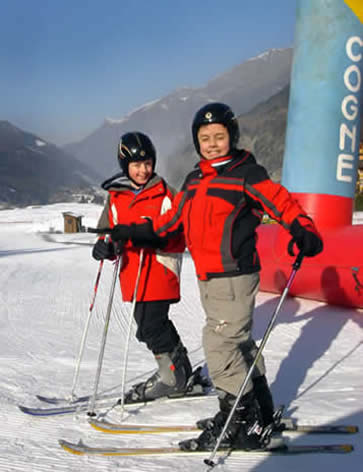 But the fun does not stop at the doors of the hotel. The aero club Valle D'Aosta will take you flying, gliding or parachuting over and around Monte Bianco and Mont Blanc. A horse-drawn sled will also take you for a memorable ride through the snowy valley of Valnontey. Centro di Turismo Equestre "Le Traineau" +39 333 314 7248. We opted to spend our non-skiing, non-spa time training to become the leader of a dog sled team with Signor Genta. The kids were safely tucked inside a dog sled and team lead by a professional. I was given my own sled, some instruction and off I went, the leader of my own team. Although thrilling, I felt like I was on some wild ride at Disney where the brakes malfunctioned. It was great fun, but is definitely for those of you who find yourself in excellent physical shape (I am not, unfortunately, in this sector of the population) and who like a good thrill (I am at least part of the second group). Sled dogs, I learned, really like to pull, the faster the better and it takes good balance and strength to keep WITH the sled. Next time, I'd opt for a 'kid' seat, tucked away in a toasty sled, letting the professionals do all the work, listening to the snow swish by, taking in the scenery and the passion of the dogs whisking me through a field of white powder.
HOTEL BELLEVUE, COGNE, ITALY
Style
Alpine Chalet
Setting:
In the valley, surrounded by the snow-capped peaks of Valle d'Aosta.
Why we love it:
The intimacy of a small hotel with the staff of a larger one and the personal attention that only owner-operators can provide. Great skiing at moderate prices and no hassles.
Good to know:
Hotel Bellevue closes annually from beginning October to beginning December.
Address:
Rue Grand Paradis 22 - 11012 Cogne (Valle d'Aosta) Italia - P.Iva 00419710074
How to get there:
The hotel is 180km from Milan Malpensa International airport, and 112km from Turin.
Closest train station: Aoste, 28km. Hire a car and drive to the hotel if you have time: there's so much to see and do in the area.
©Copyright 2006 - 2019 JUST THE PLANET LUXURY TRAVEL CC - All rights reserved