HÔTEL LE BEAUVALLON, FRENCH RIVIERA
| LUXURY FAMILY TRAVEL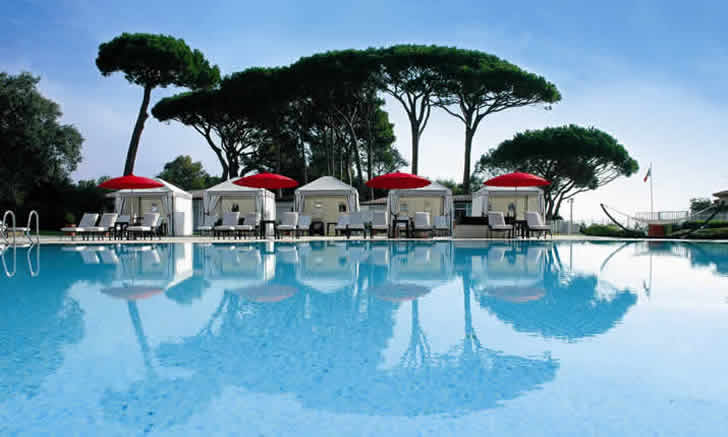 Behind every great hotel, there's a great story and this one will reach the heart of any parent who ever wanted to plan a vacation at a luxury destination with kids in tow. Yes, there are some small European luxury resorts that accept children under the age of 12. But who wants Monsieur Lafitte, Signora Rossi or Mr and Mrs JP Smith frowning at you scornfully through their martini glass when the kids ask, "where's the food!!?" just a little too loud. The French Riviera, in particular, has something of a reputation for promoting the concept that luxury and kids are not terms that should be used in the same sentence.

Leila Elling had just this problem six years ago when she traveled through Europe with her young children. Either the places where she wanted to stay didn't accept children, or they did so grudgingly and utterly unprepared to make the experience as enjoyable for the little ones as it could be for their parents. A woman of means and ingenuity, Leila Elling finally took matters into her own hands and opened her own luxury resort in the exclusive residential enclave of Beauvallon, overlooking the Bay of Saint-Tropez. Constructed between 1911 and 1914, this Belle Époque palace hotel is the only one of its kind along the Riviera between Cannes and Marseilles.

A typical day at Le Beauvallon might include arriving by helicopter at the helipad fifteen minutes away, refreshed enough to take in a game of golf at the 18-hole Golf Club du Beauvallon. Children's sized golf-clubs are available, but the kids may want to relax by watching a movie in the hotel's private screening room, complete with surround-sound Dolby stereo, airplane-like reclining seats, snacks and a cool drink. Perhaps afterwards, the whole family might meet by the pool, take a swim, lounge in the seven-meter Jacuzzi or relax under its own tent-like cabana. Lunch at the hotel's waterfront restaurant overlooking the Bay of St Tropez is always tastefully prepared and presented and the kids can choose from the 'Menu for the Younger Gourmets' selection designed entirely for them, including a spectacular dessert of black and white chocolate mousse.

After lunch, the family might want to stroll around the exclusive town of Saint-Tropez watching the yachts glide in and out of the harbor. If so, take the hotel's complimentary private launch for the six-minute boat journey across the bay. St Tropez has something for everyone, trendy boutiques for Mom and water-front cafes for Dad, as well as nearby bowling, Lunapark and miniature golf for the kids.

When the children are ready to shower, they'll have their own perfectly sized robes, whether they're 10 years old or 10 months old. Need a high chair, bottle warmer, or an intercom ... no problem. If tonight is a night where a babysitter would come in handy, use one of the nannies Leila has used herself to take care of her own children.

The kids can get in pajamas, eat popcorn and watch a movie on the complimentary DVD player, while snuggling in with their cartoon character sheets.

They'll be much more impressed with that element of the décor than with the soft, luminous pastel tones and imaginative Mediterranean colors with touches of Eastern inspired exoticism that first caught the eye of Mom and Dad when they entered their elegant room and marble bathroom with views out to the sea.

If Mom and Dad want to stay close by, I would suggest Le Beauvallon's own world-class restaurant, Les Colonnades. Dining inside the restaurant is always possible, but given the balmy Riviera weather, you may want to enjoy terrace dining. If staying within walking distance of the children is not an issue, there are a dozen nearby coastal towns to choose from, each one more charming and romantic than the next. The spectacular Provençal village of Grimaud is also only a taxi ride away.

If you happened to have indulged in a late night, fear not ... breakfast is not just from 7 to 10 a.m... it's all day. Enjoy it on your balcony overlooking ten acres of landscaped garden, or snuggled in bed with the kids. They'll choose from the extensive breakfast menu that includes the option of a special children's breakfast. Mom and Dad may enjoy Eggs Benedict, but the kiddies might prefer cornflakes or Coco-pops with a side order of natural fruit yoghurt, topped off with hot chocolate or Ovaltine.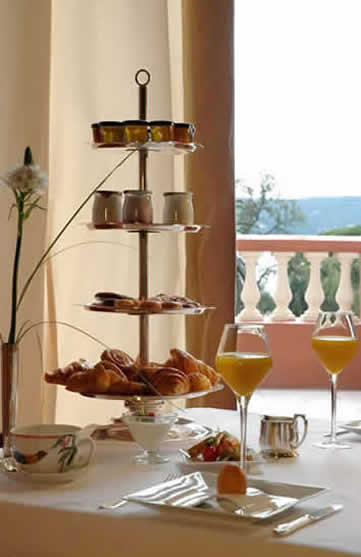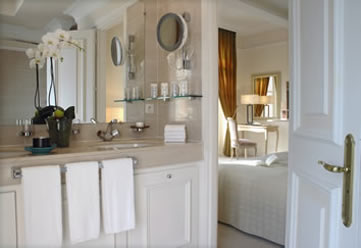 As I had the luxury of experiencing Le Beauvallon first hand, along with my husband and children, I'll have to share with you my favorite family aspect of the trip. We were all having such a good time, I hardly noticed one detail that was pointed out to me by Leila Elling herself. "The best thing about a family vacation at Le Beauvallon," she told me, "is that there's no 'kid's club', which makes for very special times together." Not one of us missed 'organized' activities. We were too busy enjoying each other as a family and as individuals, to notice.

To dampen the blow of leaving Le Beauvallon, Steve and I indulged in a sumptuous bon voyage glass of champagne. The vintage champagnes at Le Beauvallon are a collection of history in a bottle. Perhaps when you come, you'll have a bottle of Heidseick & Co. Monopole 1907 Gout Americain, recovered in 1997 from the shipwreck Jonkoping, which was sunk off Rauma, Finland in 1916. It has, to this day, been authenticated and certified to have retained its taste, color and sparkle, having been stored for 82 years at a constant temperature of four degrees Centigrade, in total darkness, surrounded by fresh water and the pressure that you find at a depth of 64 meters in the Baltic Sea. As a reward for your good taste in ordering such a precious bottle, the hotel will offer you the accompaniment of Petrossian Beluga caviar with homemade blinis, smoked salmon and foie gras. Hopefully the taste will linger until the next opportunity you have to return to this magical place in the exotic French Riviera.




HÔTEL LE BEAUVALLON, FRENCH RIVIERA, FRANCE
Style
French Chateau
Setting
On a hill, with gardens rolling down to the Bay of St. Tropez
Why we love it
It's the only place I know of that has bathrobes in sizes for age six months to robust adult.
Good to know
The Chateau has its own private beach and private shuttle for the 3 minute ride across the bay to St. Tropez.
Address
Boulevard des Collines, Beauvallon-Grimaud, 83120 Sainte-Maxime, French Riviera, France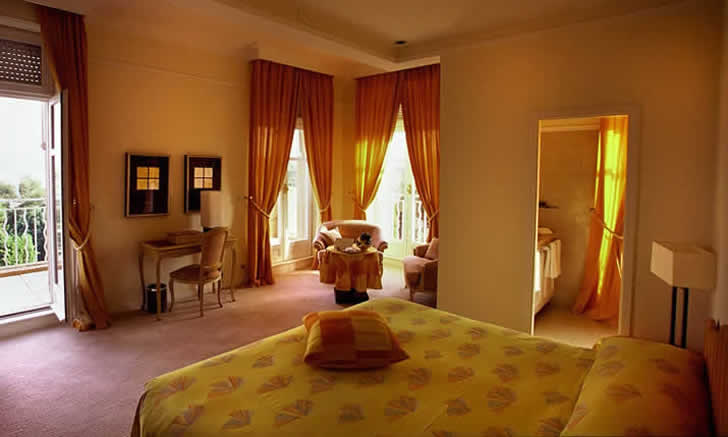 ©Copyright 2006 - 2019 JUST THE PLANET LUXURY TRAVEL CC - All rights reserved