TEAM
JUSTTHEPLANET
COREY
AMARO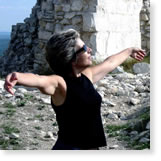 Living in France has its advantages, especially because I enjoy details.
The flea markets, the cobbled streets, the church bells, berets and baguettes open a wide canvas of scenery for the senses.
When I look at life through my camera lenses I try to find the soul of things. It is one thing to take a photo, it is another to see beyond the structure, and find the source of light that gives it a voice to speak through the still life. The soul of France grabs my hand, and pulls me close to its heart. I could take photos of France around the clock and still find it whispering in my ear.
I am an American who grew up in a small rural community on Northern California. I met my husband when I was working in San Francisco. My French husband likes to tease that I was his souvenir from his travelling abroad. Presently, we live in Provence with our two teenage children.
Since my family and most of my friends live in California, I started a blog. Like most blogs it evolved from a family gathering spot to a larger community. Everyday I weave tales and take photos about living in France (these last twenty years). Mostly I like capturing vignettes, photographing small details and bringing small moments to the stage. I guess you could say that I like to take photos of the poetry of daily life.
Daily Blog: http://www.willows95988.typepad.com
I am a freelance journalist and have been published in Victoria, Vogue, Somerset and Romantic Homes.
Article and Photo Contributions:
Everyday feasts: food markets in France
Paris match: 21 highlights
The Editorial Team
CONTRIBUTORS

UNITED STATES


SOUTH AFRICA






BELGIUM


CANADA


ITALY


FRANCE


UNITED KINGDOM


CHINA

*The contributors' countries listed above, refer to each individual contributor's current country of residence, whereas the flag next to their name denotes their nationality, the country where they were born and raised!
©Copyright 2006 - 2019 JUST THE PLANET LUXURY TRAVEL CC - All rights reserved