DOCK HOUSE, CAPE TOWN
| HIDDEN GEMS
DOCK HOUSE, CAPE TOWN
This month, the grand old harbour engineer's house at the V&A Waterfront, Cape Town, opened its gracious doors to guests after a ten-month restoration and refurbishment. With only six luxurious rooms, this new boutique hotel's prime location should remain a best-kept secret…
Text
Michelle Snaddon
Photography
Alain Proust,
Michelle Snaddon
But, who can resist? Not us. Not when it is THE best located hotel in the V&A Waterfront in
glamorous Cape Town
. Set high above the harbour and the Waterfront shopping precinct, and with its own garden, private pool and spa, this elegant, historical villa is serviced by a discreet staff, who waft gracefully across the lawn in their all-white linens. It's a secret, undiscovered haven (for now) for anyone who wants to be right in the heart of the city and experience its working harbour, yet feel like they're living in an eminently comfortable, yet contemporary, country home.
That's exactly what local
interior designer Francois du Plessis
wanted to achieve - understated glamour - but with genuine personality and all the comforts and thoughtful touches that well-travelled guests would appreciate. The spirit and character of the historical house has been restored, so that even the fireplaces will roar and crackle with warmth when the sea pounds the shores outside in winter. Doors and windows now open wide, bringing in fresh breezes off the sea, while the upper rooms lead onto a wooden balcony with a bird's-eye view of the harbour and Waterfront complex. It overlooks the hotel's most important asset: an oasis of green lawn (a rarity in the Waterfront today) and a sparkling rim-flow pool, complete with bobbing seagulls.
Back inside, it's so soothing and cocooned from the bustle of the harbour that one could happily spend the entire time enjoying butler service and light meals offered on the in-house menu, with wines ranging from excellent local estate gems, to cellar treasures like the R6 000 a bottle Chateau Mouton Rothschild 1988 Bordeaux. More energetic guests will love the
ONEWellness spa right next door
with its gym, sauna and massage rooms, as well as the new shopping wing at the V&A, which is literally five minutes' walk away.
Original artworks adorn the walls and are worth pausing for – take a look at works by Gerald Tabata, Garth Erasmus, Johann Louw, Kevin Mackintosh, Daryl McGregor and Anton Karstel. Offset by sophisticated silvery greys, whites, neutrals and faded colours of the sea, Francois' serene palette both balances and enhances the works, which he enjoyed choosing, one by one over several months. They were then 'moved around the walls many times in my mind at night' before they found their perfect homes.
It's fortuitous that the harbour engineer needed a commanding outlook and although he didn't have the luxury of a pool he certainly did enjoy the view. It's also no small miracle that this mews-like enclave called
Portswood Precinct
is well preserved and, despite the successful and ever- expanding development around the area, remains one of the most expansive… and expensive views to enjoy. Pool loungers are well placed to take in the view behind the house too – be sure to savour the classic sweep of Table Mountain and Devil's Peak at sunset with a cocktail in hand from the pool bar, which is hidden in an ancient stone building and was originally a barn.
The next morning we suggest you explore. Let the dawn light stream in at sunrise, get up early and head down the gracious staircase for a quick breakfast in the
sun-filled morning room
, which opens onto the garden, or relax outside at the alfresco pool dining area. Raymond Wasa, who has worked at the V&A Waterfront hotel for 15 years, was our breakfast host, and recommended the Eggs Benedict with Parma Ham (delicious but rich) or Pancakes with a Blueberry Compote, Maple Syrup and Crème Fraîche (decadent). Both will keep you going for the morning. Then take a stroll down the hill, past the V&A Hotel and head towards the clock tower. Watch the fishing boats return laden with the night's catch and a trail of seals and chattering birds in tow, or even
step aboard a luxury yacht charter
and take to the sea for an invigorating cruise with one of the most stunning backdrops in the world.
Once back on shore, we invite you to share this darling little hotel with anyone who will appreciate a true
Hidden Gem ...
Check Availability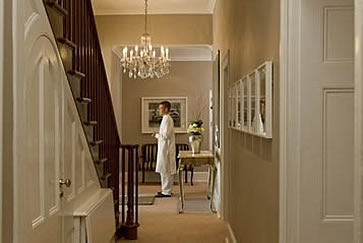 DOCK HOUSE, V&A WATERFRONT, CAPE TOWN, SOUTH AFRICA
Style
Intimate, cocooned luxury
Setting
Spectacular location, right above the V&A Waterfront and harbour.
Why you'll love it
No fuss in-room check-in, generous-sized rooms with beautiful proportions, glam bathrooms, great views and attention to detail (automatic lights in the armoires, a touch-sensitive lighting system that's within reach when you're in bed), cutting-edge technology for business travellers and online needs, and of course, the ONEWellness Spa next door.
Good to know
The mini bar is included in the bed-and-breakfast room rate. The whole house may be hired for weddings.
Wow factor
Position, position, position - and privacy.
Best rooms or suites to book
Explain your needs when you book so that management can select the best room available for you but here's a guide: Room 5 for the best balcony, Room 3 or 4 for space (has an interconnecting door to adjoining suite), Room 6 for one or a cosy couple (watch television from the bath or bed in this one), Room 1, the enormously spacious 3-roomed executive suite including an elegant reception room.
Room for improvement
More privacy on the balcony (I hear that Francois has already ordered canvas 'curtains' …)
Address
Dock House, Portswood Close, Portswood Ridge, Victoria & Alfred Waterfront, Cape Town, 8051, South Africa
Tel
+27 21 421 9334
Fax
+27 21 419 8955
Rates
From ZAR3 500 to ZAR4 500 per room, ZAR6000 for the suite, inclusive of breakfast.
How to get there
Fly directly to Cape Town and transfer within 20 to 40 minutes, depending on traffic. Airport transfers ZAR 295 (0ne way) ZAR550 return. Special rates apply after midnight and before 6am. Parking is available behind Dock House, which is between the Everard Read Gallery and the Commodore.
Sea cruises
depart in front of the V&A hotel, who can organise this for you as well as any other bespoke itineraries or needs. We recommend
Cruise IQ
+27 21 421 5565 or
fun@cruiseiq.co.za
,
www.cruiseiq.co.za
. Scheduled cruises from ZAR110 and private charters ZAR3 250 per hour. Alternatively, ask Dock House to arrange a cruise itinerary for you.
Dock House Travel Services
These are all done by the V&A Hotel. Email the travel desk directly on travel@vahotel.co.za if you need assistance before arrival.
©Copyright 2006 - 2019 JUST THE PLANET LUXURY TRAVEL CC - All rights reserved