12 APOSTLES HOTEL & SPA
| HIDDEN GEMS
Wine-pairing dinner at Azure with Drift Wines
A feast for all the senses, 12 Apostles' wine dinners at their fine-dining restaurant, Azure, partner with a different boutique wine estate each month. On this occasion we enjoyed some exceptional wines from The Drift.
Text
Kit Heathcock
Photography
Patrick Heathcock
and courtesy of 12 Apostles Hotel
Azure is the 12 Apostles fine-dining restaurant headed by chef Christo Pretorius and we were there for the monthly food and wine-pairing dinner partnering with Drift Wines. It's a fascinating boutique wine estate on an organic farm in an inhospitably high mountain corner of the Overberg region, producing some noteworthy and very unusual wines, which are only sold at auction and usually producing only around 2000 bottles of any particular vintage. Owner Bruce Jack enjoys a challenge and experiments with different grape varieties that everyone tells him can't possibly work in that area. His determination and patience is rewarded with some really unique wines which we were to taste through the evening.
The first, The Year of the Rooster, sipped as we gathered in the restaurant, is an elegant dry rosé, tantalising the nose with a bouquet of that same honey fynbos that we'd just experienced on the slopes behind the hotel. Later, Jason Snell, assistant wine-maker, told us that its vineyards border on fynbos covered mountain slopes, hence the complexity of the wine and its bouquet.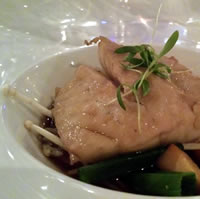 Our table was a lively one, hosted by Jason at one end and Horst Frehse, Executive Director of the hotel and his wife Barbara at the other, and the conversation flowed as freely as the wine. Jason had plenty of stories to tell of the vineyards and the back story behind the wines we are drinking. They do as little as possible to the wine, so that essentially they are putting a piece of the farm into the glass, all its character and complexity coming directly from the soil. They are growing vines on the edge of where it's possible, harsh winds blowing , very cold winters that mean that it can take up to ten years to get the first harvest from a newly planted vine but out of hardship come great wines; and we get to taste that as the dinner begins.
The first course is an Asian influenced dusky kob poached with a ginger and lemongrass broth; subtle though it is it would take a characterful white wine to match those flavours and the Flagstone Chardonnay 2002 fares admirably. Showing no sign of its impressive age, it's rich, buttery and smooth. I was having a hard time letting go of my rose glass, and now I wanted to hang on to the chardonnay too, but it was followed by the next on the list, a Pinot Noir, named the Heartbreak Grape for its unpredictability. Served with a rich dish of roast rabbit, playfully paired with baby carrots and gremolata and a very rich ragout, this was a thoroughly enjoyable course, but the best was still to come. Beef short rib as tender as could be from a 12 hour braising, with a smoked potato puree and fynbos jus, was rich as could be, but it was rivalled in flavour by the extraordinary Gift Horse Barbera 2013, a deep, ruby, berry wine with no hints of roughness. The name came from the fact that the wrong rootstock was originally delivered but Bruce Jack planted it anyway to see what would happen, and it really is a triumph.
After that course, dessert was a formality, but we were tempted into toying with the delicate combinations of gianduja mousse, salted peanut cake, blood orange sorbet and toasted marshmallow alongside sips of the Flagstone Bees Knees 2004 a flowery but not cloying dessert wine.
As the evening drew to a close, Horst brought out the entire kitchen team and gathered them with the waiting staff so we could all thank them for a wonderful experience. Altogether a wonderful evening, with excellent and imaginative food from Christo Pretorius and his team, and superb wines and loads of great storytelling from Drift Wines courtesy of Jason Snell.
The evening went by so smoothly that we were surprised to find it was already 11.30pm by the time we got up from the table to say our goodbyes, so it was wonderful not to be driving anywhere but just to stroll done the Paul Smith carpeted corridor to our warm and comfortable suite.
Upcoming Wine-Pairing Dinners
Friday 27 November 2015: Bouchard Finlayson
December & January: None
Friday 26 February 2016: Ormonde Wine Farm
Friday 18 March 2016: Kleine Zalze
©Copyright 2006 - 2014 JUST THE PLANET LUXURY TRAVEL CC - All rights reserved