PARIS
| TRAVEL FEATURES
Paris match: 21 highlights
It's virtually impossible not to be seduced by Paris. Of all the places to be in the world it's my most favourite. I love Paris for many reasons: for its charm, edge, culture, elegance, arrogance and confident beauty. I love Paris because it's always the same and always surprising. I love Paris because, unlike in other big cities, getting lost on its streets is a thrilling prospect. And I love Paris because spending time here, whether it's an extended holiday or a quick 36 hours, is always an inspiring lesson in the art of living. The following list is by no means a definitive guide of what to see and do in Paris but is rather an edited down selection of the many distractions in this marvellous city – shopping and cultural – that get me all haute under the collar.
Text
Mandy Allen
Photography
Corey Amaro
and courtesy of iStock.com


Give into the sweet temptations at Ladurée
Forget croissants, baguettes or pain chocolat. The true spirit of Paris is to be found in the macaroon: a Ladurée macaroon to be precise. These gorgeous little meringue-like pastries have much in common with the city they have come to be associated with. They're beautifully formed, theatrically colourful, refined but flavourful, richly textured, flirty and rather addictive. The house of Ladurée dates back to 1862 when the original shop was established as an ordinary bakery by Louis-Ernest Ladurée at 16, rue Royale. There are now several Ladurée outlets in Paris that include the original at rue Royale, an outlet in the Printemps de la Mode Haussman department store, as well as the company's breathtaking flagship boutique at 75, avenue des Champs-Elysées. It's not just these delicate confections that entice, however. Everything from the in-store presentation to the covetable packaging is exquisitely and impeccably realised. Head to the flagship on the Champs-Elysées for breakfast, lunch, tea or dinner served from 7.30am to midnight. While it goes without saying that you should take home a box or ten of macaroons (make sure to buy them on your date of departure or the day before as they don't stay fresh for long), there are other indulgences to be discovered at the house of Ladurée. Pastries and cakes are a speciality and we swoon every time we see the freshly-baked religieuses (cream puffs), mille-feuilles and Saint Honoré cakes, either iced or filled with pistachio, liquorice, rose or ginger. The beauty of visiting Ladurée time and again is the element of surprise – the colours of the cakes, pastries and macaroons are seasonal, as is the packaging. It's unadulterated eye-candy for the connoisseur.
Ladurée
16, rue Royale; Printemps 62, boulevard Haussman; 75, avenue des Champs-Elysées
www.laduree.fr
Encounter food as fashion at Pierre Hermé
One of Paris' most de rigeur names to bandy about is Pierre Hermé who has become renowned for his masterful way with pastries, chocolate, tarts, cakes and, of course, macaroons. Like a fashion designer, Hermé releases seasonal 'collections' of pastries and desserts (he even hosts twice-yearly catwalk shows to mark the occasions). As would be expected, his shop is an absolute delight and queues forming outside the doors – especially when the new collections are released – are a common sight.
Pierre Hermé
72, rue Bonaparte
www.pierreherme.com
Buy books at the Librairie Flammarion Centre
Of course you're going to visit the Centre Georges Pompidou to marvel at the contemporary art and debate the architectural merits of the Richard Rogers and Renzo Piano designed building. But it's also worth setting aside a good amount of time to browse in the ground floor bookshop. The incredible collection spans art, architecture, design and popular culture and even
if you don't have children, make a point of spending time in the children's section for some of the most beautifully illustrated books you've ever clapped eyes on. Postcards and posters – of which there is an enormous selection – make great cheap and cheerful gifts. Not to mention that a fridge stuck full of artsy postcards makes for a permanent reminder of your visit to this capital of culture.
Librairie Flammarion Centre
43, rue Beaubourg, Place Georges Pompidou
http://www.flammarioncentre.com/en/accueil.aspx

Stop in for 30 minutes at Le Georges
Restaurants attached to cultural institutions such as museums and galleries are generally overpriced, overrun by tourists and serve up pretty unforgettable fare to boot. None of that matters when you're sipping
a hot chocolate at Le Georges, on top of Centre Georges Pompidou, taking in the unparalleled views
of Paris over the neighbouring rooftops. And this may sound a little pedestrian, but if it's your first time there don't forget to take a gander at the pod-like toilets before paying your bill.
Le Georges
top floor, Place Georges Pompidou
www.cnac-gp.fr
(site for Pompidou centre)

Take a detour to the sixth floor of the Pompidou
Try and get as close as you can to Japanese architect Shigeru Ban's temporary studio, a tube constructed entirely out of cardboard on the sixth-floor of the Pompidou, as it's an architectural sight worth beholding. The studio was built to house the architect's team while they work on the design and construction of the Centre Pompidou-Metz (the city of Metz is in the French
region of Lorraine and borders Belgium, Luxembourg and Germany).
Be impressed at the Musée d'Orsay
Paris is not short of incredible art galleries but if your passion is Impressionist and other 19th century schools of art then put aside a day for the Musée d'Orsay, set in a magnificent former railway station (above). The experience is truly enhanced with an audio guide that will only cost you a couple of euros. Stop by the bookshop on your way out to stock up on notepads and postcards. Entry is free to the Orsay on the first Sunday of the month (as it is to many of Paris' museums) but the queues are formidable so get there early.
Musée d'Orsay
rue de la Légion d'Honneur
www.musee-orsay.fr
Say cheese at the Stravinsky Fountain
Skip the hotel breakfast and mange a filled baguette on the ledge of the Stravinsky Fountain with the other tourists before joining the nearby queue waiting to get into the Centre Georges Pompidou. The many colourful moving sculptures, that the fountain is famous for, present fun photo opportunities. Well, you've got to have some touristy pics to show off to the folks at home right?

Stravinsky Fountain
Place Georges Pompidou
Go on a gourmand adventure at La Grande Épicerie de Paris
The food hall of Le Bon Marché department store is the place to stock up on food glorious food, both international as well as quintessentially French fare, from foie gras and olive oils to exquisite conserves and wine. The fresh produce is simply gorgeous to behold and it's worth the while to buy small amounts of cured meats, cheeses, breads and pastries, hot meals and other take-away delicacies to nibble on back in your hotel room.
La Grande Épicerie de Paris
38, rue de Sèvres
www.lagrandeepicerie.fr

Blow your Euros on Bric-a-Brac
Paris is famous for its flea markets and the best of these is at Porte de Clignancourt, popularly known as the Marché aux Puces in St-Ouen. This sprawling market is open from Saturday to Monday and is the destination for Baroque glassware, monogrammed linen, rustic cookware and everything else including, quite literally, the kitchen sink. If you don't have the time to visit one of the city's wonderful brocante markets then Dot, in the bohemian Marais arrondissement, is the next best thing. Dusty shelves groan under the weight of collectibles of every description, some authentic, some excellent reproductions, including ribbon, silverware and unusual souvenirs (leaving your Eiffel tower whisky decanter on display will hint at your healthy sense of design irony).
Marché aux Puces
, rue des Rosiers
Getting There
Take the metro to Porte de Clignancourt and head north on foot to Rue des Rosiers (or just follow the crowds).
www.parispuces.com
Dot 47, rue de Saintonge
https://www.dot-france.com
Walk in the footsteps of Carrie Bradshaw at Kong
It says something about the cultural impact of
Sex and the City
that, three years after the series ended, anything associated with the show is still deemed to be über-fashionable. Like Kong, on top of the recently opened Kenzo building on the Pont Neuf, where Ms Bradshaw famously sat in the Philippe Starck-designed interior contemplating her future. The only thing you'll be contemplating here (if you can get a table, that is) are the beautiful people, striking decor, great views and rather high prices. Friday night is when the place is at its hippest (or most pretentious, depending on your point of view) so avoid the crowds and rather come here for
an early lunch, then spend some time admiring the beautiful Kenzo wares spread over this flagship store's four floors.
Kong 1,
rue du Pont-Neuf
http://www.worldsbestbars.com/city/paris/kong-paris
www.kenzo.com
Look East at the Institut du Monde Arabe
The centre for Arabic arts and culture demands your time not only for its wealth of Islamic artefacts, breathtaking collections, current art, film and literary exhibitions and wonderful food at the Café Loubnane, but also for its architecture by Jean Nouvel. The structure is acknowledged as one of the world's most striking buildings, with a design that combines western and Arab influences. Nouvel was largely inspired by the typically Islamic moucharabiehs (geometric star-shaped architectural elements) but contemporised these with technology in the form of photo-voltaic cells in the exterior cladding that adjust to the amount of light.
Institut du Monde Arabe
1, rue des Fossés-Saint-Bernard
www.imarabe.org
Smell delicious at Editions de Parfums Frédéric Malle
This is master parfumeur Frédéric Malle's rococo-inspired fragrance boutique where his exquisite blends are sold under the Malle Editions label. Sampling the perfumes is an experience in itself – the fragrances are released from floor-to-ceiling glass spray tubes that line the walls (a sci-fi touch in an otherwise chic, classical interior). The distinctively modern, graphic labels and masculine bottles are ultra appealing as are the prices, which are not as high as you would expect. There's also something delightful to be had in the knowledge that the fragrance you're wearing is just that much more exclusive and individual than what's to be found in any department store across the world.
Editions de Parfums Frédéric Malle
37, rue de Grenelle
www.editionsdeparfums.com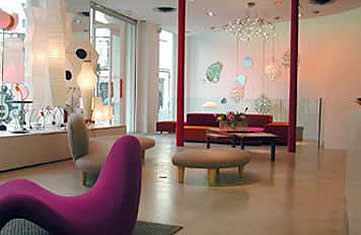 Discover French design at Sentou Galerie
If design (specifically interior, product and furniture) holds a special interest for you then head to the Sentou Galerie(above), which focuses on contemporary designs by the country's hottest names and newly discovered fresh young talents. There are several outlets but the one in boulevard Raspail is a personal favourite.
Sentou Galerie
26, bd Raspail
www.sentou.fr
Feel at home in Lafayette Maison
If time is short and home-ware is an obsession, your most rewarding shopping will be here. This stand-alone building forms part of the well-known Galeries Lafayette department store (which is just across the road and the ideal place to get a fashion, accessories and beauty fix). Five floors consist of zones given over to specific spaces in the home covering just what you would expect (from cooking, bedrooms, furnishings and lighting to bathrooms, dining and everyday accessories). The building features a striking Ingo Maurer glass dome and central atrium, that function as a light-and-glass installation. Design is the focus throughout with ever-changing displays and installations, that form part of the architecture, such as mosaic walls by artists Antoine et Manuel and customised Paul Smith armchairs in the pause areas.
Lafayette Maison
35, boulevard Haussman
www.galerieslafayette.com
Burn the midnight oil on Nuit Blanche
The month of October is always delightful in Paris.
The weather is crisp and the landscape magnificent in the throes of fall. It's also the month when the city celebrates Nuit Blanche, or White Night. For one night
in October Paris' museums, libraries, monuments, gardens, places of worship and other public and tourist sights stay open all night. Installations and other cultural events also take place all over the city and the streets buzz with energy and frivolity. The exact date is only confirmed a few months before but if you happen to find yourself in the city on Nuit Blanche, put on your walking shoes and tell the concierge you'll be back for breakfast. Check this site closer to October for the announcement of the date.
http://en.parisinfo.com/
Give yourself over to contemporary design
at Colette
Celebrating ten years as Paris' temple of high style, Colette stands as the pioneer of the 'concept store' uniting art, fashion, design, music, books and magazines, technology, food, home-ware and beauty – all with an international flavour – over three wondrously modern floors (including a downstairs water bar that stocks 80 brands of eau from all over the world). Temporary exhibitions and installations also form part of the agenda, while those in the know jostle for the regularly released, limited-edition items bearing the Colette label (the Make me Sweat Colette birthday edition t-shirt is a must-have).
Colette
213, rue St Honoré
www.colette.fr

Have fun at Fleux
A hip design boutique just around the drag from the Pompidou, that attracts a young (or young at heart) urban audience with its cool atmosphere and carefully edited wares, that include porcelain, home-ware, fashion, accessories, collectibles and furniture. These have been sourced from across Europe by the owners and represent both the leading names in design as well as new talent.
Fleux
48, rue Sainte Croix de la Brettonnerie
www.fleux.com
Bag yourself a carry-on at Mandarina Duck
The quirky interior by Dutch design collective Droog is reason enough to visit the rue St-Honoré outlet of this cult Italian luggage brand specialising in nylon travel bags, handbags, laptop bags, backpacks and accessories. You won't want to leave empty handed.
Mandarina Duck
219, rue St-Honoré
www.mandarinaduck.com

Be inspired by architecture at the Fondation Le Corbusier
Located in a cul-de-sac, the Villa la Roche – which served as the private Paris residence of this legendary architect – displays all of Le Corbusier's aesthetic trademarks, that so heavily influenced contemporary architecture and design throughout the 20th century and beyond.
Fondation Le Corbusier
8-10 square du Dr Blanche
www.fondationlecorbusier.asso.fr
Turn up little treasures at Maison de Famille
You'll willingly part with your cash at Maison de Famille, a quaint little shop with an eclectic assortment of all things French in a bazaar-like atmosphere. We especially love their children's toys.
Maison de Famille
29, rue St Sulpice

Parlez with the locals at Au Trou Normand
Au Trou Normand is one of those unexpected gems that's all about cosy neighbourhood congeniality and delicious French comfort food with contemporary leanings. It's a far cry from the moules et frites (mussel and French fries) eateries, pizza parlours, steak houses and dodgy Chinese and Indian restaurants just up the road on the Boulevard du Temple, and is definitely worth a return visit as the menu changes from day to day depending on what's in season.
Au Trou Normand
9, rue JP Timbaud
WHERE TO STAY


These high-end options are well worth the (relatively steep) price of admission.

The Murano Urban Resort Style

Retro Chic. It's no surprise that the Murano Urban Resort features on the pages of every style-inclined guide to Paris. The truth of it is it's remarkably cool, from the colourful Murano glass chandelier that hangs above the check-in desk to the extra-length white leather Chesterfield-style sofa and striking six-metre white fireplace in the lobby, through to the sexy bar with its plush red carpet, padded walls in psychedelic 70s colours and screens that project specially-commissioned digital graphics. The bedrooms are slightly more pared-down affairs but colour has been introduced in the form of graphic stickers, Pop prints and a hi-tech lighting system.

Setting

Perfectly placed in the boho-chic Marais district, which translates as lots of narrow side streets to explore, plenty of eating options (from traditional French to nouveau to ethnic), great shopping, interesting galleries and lots of culture. Wow factor The dimly lit corridors with their black padded walls inset with thousands of sparkling faux crystals, the only source of light being a purple fluorescent glow, should be a turn off but makes the experience of getting to your room strangely exciting and highly sensory. Other design highlights include variable lighting options that allow you to change the mood in your room with the touch of a button. The retro, frigidaire-inspired bedroom doors and fingerprint-recognition technology that grants you access to your space are gimmicky but fun. Even if you don't eat there, be sure to have a look around the restaurant with its Baroque Modern decor and remarkable 'glass stalactite' ceiling.

Good to know

The Murano has 43 rooms and nine suites, each featuring LCD TV screens, CD and DVD players and WiFi Internet access. There's also a beauty spa with a covered heated pool, hammam and fitness centre that is open to hotel residents.

Address

13, Boulevard du Temple

Phone

+33 1 42 71 20 00

Fax

+33 1 42 71 21 01

Email paris@muranoresort.com Website www.muranoresort.com How to get there

The nearest metro stop is Filles du Calvaire
Hôtel Le Lavoisier
Style
Deluxe chic. An extreme makeover in 2000 by über-stylish French designer Jean-Phillippe Neul rendered this once stately 19th century townhouse into one of the city's most swelegant boutique hotels. Contemporary glamour combined with Parisian sophistication is the aesthetic signature throughout. As you would expect, in both the public and private spheres the decor is impeccably tailored, from pinstriped charcoal-coloured fabrics and a grown-up palette of rich creams and refined brights, to polished mahogany furniture and exquisite antiques. Service is equally upmarket but refreshingly courteous.
Setting
In a quiet road near the Madelaine and just off Rue Saint Honoré (in other words in the fashionable heart of the city). The Opera is nearby as is Fauchon with its many epicurian delights.
Wow factor
The original wrought iron staircase.
Good to know
As the hotel is a favourite of globetrotting fashionistas it's often impossible to get a booking whenever a Fashion Week is taking place in the city (you can check www.modeparis.com for schedules). If you're travelling with your petit chien or beloved chat, it's a relief to know that Le Lavoisier is also animal-friendly. Just let them know when making your booking that your fluffy four-legged companion will be joining you.
Address
21, rue Lavoisier
Phone
+33 1 53 30 06 06
Fax
+33 1 53 30 23 00
Email
info@hotellavoisier.com
Website
www.lelavoisier.com
How to get there
The nearest metro is St Augustin
$$ to $


While not dirt cheap, the rates for the following hotels are very reasonable, the levels of service worth writing home about and the locations truly exceptional.

Le Petit Moulin Style

Historic haute couture. The Petit Moulin is a 17th century building that functioned as a boulangerie (bakery) and still retains many of its original features (including the 19th century façade and quaint shop sign). It has recently been transformed into one of Paris' hippest (and most visually theatrical) boutique hotels thanks to an extravagant interior designed by couturier Christian Lacroix. Each of the seventeen rooms as well as the hodge-podge of passages and downstairs public areas have been given the Lacroix touch, so expect eye-popping colour, ornate detailing and sumptuous luxury.

Setting

Everyone loves the Marais for its many attractions that range from cosmopolitan retail destinations, easy-eating restaurants, historic sites (like the gorgeous place des Vosges) and its many museums and other cultural distractions (the Picasso Museum and Pompidou Centre are a short walk away).

Wow factor

Without question the rooms, each one more lavishly decorated than the next. 'Some of them are somewhat classic, while others are a little kitsch, or even Zen, in order to symbolise all of the different faces of Le Marais; from old-fashioned toile du jouy linen to sixties design.' – Christian Lacroix.

Good to know

Some of the medium-priced rooms don't have cupboards in the true sense of the word. Instead, you'll have to make do with a clothes-rail that can be closed off with a curtain. Don't let that dissuade you though. The experience of staying in this fabulous little hotel, where the service is warm and hands-on and the spaces are truly something to behold, more than makes up for having to (partially) live out of your suitcase.

Address

29/31 rue du Poitou

Phone

+33 1 42 74 10 10

Fax

+33 1 42 74 10 97

Email contact@hoteldupetitmoulin.com Website www.paris-hotel-petitmoulin.com How to get there

The nearest metro is Saint-Sébastian Froissard or Filles du Calvaire
Hôtel Le St Gregoire
Style
Pure Parisian charm. The façade is that of a late 18th century mansion. Inside, an intimate reception area doubles as a lounge (a fire is lit there during winter making it a cosy place to take a cup of tea). The twenty light-filled bedrooms are individually decorated in a traditional but unfussy style replete with oriental rugs, wallpaper, heavy drapes in soft colours and large sliding sash windows that beg to be flung open. There are also all the modern conveniences such as Internet access and satellite TV and a fully-kitted out bathroom.
Setting
A location on the fashionable left bank (in the heart of the Rive Gauche between Montparnasse and Saint-Germain-des-Pres) equals chic shopping and eating opportunities.
Wow factor
The vaulted cellar used as the breakfast room that serves up a very decent fresh buffet and is decorated with antique kitchenalia and old paintings. There's also something about its genial atmosphere that will entice you to strike up conversations with your fellow St Gregoire guests, many of them return visitors to Paris, who declare the hotel as their all-time favourite place to stay and a true hidden gem.
Good to know
We've experienced several taxi drivers getting a little lost finding the narrow street that the hotel is located in. If you're coming from the airport have a map with the location circled. Otherwise just say it's near the Holiday Inn St Germain des Pres in Rue de Vaugirard as that is relatively well-known by the city's drivers. The concierge will also hold your luggage should you have a late night flight and want to make the most of the few hours you have left in Paris after your late morning check-out. Address 43, rue de l'Abbe-Gregoire.
Phone
Tel: +33 1 45 48 23 2
Fax
+33 1 45 48 33 95
Email
hotel@saintgregoire.com
Website
www.lesaintgregoire.com
How to get there
The nearest metro is Saint-Placide, a convenient two minutes walk from the hotel. The Sevres-Babylon metro will also deposit you close by (around 5 minutes walk) with many worthwhile shopping, drinking and eating distractions in between.
Hôtel Les Jardins Du Luxembourg
Style
Cosy elegance. A typical 19th century townhouse façade gives way to an unexpectedly bohemian interior design scheme complete with kilims, colour saturated feature walls and a convivial atmosphere that is more homely than haute. The 26 rooms are clean, compact but comfortable and neatly decorated with charming antique pieces that give each of them an individual character. Setting Named for its proximity to the expansive Luxembourg Gardens (Jardin du Luxembourg), the hotel is, unusually for Paris, set off the road down a wide and quiet alley. It's in the buzzing Quartier Latin known for its multicultural shopping and eating that attracts hip young professionals and artsy Parisian students.
Wow factor
Apart from the reasonable prices and an ideal location, the reception desk is actually an original art deco bar counter from the 30s. Naturally it doubles as the hotel's actual bar and is the place to rendezvous with the rest of your party. Good to know Wireless Internet access as well as satellite TV is available in the rooms making this an ideal budget hotel for business or leisure travellers. Windows are double-glazed so the sounds of the city are present but pleasantly muffled.
Address
5, Impasse Royer-Collard
Phone
+33 1 40 46 08 88
Fax
+33 1 40 46 02 28
Email
info@les-jardins-du-luxembourg.com
Website
www.les-jardins-du-luxembourg.com
How to get there
Because of its proximity to the famed Luxembourg Gardens a competent taxi driver will get you there without any hassles. If you're taking the metro, your nearest stop is Cluny-La Sorbonne.
©Copyright 2006 - 2019 JUST THE PLANET LUXURY TRAVEL CC - All rights reserved