JAVA BANANA, WONOTORO
| TRAVEL WITH A CONSCIENCE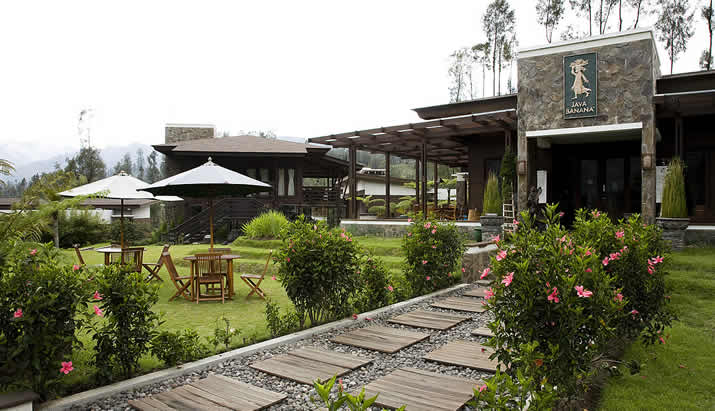 JAVA BANANA, WONOTORO, JAVA, INDONESIA
It's all about the extraordinary Gunung Bromo volcano in this part of the world… But stay at Java Banana and you'll have even more to write home about. Bridget McNulty spends a few days soaking it all up.
Text
Bridget McNulty
Photography
Mark Peddle
Most people don't come to Bromo for the hotels, but that hasn't stopped Java Banana from trying their best to be a top-class eco-friendly lodge. In many ways, they've succeeded. Step into the grounds of the hotel and the striking geometric shapes of the buildings leap out at you, accenting the surrounding natural beauty and the truly breathtaking views on all sides. Ringed by sparsely shrubbed or farmed mountains, the property feels like a giant, beautifully landscaped garden. Spend some time relaxing in this garden and you'll be able to soak up some of the soothing atmosphere – the scent of woodsmoke drifting in from the surrounding villages, the clip clop of horses in the distance, and those views every way you look… You might just feel as if you've stepped into an ancient fairytale.

Of course, that could be because the wake-up calls in Bromo are at 3am, and so the rest of the day passes in a bit of a daze. Everyone who comes to Bromo comes for one purpose: to see the sun rise over the still-smoking volcano of Gunung Bromo. This requires a 3am wake-up and a 3.30am departure (by jeep) for an hour's drive up a terrifyingly rocky and steep incline, to Mount Penanjakan, the look-out point for the sunrise. It's freezing cold at this time of morning, and the wind can get pretty brisk, so it's best to pack as many winter woollies as you can fit into your suitcase. The early hour and the cold are forgotten, though, as soon as the sky starts to lighten and your eyes take in the vista spread out in front of you… Gunung Bromo is located in the Tengger Caldera at 2329 metres, and forms part of the Tengger massif with, most notably, the Semeru, Pananjaka and Batok mountains. The result is a trio of stunning silhouettes slowly revealing details as the sun lightens the sky. To see a smoking volcano in the same frame as a glowing red sunrise is a sight you won't easily forget.

Once you've taken your fill of photos (along with the hundreds of other early-morning photographers), it's time to head down to the base of Bromo, where you can either walk or ride a horse through the grey field of ash to the base of the crater. A steep flight of steps will take you right to the edge of the crater, so close you can look down into its smoking, sulphurous heart, and walk around the perimeter. Not a bad way to start the day – balanced on the edge of a volcanic crater – especially not when the views surrounding said crater are so spectacular.

Believe it or not, most people head back down to civilization directly after this extraordinary morning, pausing only to gobble a quick breakfast and take a shower. That's probably because their hotels don't offer much in the way of enticement to stay. Not so with Java Banana – the grounds are laid out so carefully and beautifully that you'll want to linger as long as possible. They've managed to balance a sense of traditional, natural Javanese architecture perfectly with the luxuries of a high-end hotel, offsetting the simple décor with carefully chosen local artworks in natural materials: wood, clay, straw and metal. The garden is full of indigenous plants, all labeled so you can learn more about the local flora of Java, and in each of the rooms, as well as the café, gallery and restaurant, you'll see giant framed prints of Gunung Bromo at different times of the day – all taken by photographer-owner Sigit Pramono. In the unlikely event that you'll feel like something more adventurous in your down-time, the village of Cemoro Lawang is about one and a half kilometers away, and there are three small local villages surrounding the hotel. Cemoro Lawang doesn't have much to offer (just hotels, really), but a walk through the surrounding farmland is truly stunning. And very soothing.

Still, when the inside and outside are blended together as well as they are at Java Banana, odds are you won't want to leave. Especially not with their tempting specialities on offer – banana fritters in breadcrumbs (served with chocolate and cinnamon, or grated cheese and sugar) and freshly brewed coffee. Java Banana is a literal name, you see. What better way to enjoy it than with a panoramic mountain view laid out in front of you, and the crispest, cleanest air you can imagine? Most people don't come to Bromo for the hotels, but if they did, this would be the one to choose.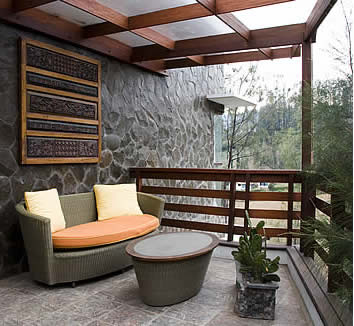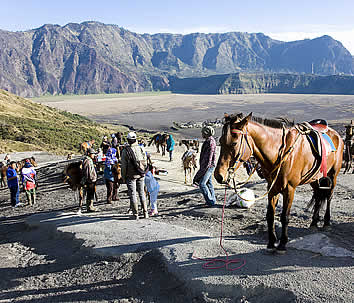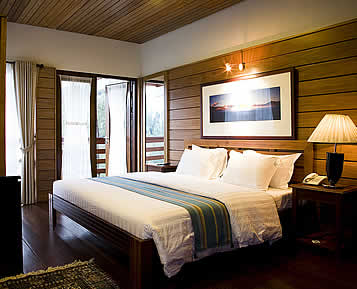 | | | |
| --- | --- | --- |
| | | |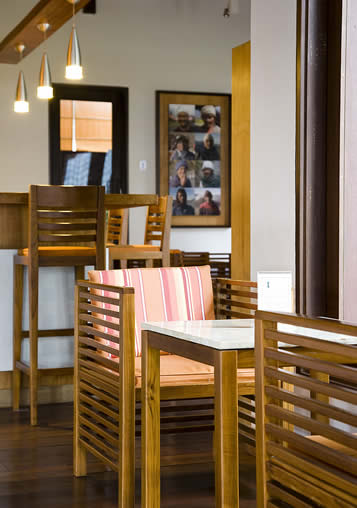 JAVA BANANA, WONOTORO, JAVA, INDONESIA
Style
Modern eco-friendly lodge with spectacular views on all sides.
Setting
Couldn't be better… Set in lush tropical gardens with views out over the surrounding farmlands and a ring of mountains on all sides. Peaceful and spectacular at the same time.
Why you'll love it
The whole property feels like one big garden – terraced grassy steps provide the perfect spot to lean against a grassy slope and listen to the rumble of thunder, or watch the clouds drift in over the mountains.
Good to know
Java Banana organizes a private jeep tour to Gunung Bromo which follows the same path as all the other tours, but lets you stay as long as you'd like at each stop. There is no internet available at the hotel (you're right in the heart of the mountains), so don't expect to stay connected. There are two fully equipped meeting rooms within the hotel if you feel like holding an extraordinary business function, and they're more than happy to cater specifically to your needs.
Wow factor
The location. It's simply spectacular, a picture postcard at every turn.
Best rooms or suites to book
There are eighteen bedrooms, split into two groups – the Bromo rooms and the Java rooms (both available in deluxe or executive). There isn't a huge amount of difference between the two, mainly décor, but the Java rooms have better views and the basins are inside the bathrooms (instead of in the bedroom) which is more convenient. They also have access to a shared outdoor lounge on a balcony, and a small sauna. The best (and biggest) room at Java Banana is 301 – it has a balcony looking out over a truly breathtaking view, like you're perched on the edge of the world. The Executive 1 rooms have balconies (highly recommended), and the Group Lodge is for larger groups – it sleeps six adults and three children in traditional Javanese 'bunk-bed' style, with an attached living area, kitchenette, and large verandah.
What they're doing for the environment
Most of Java Banana's eco-conscience was in building the hotel, where they kept the ratio between the building and the landscape 1:5, i.e. only built on 20% of the land. They have eco-friendly measures in place, including water conservation reminders, towel reuse, providing wall-mounted shampoo and shower gel so that no plastic is wasted, and sourcing much of their fresh vegetables from the local community. But they need to take it one step further to really be an eco-friendly hotel: lightbulbs must be changed to energy-saving, proper recycling needs to be put in place, and the staff need to be trained in what it means to run an environmentally friendly hotel.
What you can do to help
Don't waste water while staying in the hotel, and don't ask to have your sheets and towels changed daily.
Room for improvement
The restaurant menu needs some work. At present, there's a small selection of Western and Indonesian dishes, and it's not at all consistent. Our first night we ordered an Indonesian dish that was disappointing, to say the least. Our second night we ordered one Western, one Indonesian dish and they were both tasty. Breakfast was good, but again a very limited choice – an omelette, a sandwich or fried rice, served with coffee or green tea, and fruit juice (the fruit juice was the best we've had in Indonesia). An expanded menu of simple but consistently delicious dishes would make a world of difference.
Address
Jl. Raya Bromo , Wonotoro, Sukapura, Probolinggo, Jawa Timur, Indonesia , 67254
Tel
+62 335 541 193
Fax
+62 335 541 157
How to Get There
There are a number of options, but the easiest is to fly into Surabaya airport (one hour from Jakarta International Airport), and catch a taxi or limousine service to Java Banana (three hours).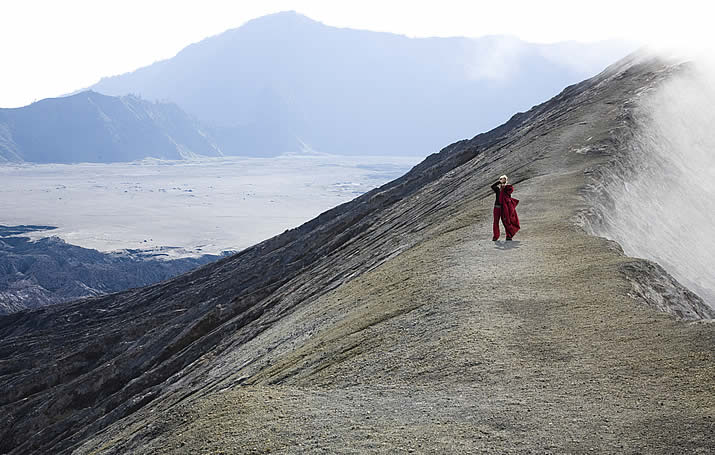 ©Copyright 2006 - 2019 JUST THE PLANET LUXURY TRAVEL CC - All rights reserved