TEAM
JUSTTHEPLANET
DENISE
HUMMEL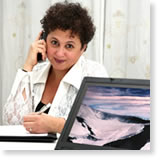 I traded my litigation briefcase for a stay-at-home-mom Lego Carry-Case and Playschool Medical Kit, complete with actual working stethoscope, and ultimately a suitcase and laptop with wireless card and high-speed modem. All endeavors have their challenges but I'll take juggling the role of Mom and Travel Journalist, over picking fights with other lawyers, or breaking up disputes over toys at home - on a daily basis, at least.
Writing has always been my passion and, whether the subject matter has been the courtroom or the Taj Mahal, I have been writing for all of my adult life. What started out as journal writing when I, my husband and two children (ages 8 and 10) moved to Italy, became a 350 page, soon-to-be-published, manuscript called SPEAK MILK; DRINK WINE. What began as a passion for hotels, resulted in an international communications business aimed at helping them to achieve their potential. I am extremely critical of every aspect of the hotel experience, having been trained by global experts in the luxury travel industry. I critically review every aspect of a hotel from housekeeping, to front-desk responsiveness, ambience to food. So, if you read one of my reviews and I actually rave about the experience, you can be assured the hotel is quite close to perfection.
I have written for the New York Times, the Gallivanters Guide, the Fodors Guide, Travel & Marketing Magazine, American Magazine, Transitions Abroad, the Record Review, Imagine Communications Breath-Taking Itineraries Newsletter and many internet-based travel sites (non of which holds a candle to Just the Planet, of course!) I was recently invited to speak at the International Institute for Peace Through Tourism Global Summit in Pattaya, Thailand, where I spoke on the image restoration and recovery of destinations affected by terrorism and natural disaster.
Stories Published:
Angkor Wat, Siem Reap, Cambodia
Delhi, the Imperial Delhi
Hôtel Le Beauvallon, French Riviera, France
Hotel Bellevue, Cogne (Valle d'Aosta), Italy
Hotel Ferrara, Emilia Romagna, Italy
Hotel Oberoi Amarvilas, Agra, India
Huka Lodge, New Zealand
Imperial Hotel, Delhi, India
The Lodge, Kauri Cliffs, New Zealand
Hotel Ikies, Santorini, Greece
Mollies - Auckland, New Zealand
Peace through tourism
Rancho Valencia Resort & Spa, California
Taj Lake Palace, Udaipur, India
Preventing identity theft
The Hilton, Auckland
The Langham Hotel, Auckland
Sydney and the Taj BLUE
Melbourne and the Park Hyatt
The Grand del Mar, San Diego
Jaipur and the Oberoi Rajvilas
Jodhpur and the Umaid Bhawan Palace
Villa Su, Kas, Turkey
Travel Diaries: Speak Milk. Drink Milk
The Editorial Team
CONTRIBUTORS

UNITED STATES


SOUTH AFRICA






BELGIUM


CANADA


ITALY


FRANCE


UNITED KINGDOM


CHINA

*The contributors' countries listed above, refer to each individual contributor's current country of residence, whereas the flag next to their name denotes their nationality, the country where they were born and raised!
©Copyright 2006 - 2019 JUST THE PLANET LUXURY TRAVEL CC - All rights reserved