SQUARE ONE RESTAURANT, PARK HYATT SAIGON
| PLANET FOOD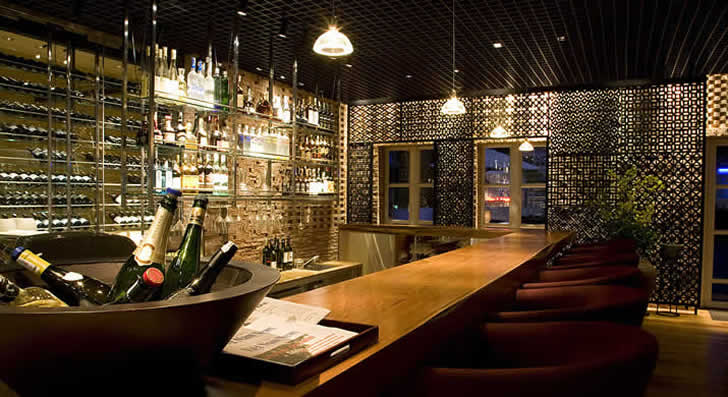 Square One at the Park Hyatt Saigon, Ho Chi Minh City, Vietnam
When a restaurant wins the accolade of 'best restaurant in Vietnam', you expect it to be good. Bridget McNulty's expectations were exceeded at Square One in Ho Chi Minh City. Here's how it tasted.
Text
Bridget McNulty
Photography
Mark Peddle
and courtesy the Park Hyatt Saigon
High expectations have ruined many a good meal. There's nothing worse, in fact, than walking into a restaurant expecting to taste something truly extraordinary – it's very rare that the vague inkling of what the dish should taste like lives up to its reality. So when I heard that the Square One restaurant in the Park Hyatt Saigon had just been awarded
The Miele Guide 2009's
'Number One Restaurant in Vietnam' award, I had mixed reactions. I was excited to be eating at the country's best restaurant, to be sure, but a little hesitant to get my hopes up, in case the food ended up disappointing me. I mean, how good could it be, really?
Excellent, in fact.
From the moment I walked into Square One – a restaurant so named because they're going back to the beginning, back to basics, and serving Vietnamese food in a no-frills, authentic way – I knew I was in for a meal with a difference. The restaurant itself is unlike anything I've seen before. Five open kitchens are laid out in a large space broken only by dark wooden partitions, cut out in elaborate patterns to let the light in. Spots of soft light centre on each table so that it feels intimate, despite the open space, and the effect, overall, is cosy and relaxed. This could also be because of the décor – large piles of fresh produce adorn every counter and table-top, fresh bunches of bananas and bowls full of chillis, jars filled to the top with noodles and baskets of crunchy brown bread. Even the vegetable drawers are on display, so you can see what the chefs are selecting for your supper. It gives the food a freshness and immediacy that is very unusual for a restaurant – you can watch your dish created from scratch if you so wish. And, indeed, many people do. The seats at the kitchen counter fill up fast, as solo diners or those in pairs line up to see the maestros at work, and hopefully catch a few tastes along the way. If you prefer more discreet dining, there are tables set away from the display kitchens (yet still close enough to watch the chefs out of the corner of your eye), or completely private dining areas for six to ten guests. Wherever you choose to sit, the open kitchens are merely a distraction, it's the food that will really grab your attention.
I should say, right off the bat, that when we arrived at Square One our experience of Vietnamese cuisine was limited, to say the least. We had only been in the country a few days, so in many ways Square One served as a tastebud education for us. And what an education it was…
We started with the signature starter – Fresh Spring Rolls with pork, mint and mustard leaf. A fresh burst of flavour, simple but with complex undertones, and a hint of wasabi. Most strikingly, though, was how fresh the spring rolls were – they tasted as if they had been plucked straight from the garden. We complemented this with a Pomelo Salad, with prawns and sesame seeds. Pomelo is a relative of grapefruit, but slightly sweeter, and the chunks of fruit were tossed in an amazing sauce of what tasted like fish sauce, chilli, and fresh onion. It was served with light, crispy sesame seed cake and a sweet chilli and lime dipping sauce. Incredible.
The thing you'll notice straight away about Square One's food is that it instantly puts you in a good mood – it's so fresh and bursting with colour and flavour that it's impossible to resist smiling as you swallow each explosive mouthful.
For mains we chose another signature dish, the Japanese Scallops in Sticky Rice Ball, which was one of the most unusual dishes I've ever seen. A giant ball of golden fried sticky rice, the top cut off and filled with delicious wok-fried scallops, fresh vegetables, cashew nuts, oyster sauce and green peppercorns. It was a sweet, peppery creation, and quite a novelty to be able to peel off the rice ball to snack on throughout the meal.
Our other main was River Prawns grilled with Vietnamese Herbs, Chilli and Lime. A completely simple, unadorned dish of superbly fresh giant prawns with a smoky, chargrilled flavour highlighting the succulent meat. It was served with a mixed leaf salad, and my only suggestion would be some kind of dressing to go with the salad – it was a little dry. The simple nature of the dish was extremely refreshing in this age of complicated fusion food, though. The chefs are obviously confident of the quality of their produce, and know that it doesn't need too much to adorn it.
Although the mains were a taste rollercoaster, my heart was truly won over by the dessert. I have a sweet tooth, what can I say? I considered the typically Vietnamese dessert – Palm Sugar ice-cream with Jackfruit, Pearl Sago and Orange Sesame Discs – but I couldn't quite resist the chocolate allure of a fresh chocolate soufflé. Because of the placement of our table, I was able to watch the soufflé being whipped up from scratch, keep an eye on it as it rose in the oven, and predict exactly when it would be delivered to our table. Amazing. I have eaten many chocolate desserts in my life, but this soufflé was, quite simply, the most decadent and delicious chocolate feast I have ever had. Light as a cloud, still warm from the oven and with the occassional unmelted dark chocolate chip, served with milk chocolate ice-cream and cold chocolate sauce. It was like waves of chocolate joy.
There were other, less chocolatey options to choose from, of course – homemade ice creams, sherbets, tropical fruits, and vanilla or passion-fruit soufflé – but we ended up choosing two chocolate desserts on offer. The other was the Dark Milk White Belgium: hot dark chocolate soup served with milk chocolate ice-cream and white chocolate sherbet, beautifully presented with three chocolate discs and a bright red strawberry coulis.
Of course, no meal would be complete without the perfect wine, and at Square One you'll be able to choose from more than 1500 bottles of international wine, in a large floor-to-ceiling wine case.
The food was very nearly breathtaking. The service was as close to perfect as I've experienced in a long time – discreet but ever-present and friendly. The ambience was just right, lively but not obtrusive. Square One is not trying to be fancy or make any of their dishes over-the-top. It's not trying to show off. And yet, in this simplicity, it deserves the accolade of Vietnam's Number One Restaurant.
Go in with high expectations; you won't be disappointed.
Back to
Park Hyatt Saigon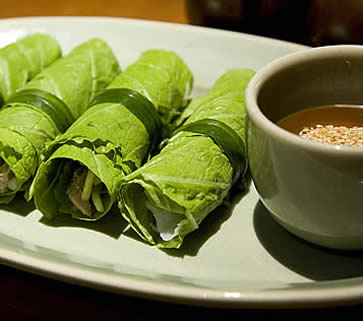 FIVE QUICK QUESTIONS WITH CHEF BENJAMIN ATTWATER:
He might only be 25, but Benjamin Attwater, the Australian head chef of Vietnam's best restaurant, Square One Restaurant, knows exactly what he likes. We get the scoop.
1. What makes Square One different?
Well, a few things, I guess. It's split very decisively into Vietnamese and Western sections, which is quite unusual. And customers can come in and ask for specific things, which we'll cook to order. We also have big open kitchens, so you can sit at the counter and interact with us – we like to create an enjoyable experience for the guests where it's not just a restaurant, you can sit and chat to the chef, have a couple of tastes from the kitchen, and see how we do things. It's a whole experience.
2. How does being in a hotel affect Square One?
It gives us the opportunity to get the very best produce – we have a lot of buying power, people want their products in our restaurant, which means that we can get the very best produce in Vietnam. Being in a hotel also allows your overheads to be a bit higher, so we can buy top quality ingredients without having to charge that much extra for them.
3. What's your favourite dish to cook?
I don't really have one… Maybe a
hangi.
It's a special kind of barbeque we make at home (in Australia). You have to dig a deep hole, and build a fire next to it. You put bricks, or rocks, into the fire and then throw them in the hole, with a big cut of meat – a leg of lamb, or pork, all wrapped up in wet cloth. You put the meat in a cage, cover it with soil and leave it for 4 or 5 hours. Then you go off and play cricket, or make a slip and slide in the back garden, and when you come back the meat's perfectly cooked. It's delicious
4. What's your favourite dish to eat?
Chilli crab – I was just making it inside, actually. It's such a great dish to eat, you have to sit and pull it apart, and you get it all over your face… Delicious.
5. What direction do you think food is going in?
I think food was going into the whole fusion thing a while ago, but lots of people are going back to basics, back to home-cooked food, now. Everyone's started calling the whole fusion thing 'confusion', it's too many tastes competing with each other. If you have good produce you can do wonderful things in a really simple way.
©Copyright 2006 - 2019 JUST THE PLANET LUXURY TRAVEL CC - All rights reserved