THE WHAMPOA CLUB, SHANGHAI
| GOURMET TOURS
Whampoa Club, Shanghai
On the second day of the Gourmet Tour, after a stroll in the French Concession, you'll take part in a cookery course at the famous Whampoa Club, and discover 'Fusion Chinese'.
Text
Michelle Snaddon
Photography
Whampoa Club
Published
5th July 2008
One of Shanghai's foodie hotspots, the Whampoa Club, has
chef Jereme Leung
at the helm. On visiting his restaurant a few years ago, Patricia Wells said, 'It's been a long time since I got up from the table after dining in a restaurant and whispered to myself, "
genius
". But there's surely a touch of that talent in the young, sure-footed, Hong-Kong born Jereme Leung, executive chef at Whampoa Club, the bright, expansive Art-Deco style restaurant in the popular Three on the Bund complex in Shanghai.'
It seems that Jereme has continued to rise to new heights, winning countless prestigious awards and so, after the
cookery course
, we've arranged a degustation lunch at the restaurant, so that you'll be able to take a break from cooking and enjoy his food at a table with a stunning view of the city.
Awards
In 2000, Leung joined the ranks of culinary super chefs like Charlie Trotter, Paul Bocuse, Wolfgang Puck and Jean-Georges Vongerichten, when The American Academy of Hospitality Science conferred upon him the Five Star Diamond Award, naming him one of the 'World's Best Chefs'.
He was the fourth Asian chef to receive the award. Chef Jean-Georges Vongerichten explains why: 'With his modern take on Chinese cuisine, Chef Jereme Leung does for Chinese food 'what Nobu did for Japanese'.
In the same year, Leung was awarded the prestigious XO Hennessy Culinary Award 2000 which recognizes hotel chefs working in Malaysia for their creativity and prominence in developing gourmet culinary trends.
In 2001, at Singapore's World Gourmet Summit Awards of Excellence, he was also presented with the inaugural Rising Chef of the Year award.
In 2005, he was named one of the 'Shanghai Chic 100' by leading lifestyle newspaper The Bund and 'Chief of Flavour' by Shanghai Tatler.
In April 2007, the world-renowned culinary academy At-Sunrice awarded him the Global Chef Award.
See next page:
JIA Shanghai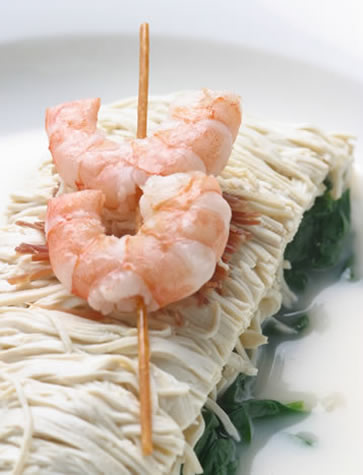 Meet
Jereme Leung
Executive Chef Jereme Leung is the creative powerhouse behind the Whampoa Club concept and has two restaurants, one in Shanghai and the other in Beijing. His interest in food began at the tender age of 13 when he worked in the kitchens of the family restaurant, with the result that he is experienced in the four cornerstones of Chinese cookery: dim sum preparation, barbecue and roasting, wok handling, and cutting and carving.
While rising to the challenge of presenting food that appeals to increasingly cosmopolitan diners in the Whampoa Club, his deep rooted respect for Chinese culinary history is reflected in his cookbook
New Shanghai Cuisine: Bridging the Old and the New
and a Beijing book is due soon.
| | | |
| --- | --- | --- |
| | | |
©Copyright 2006 - 2019 JUST THE PLANET LUXURY TRAVEL CC - All rights reserved