THE LANGHAM HOTEL, AUCKLAND
| HOTEL REVIEWS
| | | |
| --- | --- | --- |
| | | |
The Langham Hotel, Auckland
There is a distinction between business and leisure travel, but the distinction should not be that the latter is pleasurable and the former a chore. The difference should be that a property that caters to business travelers should, in addition to great service and elegant surroundings, have top-notch business services as well. A desk, a fax machine, two land-lines, and wireless internet in the room is a good start. The Langham Hotel takes it one step further.
Text
Denise Hummel
Photography
Courtesy Langham, Auckland
The Langham has a legendary hotel heritage dating back to 1865, when the first hotel of the brand opened in London. Today, they have six five-star properties in London, Boston, Hong Kong (two properties), Melbourne and Auckland. Each is a member of Leading Hotels of the World. It was my pleasure to stay at the Auckland property in an Executive Suite with access to the Club Lounge, a convenient venue for breakfast and pre-dinner drinks (be advised, however, that coffee is obtained from an automatic machine). Despite this, I found the Langham to be one of the best choices for the business traveler in Auckland.

The convenient facilities include 16 breakout rooms and two ballrooms, with one of the largest pillar-less ballrooms in New Zealand, accommodating up to 900 people theatre-style. There is 24 hour room service, as well as a brasserie open 24 hours in the lobby, to accommodate travelers who arrive from Europe, America and the Mid-East at all hours of the day and night. The laundry and valet service is the most prompt and efficient I've had to date and a luxurious BMW limousine service, as well as complimentary shuttle service to downtown Auckland, departs every 30 minutes, making local travel seamless. Should your time permit, there is also an outdoor swimming pool and gymnasium.

Rooms are beautifully appointed and the Executive Suite is at the perfect price point for most business travelers with an emphasis on a comfortable in-room business environment. There is a large desk with broadband facilities, two telephone lines and a fax machine. The fact that the dining and lounge area are accessible from the corridor through a separate door, completely distinct from the private bedroom area means that the dining table (that seats six) is suitable for use as a conference table for a small private meeting.

The lounge area has a plush velvet couch and two over-stuffed chairs for lounging in front of the 42-inch plasma screen (with access to most of the major international news and sports channels) or listening to the stereo system. There is a lap-top sized safe, a well-stocked mini bar, tea and coffee making facilities, an alarm clock, iron and ironing board, bathrobe and slippers. My only complaint is that insulation between the two suites could be improved and increased water-pressure in the lovely marble bathroom would be a welcome improvement.

Dinner at Partingtons is a dream. There is private dining for up to ten guests, and the entire restaurant seats 60, large enough for most uses and small enough to create a tone of intimacy. Chef Sascha Exenberger is European-trained and derives his inspiration from the use of European technique and presentation, combined with New Zealand products and flavors. The wine list is extensive and the staff is knowledgeable in suggesting pairings with each of your courses.

A complete menu is available, but the dégustation menu is also lovely if you have the time and appetite for nine scrumptious courses. You will begin with an amuse bouche, move on to an appetizer, soup, entrée, sorbet refresher, main, cheese, dessert and petit fours (I suggest you skip lunch). Try the Blue Swimmer crab and salmon ravioli with slow roasted cherry tomatoes and scampi bisque sauce paired with the Vinoptima Ormond Gewurztraminer 2004, Gisborne.

An extensive refurbishment was completed in February of 2006. Grey, chocolate and teal were the classical tones that were introduced throughout the hotel, and luxurious textures such as silk and velvet augmented. Each of the 410 rooms was upgraded and the lobby now features a redesigned centralized dome with ornate coving, huge crystal chandelier lighting, above an intricately custom-made circular rug, and lovely antiques dot the centralized area. Partingtons was also included in the refurbishments, embellished with the addition of dramatic drapes, which part to reveal the trompe l'oeil ceiling. The rather large dining room now has a more private and exclusive feel.

I'm always pleased when a hotel manages to achieve a classic look, without the necessity of a heaviness that drags down the energy of the environment. It's not easy to pull off and the Langham has certainly succeeded.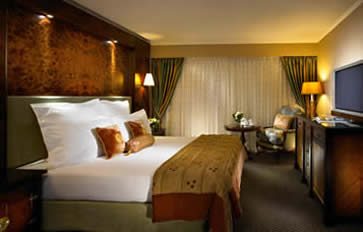 THE LANGHAM, AUCKLAND
Style
Hi-rise
Setting
City center near the bridge
Why you'll appreciate it
Every business convenience you could possibly need
Good to know
Most suites have a dining/conference area that can be closed off completely from the bedroom.
Business Facilities:
Type of Internet Connection
Hardwire in the room and public areas
Number of in-room phone lines
Varies, but usually 2
Type of Desk Space
Very ample with desk-set amenities like stapler, scotch tape
Fax Machine
Multiple options, including an in-room fax
Printing Facilities
On-site and nearby in the local community
Address
83 Symonds Street, Auckland, New Zealand
How to Get There
Turn left out of George Boult Drive from the airport. Follow signs along State highway 20 North. Take the Pah Road turn-off, through the Broadway Shopping Center. Turn left at Kyber Pass. At the top of Kyber Pass, turn right onto Symonds Street. Go along Symonds Street crossing the motorway bridge. The Hotel is located at 83 Symonds Street on your left.
©Copyright 2006 - 2014 JUST THE PLANET LUXURY TRAVEL CC - All rights reserved