ALILA JAKARTA, JAKARTA, INDONESIA
| HOTEL REVIEWS
If a hotel were no more than the sum of its parts, the Alila Jakarta would be a useful place to lay your head. The location is central and close to everything in the city. The business centre is a well-oiled machine, running till 11pm at night. The restaurant serves a handsome buffet breakfast from 6am. And there's a large gym to work out some of the stress of business travel. All this adds up to a hotel that fills a need: somewhere to sleep when you're travelling on business.
Luckily, the Alila Jakarta is much more than the sum of its parts. This is due, in part, to the emphasis on comfort that has found its way into every aspect of the hotel. The rooms are large and airy, with picture windows looking out over the hustle and bustle of the city of Jakarta, or over the serene calm of the 6th floor pool, ringed by palm trees and loungers. The beds are made up in high quality linen (with the most comfortable cushions you will ever lay your head upon), and there is cable television on wall-mounted TVs, and free high-speed internet in every room. There's also ample work space, and enough cupboard space to move in for a week or two.
Of course, the rooms are only one part of the Alila Jakarta whole. The large lounge in the lobby is in constant use for meetings (although non-smokers beware that in Indonesia indoor smoking is allowed), or you can choose from one of two restaurants and a coffee lounge to relax in.
Buzz Restaurant
is spacious, light and airy, with a wall of windows looking out over a serene Zen garden. Inside it's all right angles in neutral tones of beige, grey and chrome, with bright splashes of colour from the yellow and green chairs. A buffet breakfast is served here (with Asian or Western dishes on offer) and a la carte lunch and dinner offer a wide range of delicious fusion dishes to tempt any tastebud.
Downstairs, modern Chinese cuisine is the order of the day at Shanghai Storm, a beautifully laid out restaurant with rough-hewn wooden doors, intricate repeated patterns, and a large open-plan kitchen so that everyone can see the chefs at work. There are also four private dining rooms, seating six to twelve people.
Lastly, tnc offers tea and coffee (and a modest selection of snacks) throughout the day, and drinks of every description once the sun begins to set at night. Thursdays are DJ night, when the laidback coffee lounge turns into a chill out bar from 7pm to 10pm.
If exercise is more your relaxation of choice, you can take part in a number of classes held in the Gym Alila – which attracts members from all over the city. Amongst these classes are water fitness, yoga and tai chi, hip hop and aerobics. Or you can stick to the simpler arts of weight lifting, jogging, and stretching with the latest CYBEX equipment. When it's time for a cool down, the outdoor pool offers a breath of fresh air, and a great view out over the city from its 6th floor vantage point. And, of course, if you're in the mood for a little indulgence, you can drift into Spa Alila, where two spa suites offer the largest treatment space I've ever seen (including giant baths and private steam rooms). Treat yourself to a Balinese massage or choose from the range of treatments on offer, all designed to erase the stress of a hard day's work.
There are also a number of attractions a short distance away from the hotel, including the National Museum and the National Monument, and the old Batavia or Kota area of town. Jakarta offers plenty of opportunities to explore and discover parts of the city that resonate with you, whether it's history, culture or shopping. And if there's no time to shop, you can always pick up a high quality souvenir or well-chosen gift from the Alila Living Boutique.
All in all, it has everything you could wish for in a business hotel, but with a lot more comfort and style than you'd expect. There are no frills, nothing extraneous about this modern, uncluttered mecca, but it still manages to be extremely comfortable and efficient, at the same time. Next time you're in Jakarta on business, be sure to spend a few days at the Alila Jakarta. You won't regret it.
Also view
Buzz Restaurant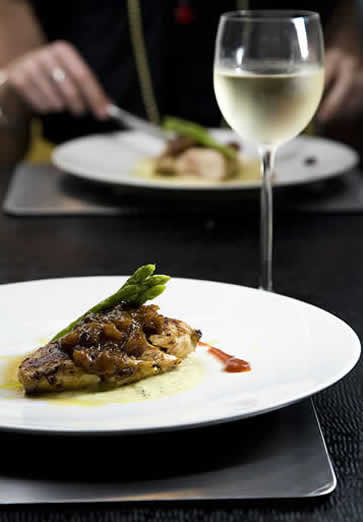 ALILA JAKARTA, JAKARTA
Style
Sleek, modern business chic. There's loads of light, and no clutter.
Setting
Between the CBD and the trading area of Jakarta, on a bustling street that feels like it's right in the centre of the city. The hotel itself hovers above the street, offering great views and a minimum of chaos.
Why you'll appreciate it
It has everything you'll need to make your business stay run smoothly… And it's really comfortable. A 6th floor outdoor pool ensures you'll get your daily dose of fresh air, while catching a glimpse of the busy city at work. The reception concierge service was also excellent – finding out times and prices for our onward train travel, and picking up the tickets for us for a small fee.
Business Facilities:
Type of Internet Connection
Wireless in most rooms (broadband in others) – high speed and complimentary.
Number of in-room phone lines
Depends on the room, at least one.
Type of Desk Space
Varies from room to room, but always large and comfortable.
Fax Machine
Business Centre
Printing Facilities
Business Centre
Good to know
Indonesia is a smoking-friendly country, so indoor smoking (in the lounge and restaurant) is allowed. Ask to be seated in a non-smoking area if necessary. The suites have their own private Executive Lounge, where tea and snacks are served twice a day (mid-morning and –afternoon).
Best rooms or suites to book
The Club Suite was my favourite, with a large glass desk and leather desk chair for working, and an amazing bath looking out over the cityscape. It blended work and play perfectly. The Executive Suite, however, is bigger and has better views from a wall of windows (it's on the 23rd floor). And the Alila Suites (of which there are only two) have masses of space, a small kitchenette, twin vanities and a massive bathroom.
Room for improvement
A print-out of the classes available in the gym would be convenient, instead of having to go and check on the board in the gym. Also, the toiletries in all the rooms (including suites) need upgrading – they look and smell cheap, in sharp contrast to the rest of the hotel.
Address
JI Pecenongan Kav 7-17, Jakarta 10120, Indonesia
Tel
+62 21 231 6008
Fax
+62 21 231 6007
How to Get There
Fly into Jakarta International Airport, and catch a taxi to the hotel (about 30 to 45 minutes, depending on traffic).
| | | |
| --- | --- | --- |
| | | |
©Copyright 2006 - 2014 JUST THE PLANET LUXURY TRAVEL CC - All rights reserved